It is Throwback Thursday and the final week of the year, and every movie that wants to be considered a 2015 movie and be eligible for the 2016 Academy Awards is getting it's official release on Christmas Day with the exception of one I still want to see being released on December 31st called Anomalisa, but we'll talk about that one in another review. This week we are seeing movies like Joy, Concussion, Daddy's Home, The Revenant, The Hateful Eight, and of course 2015's remake of the original 1991 movie Point Break. I'm not going to lie, this might be the most biased review I have ever written. Point Break is one of my personal favorite movies of all time, and how many times am I going to get to talk about it for a Throwback Thursday review? I could have easily picked a Tarantino movie, or a DiCaprio movie, or maybe even the first time Jennifer Lawrence, Bradley Cooper, Robert DeNiro, and David O. Russell came together in Silver Linings Playbook in honor of Joy, but this is my opportunity to review Point Break, so let's get down to it.
1991's Point Break is directed by probably my favorite female director in Kathryn Bigelow and stars Keanu Reeves, Patrick Swayze, Gary Busey, and Lori Petty. Reeves's character, Johnny Utah, was a star football player at Ohio State, until an injury sidetracked Utah's football career. Now Utah is a FBI agent, assigned to a partner who is very under appreciated FBI agent named Pappas played by Busey. Pappas has been working on a case involving bank robbers who hide their faces by wearing presidential masks and call themselves "The Ex-Presidents." Pappas suspects that the Ex Presidents are a group of thrill seeking surfers who rob banks for the thrill, do not kill, do not go for the vault, and use the money to travel the world seeking out the next blood pumping experience. Agent Utah volunteers to infiltrate the surfers led by Bodhi played by Swayze. While undercover, Agent Utah forms a close relationship with Bodhi and Bodhi's ex-girlfriend Tyler played by Petty, causing conflicts with his partner Pappas, the FBI agency, and his newfound thrill seeking best friend Bodhi.
Like I said, Point Break is one of my favorite movies of all time. It would easily make my top ten favorite movies, and it should definitely be on a list of the best action films. I think Point Break is also the most underrated action movie. On top of being an absolutely incredible, action packed thriller, it is very well made. Katheryn Bigelow is my favorite female director, and I have loved her movies for a long time. The action in this movie is so well shot, and followable. There is a chase scene in Point Break that is my favorite chase scene that I can remember in a film, and that is all due to the way Bigelow directed the movie. With all of the breathtaking stunts that the characters perform in this movie, you need good direction to be able to follow and enjoy the action. She also pulls perfect performances from her actors in the movie. Are they Oscar-winning performances? Absolutely not by no means. But they work so well for the characters and the story that Bigelow and the actors have to be applauded. Reeves got his action start in this movie and I think this movie prepared Reeves to do more movies like Speed, The Matrix, and John Wick. He is one of my favorite action stars of all time and my favorite of the 1990s, and this movie solidified him as just a likable guy who we can relax with and have a great time at the movies with. I also loved Patrick Swayze as Bodhi. Swayze already had action roles in Red Dawn and Road House, and his experience in being a likable action actor definitely helped him masterfully play Bodhi and even rubbed off on Reeves, making him likable as well. Reeves and Swayze are the reason this movie works. They have such great chemistry and developed one of the best "bro relationships" in movies at the time. This "bro relationship" was highlighted many times throughout the movie but none more so than in a chase scene following a robbery by the Ex-Presidents. Following the robbery, Agent Utah pursues Bohdi hard, falls harder hurting his leg, has a perfect shot at Bodhi, but ultimately shoots into the air while yelling in anguish, struggling with doing what would have been right; taking down a fellow thrill seeker versus letting Bohdi escape which allows both the relationship to continue and the thrills to escalate. The chemistry between every character in this movie is phenomenal, and it is the believable relationships that make this movie work.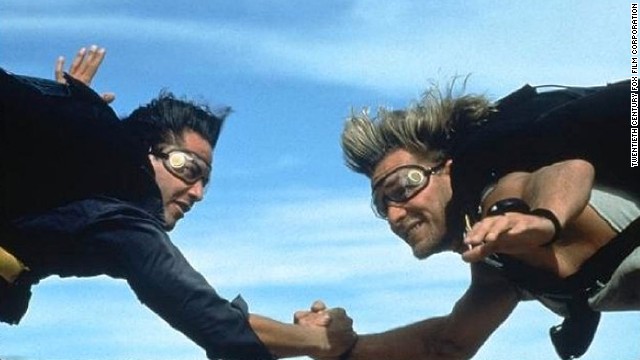 Point Break is also, in my opinion, one of the most enjoyable movie ever made. Every time I'm bored I'll pop Point Break into my Blu Ray player and just enjoy myself for the next 123 minutes. The action draws you into the movie and the characters makes it feel like you are hanging with dudes that live on the edge. It feels like you are hanging out with these guys and you are in on the friendship between Agent Utah, Bodhi, Tyler, and Pappas. Point Break screams the word fun and paints a California summer at the beach perfectly. Despite doing some illegal things, Bodhi and his gang are so just plain likable. That's actually one thing I don't like about the trailer of the Point Break remake, It paints Bodhi and his gang as murderers, which in my eyes, will take one of the most likable characters in the history of film and make him someone the audience will hate, which kills the original Bodhi's legacy.
I also have to applaud the writing of the movie. There are so many classic lines in this movie that I use or think about in every day events like, "Back off, Warchild," "Little hand says it's time to rock and roll," and "Life sure has a sick sense of humor, doesn't it?". The dialogue is absolutely entertaining and suits the characters so well. No matter how many times I see this movie, it is just as enjoyable as the last time I watched Point Break. I would suggest any movie fan give it a look. You definitely won't regret it, and you'll have a great time in the process. I don't know how anyone can dislike this movie. I've never talked to anyone in person who doesn't like Point Break, and there is a good reason for that. My only problem with Point Break is that it's a little bit over the top. The thing is, it works for the movie, so I can't say that's a huge flaw. There isn't another element of Point Break that I can be convinced is a flaw because every scene and piece works so well for the movie and allows me to have a great time while watching. Based on my typical scale, I'm going to give Point Break a 9.5/10, but in my heart and soul, it's a
10/10
, so I'll go with that as my final rating.
Have you seen Point Break? If not, I would definitely suggest checking it out. It is one of the most fun movies ever made, and definitely one of the most re-watchable movies. If you have, what do you think of Point Break? Are you excited for this week's remake? I'm going to be honest, I'm not very excited about it, but I still want to see it just because I am a huge fan of the original. I should have a few reviews out in the next week from all of the new movies coming out, so stay tuned for those. I'd like to get to three or four movies, and ideally review all of them, so they should be up before the next Throwback Thursday review. I should be back with my review for the 2015 Point Break sometime this weekend, but if I don't because of the holidays, I definitely apologize. I wish everyone a happy and safe holiday season, and keep listening to 88.7 The Pulse!
PHOTO: The Mind Reels