It's Throwback Thursday, but not just any old Throwback Thursday. It's a double movie review week presented by FatCats Gilbert on the southwest corner of Greenfield and Baseline. They have the most comfortable seats in the state of Arizona, and if you haven't had a chance to see a movie at FatCats Gilbert, you are definitely missing out.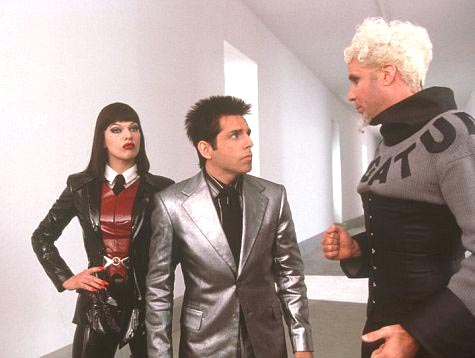 This week is a pretty big week in movies. With the releases of both Deadpool and Zoolander 2, seats should be filled with some happy movie goers this weekend, but first, we need to talk about one more movie for Throwback Thursday before we are ready! We're going to talk about 2001's Zoolander, one of the first movies helping Ben Stiller rise to prominence in the slapstick comedy genre. Everyone knows the faces, and it's a pretty well-known movie featuring huge stars like the aforementioned Ben Stiller, Stiller's partner in crime Owen Wilson, and possibly the biggest name in comedy of the 21st century, Will Ferrell. This movie has a huge following, and 15 years later people are still watching and loving this movie, so while everyone is talking about the movie, why don't we?
Zoolander is directed by and stars Ben Stiller along with costars Owen Wilson, Will Ferrell, Christine Taylor, and has so many cameos from so many megastars. It is the story of classic male model with the famous looks, Derek Zoolander. With his worldwide facial phenomenon "Blue Steel," Derek is looking to snag his fourth consecutive award for Male Model of the Year. When his biggest rival, Hansel, played by Owen Wilson, takes the award right out from under Zoolander, Zoolander becomes an easy target for evil fashion designer Mugatu, who recruits Zoolander to kill Malaysia's prime minister. I know, it's a lot to take in.
First of all, I just have to say that Zoolander is crazy funny. It is so enjoyable to watch in every way, and I would be lying to everyone if I didn't say that I don't at least have a great time when watching this movie. Have you ever been laying in bed and couldn't get good thoughts in your mind to fall asleep to? Put on Zoolander. It's such a good time, and it's so much fun. I love seeing these characters on-screen. Sometimes Zoolander is so charismatic, but other times he is awkward and unstylish, and the juxtaposition is so entertaining to watch. I also think Will Ferrell is so funny as the main villain. How often do we get to see Will Ferrell in the role of the antagonist? Maybe in Megamind or The Lego Movie, but other than The Campaign (if you would even consider him the antagonist in that film), we don't often get to see Ferrell's antics in live action. In Zoolander, that's exactly what we get, and it's so dang enjoyable.
I like Zoolander. I don't necessarily love it. Sometimes some of the sillier elements in Zoolander don't always work for me. I don't want it to come off as though I don't like slapstick because sometimes I adore slapstick. In Zoolander, it doesn't completely work for me. It gets a little bit hard for me to take this movie seriously because it's overacted. I know that this works for so many people, and it does work for me in some films. For example, take 2004's Anchorman starring none other than Zoolander's villain, Will Ferrell. Will Ferrell inhabits that character so well and makes us fall in love with and adore the character of Ron Burgundy. I didn't feel that love in Zoolander the way I felt it in Anchorman. The only reason I compare these two movies is because I think they're very similar in style in comedy aspects, but I could not absorb Zoolander the way I would have liked to. Most of my problems with the film are very subjective. The movie is not an artistic masterpiece, but it doesn't have to be to be enjoyable.
Overall, Zoolander knows what it is, and it does a very good job being self-aware and hitting its target. Some of the stylistic aspects don't work for me, and it's almost completely subjective. As I said, it may not be an artistic masterpiece, but I would be lying if I said I don't have a good time watching this movie. It may not come off as the most intelligent film, and it's definitely not for stuffy viewers, but if you want to have a good time, I would definitely suggest giving Zoolander a look. I'll say that it is intelligent in an unintelligent way. I'm going to give the original Zoolander a 6.8/10.
Have you seen Zoolander yet? If you have, comment down below and let me know what you think! If not, I would suggest giving it a look just for fun. Don't take it too seriously. It was a nice short review for Zoolander, but it's still a double movie review week, so with both Deadpool and Zoolander 2 coming out this weekend, be sure to check out my reviews for both of those as well as my Throwback Thursday review pertaining to Deadpool of X-Men Origins: Wolverine. I should have reviews of both new films out tomorrow, so be sure to give those a look. You can see both movies this weekend at FatCats Gilbert on the southwest corner of Greenfield and Baseline! As always, thank you, and keep listening to 88.7 The Pulse!
PHOTO: The Critic's Remote