Welcome back for another Throwback Thursday movie review presented by FatCats Gilbert and their Recline-N-Dine movie theater seats!
In yet another big week of movies, I'm going to be lucky enough to check out London Has Fallen. So, in honor of London Has Fallen, I will be reviewing its predecessor: Olympus Has Fallen! At the time Olympus Has Fallen was released, another eerily similar movie was released starring Channing Tatum and Jamie Foxx called White House Down. Though I didn't dislike White House Down as much as many critics, I still believe that the better movie is seeing a sequel this weekend. A lot of people have said that Olympus Has Fallen is the best Die Hard sequel since Die Hard with a Vengeance, and while Die Hard is my favorite action franchise, I can say that I would agree with that. I like, not love Live Free or Die Hard, and we don't talk about A Good Day to Die Hard. I have also not always loved Gerard Butler's movies. I think he's a likable actor who can be fun and easy to watch, but is not always in the best movies. I love 300 and How To Train Your Dragon, but the rest of his movies are typically misses for me. I don't even think that The Phantom of the Opera holds up very well. In Olympus Has Fallen, Gerard Butler did the trick for me, and brought two awesome Dark Knight Trilogy actors with him into this new franchise, so let's talk about this very pleasant surprise 2013 action flick.
Olympus Has Fallen is directed by Antoine Fuqua, director of movies such as Training Day, The Equalizer, and Southpaw and stars Gerard Butler, Aaron Eckhart, Morgan Freeman, Angela Bassett, and Rick Yune. Though a life changing accident has taken presidential security officer Mike Banning out of the game, he is suddenly called back when a terrorist group takes the president hostage. As the only one capable of saving the president, he must put aside his mental ails, find the president, and stop the terrorists plan to kill many US officials and innocent people. If it looks like, smells like, sounds like, and tastes like a Die Hard movie, it's probably a Die Hard movie. But it's not a Die Hard movie. It's a strong action movie with the Die Hard feel.
I came into Olympus Has Fallen thinking that it was going to be your atypical action movie with some throw away characters and a throw away villain. I didn't think I would remember it like I still do, or even own it on Blu-Ray, just as I do now. First of all, Olympus Has Fallen was complete, absolute, all out fun. I had such an awesome time with Olympus Has Fallen, and I enjoyed just about every second of watching it. I also really liked all of the characters. So maybe they weren't Michael Corleone or Luke Skywalker, but I enjoyed watching Gerard Butler, Aaron Eckhart, and Morgan Freeman on the screen in a movie like this. I thought that the actions well shot and well done, and it's so overblown and fun that I couldn't help but enjoy myself watching this movie. I thought that it had plenty of well-directed action to go around and fun characters to watch. It's probably the most I have loved watching Gerard Butler as an action hero since 300.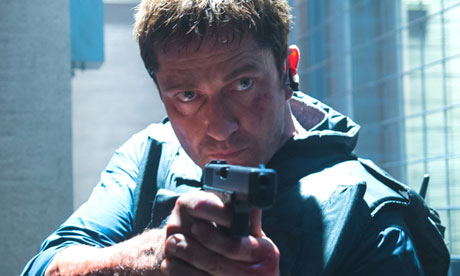 Though I think that Olympus Has Fallen is a crazy good time, it has a couple of problems. All together, it's pretty much dumb fun. I think it's very well-directed action with likable stars, but the dialogue mostly consists of one liners. This movie is no artistic masterpiece. It has serviceable performances and kind of a weak script, but it's not meant to win the Best Picture Oscar. It was made, as almost all movies are, to make money and entertain its audience, and Olympus Has Fallen did an amazing job of entertaining its audience. Overall, Olympus Has Fallen is a great time, and I would definitely suggest checking it out if you haven't already had a chance already. Coming from an enormous fan of the Die Hard franchise, this is what we Die Hard fans want and crave. A strong main character who is kind of the everyman with great action and a lot on the line. I'm going to give Olympus Has Fallen a 7.2/10.
Have you seen Olympus Has Fallen? If you have, what did you think? If you haven't seen it yet and you decide to give it a look, come back and let me know what you thought? Are you headed out to the theater this weekend to check out London Has Fallen? I should have my review for the movie tomorrow afternoon, so be sure to come back and give that a look! If you're  going out to see a movie this weekend, you can see London Has Fallen with our good friends over at FatCats Gilbert located on the southwest corner of Greenfield and Baseline. As always, thank you, and keep listening to 88.7 The Pulse!
PHOTO: ScreenRant