It's another beautiful, sunny day here in the valley, and it's time for another movie review presented by our good friends over at FatCats Gilbert located on the southwest corner of Greenfield and Baseline. FatCats Gilbert is the best place to spend the summer, and at their affordable prices, you can easily get right out of the triple-digit heat and into the nice, cool, air-conditioned hangout that is FatCats Gilbert.
Ghostbusters took a ton of heat when the first trailer came out. It took an unbelievable amount of heat. More heat than we take when we hop out of the car to actually see the movie. If you live in Arizona, you caught that joke. So many people hated the first Ghostbusters trailer when it first dropped. It even went on to become the most disliked trailer in YouTube history. I'm going to be honest. I didn't hate it. I didn't think it was that great, but I didn't hate it as much as everyone else did. I'm surprised my head didn't get taken off with a pitchfork because that's how much everyone hated the trailer, and I was pretty openly non-negative. I don't want to say positive, but I definitely wasn't extremely negative. I have never been the biggest fan of the original Ghostbusters. I do really like the movie, but it's not one that seriously guided my childhood that a lot of movie goers were claiming this movie would take. I'm happy to let you know that both before and after seeing this movie, my childhood, soul, and sense of humor are all fine. Whether I liked the movie or not, which you'll have to keep reading to find out, it was all going to be okay for me. Lets talk about the movie!
Ghostbusters is directed by Paul Feig and stars Kristen Wiig, Melissa McCarthy, Kate McKinnon, and Leslie Jones. After a spooky encounter at a mansion that is now a haunted tourist attraction, hardcore scientist Erin Gilbert, played by Kristen Wiig, must reunite with her old scary-story-telling friend Abby, played by Melissa McCarthy. They decide to get back in the game of ghost hunting and studying, but they can't do it without the help of Abby's new partner, the brilliant Jillian Holtzmann, played by Kate McKinnon, and the New York expert, Patty Tolan, played by Leslie Jones. They soon learn that there's a little bit more behind the haunting than just a pesky ghost, but what, or who, is behind it?
Nothing held back, I had an absolutely awesome time with this movie. I thought that this movie was an amazingly fun time. I walked into the theater with no expectations of having as good a time as I did with this movie, but I had so much fun watching Ghostbusters, and I was blown away by the fact that I had a smile on my face for almost the entire movie. Am I saying this movie was amazing? No, but it was sure a heck of a lot of fun. A lot of that is due in part to the characters and their chemistry. I found the characters to be really interesting, and I thought that every main actor and actress did a good job with what they had. It's so easy to tell that these characters have worked together before and are even real life friends just because they have so much chemistry, and it makes the comedy in this movie work for me. I did laugh in this movie, and like I said, I smiled for a large part of the movie. A lot of it is due to the pacing, and I think that Paul Feig did a great job with this movie. To be completely honest, I haven't loved much of his work in the past other than Spy, but this movie was so entertaining, and it was so well paced. My standout of the movie was Leslie Jones who is one of my favorite current Saturday Night Live cast members. Actually, I really like both she and Kate McKinnon. My mom told me this morning that no designers had offered to dress her for the premier of the movie, and what a shame it would have been if Christian Siriano hadn't stepped up and dressed her because she was awesome in this movie. I thought she was very funny, and she made her debut as a lead in a film in style. She blew me away, and I also found Chris Hemsworth to be pretty funny. His gag in this movie worked for me, and when it is paired with what we know is solid with Melissa McCarthy and Kristen Wiig, I really had an awesome time watching Ghostbusters.
As much fun as I had with Ghostbusters, there were a few things that didn't work for me. First of all, I wasn't a big fan of Kate McKinnon's character. In terms of both realism and personal connection, it didn't hit the right notes for me, and though I don't think that her performance was bad, her character was very weak, in my opinion. She actually had a few jokes that got me, but it still felt like she was pulling one of her characters right out of Saturday Night Live, which she is phenomenal in by the way, and right into this movie, and there are only a few times where a sketch has worked as a movie for me. Next, there is a scene that takes place at the beginning of the final act of the movie involving a possession, and it didn't work for me at all. I wasn't intrigued, and I just didn't find it funny. It's actually a scene that was kind of picked apart in the trailer, and after seeing the movie as a whole, it really fell short in terms of comedy, and it had a few face-palm moments. Finally, the villain was kind of a "muahaha" villain. I'm sure you know what I mean. He's the villain who just puts his fingers together and laughs maniacally. He's nothing special. Aside, from some technical flaws such as editing and CGI, which usually don't really bother me, those are pretty much my biggest flaws with the movie. I don't think it was as good as the original Ghostbusters, but I still enjoyed it. I had a problem with one of the cameos in particular that I thought was drawn out way too far which I won't spoil, but I thought it was extremely drawn out, and I disliked what the movie did with the cameo as a whole. Another thing that isn't going to affect my score or liking of this movie is Fall Out Boy's rendition of the Ghostbusters theme. I mean, I'm a Fall Out Boy fan. Am I the only one who thinks it's atrocious?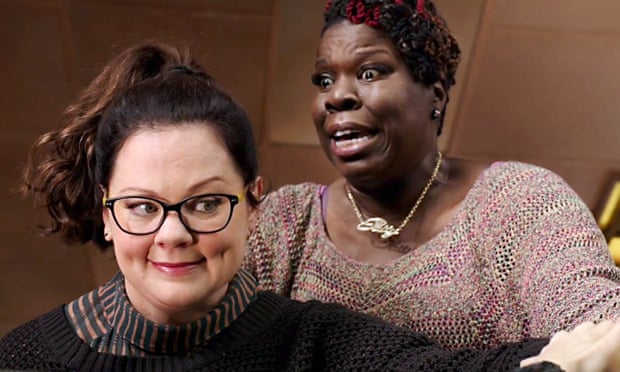 Overall, I thought that this new iteration of Ghostbusters was just a flat-out fun watch. That's the reason it's getting the score that it is. I thought that the leads all had amazing chemistry, and they worked so well together and with the director who has also proved to have great chemistry with the cast. I laughed in this movie, and I thought that there were some great jokes, especially from Leslie Jones. I had a few problems with it such as a character and one scene in particular, but overall, those problems didn't cause me to be unable to go into that theater tonight, put my feet up, and enjoy the living heck out of 2016's Ghostbusters. Hang me, Internet. I liked the new Ghostbusters. I liked it so much that I'm going to give it a 7.2/10.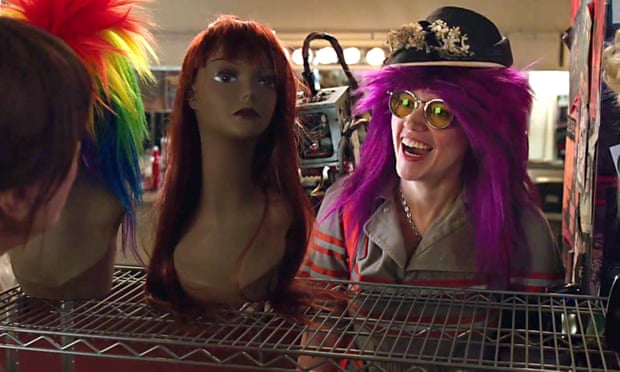 Are you going to check out the new Ghostbusters movie this weekend? If you are, comment down below and let me know, then come back and tell me what you thought! Also, what is your favorite Paul Feig movie? Mine is still Spy, but I really didn't expect Ghostbusters to come close to dethroning it, so props to Ghostbusters. Except for the Fall Out Boy version of the Ghostbusters theme. That was bad. Anyways, like I said, come back and let me know what you thought, and if you are going to see any other movie this weekend, let me know! The Infiltrator is also being released, so if that's what you will be seeing, let me know what you thought, and you can see my review right HERE! Also coming this week is a review for the new horror move Lights Out, so be sure to stay tuned for that to know when it is out! As always, thank you, and keep listening to 88.7 The Pulse!
Images courtesy of Sony Pictures