It's time for another movie review presented by our good friends over at FatCats Gilbert on the southwest corner of Greenfield and Baseline. FatCats Gilbert is the best place to check out a movie or just to have some fun. With bowling, mini golf, an arcade, amazing food, and the most comfortable movie theater in the valley, there is no place like FatCats Gilbert to spend your time!
I'm really excited today because I get to talk about a movie I have been looking forward to since I first heard about it. I actually thought that Snowden was going to be released last year around the same time as The Walk, but it is going to be in theaters this Friday, so I had to wait a little bit longer than I thought I would have to. I really love Joseph Gordon-Levitt, and he has starred in two of my favorite romantic comedies of all time in Don Jon and 500 Days of Summer. I also think that Shailene Woodley is a very good actress, but I think that she needs to get away from the Divergent series to be able to prove that. Finally, the man behind the camera for Snowden is Oliver Stone. I absolutely adore Oliver Stone's earlier work, but lately he has gone off the tracks, and he hasn't made a movie I have loved since Any Given Sunday. I was still excited to see Snowden because I wanted to get a peek at what actually happened to this man, so luckily, I was able to check it out last night! Let's talk about Snowden!
Snowden is directed by Oliver Stone and stars Joseph Gordon-Levitt as Edward Snowden, the man who infamously released over one million classified NSA and CIA documents to the media. After he learns that he believes that the government is being dishonest with its people, he has to decide whether he values his loyalty to the people or his loyalty to the government.
Off the bat, this is an amazingly promising and interesting premise. This is a story I've been trying my best to keep up with since it happened, and I still didn't know much about it, so I was really excited check out the movie. From what I've seen from the actual Edward Snowden, I think that Joseph Gordon-Levitt did a very good job capturing this character and almost every single mannerism of the actual guy. As far as I can tell, he sounds like the real Snowden, and the way he interacts with people is the same way I can imagine the real Snowden acting around others. I also thought that Shailene Woodley gave an amazing performance, and it was one of the best of her career. Like I said, she needs to break away from the Divergent series so that she can give very human performances like this or The Spectacular Now or The Fault in Our Stars. Once she can break away from being known for that I think she can become one of the most sought after names in Hollywood. I also thought that this movie was very well-directed. Oliver Stone always proves that he's so great and creative behind the camera, and the way he uses it and uses visual storytelling makes this one of the best looking movies of the year. Finally, I think that this movie did an okay job of grabbing me and getting its point across. I thought it did a decent job explaining everything it could about computer terms and government terms, so I wasn't completely lost. It didn't dumb it down, but I could still somewhat grasp what was happening without knowing any of the terms going into the movie.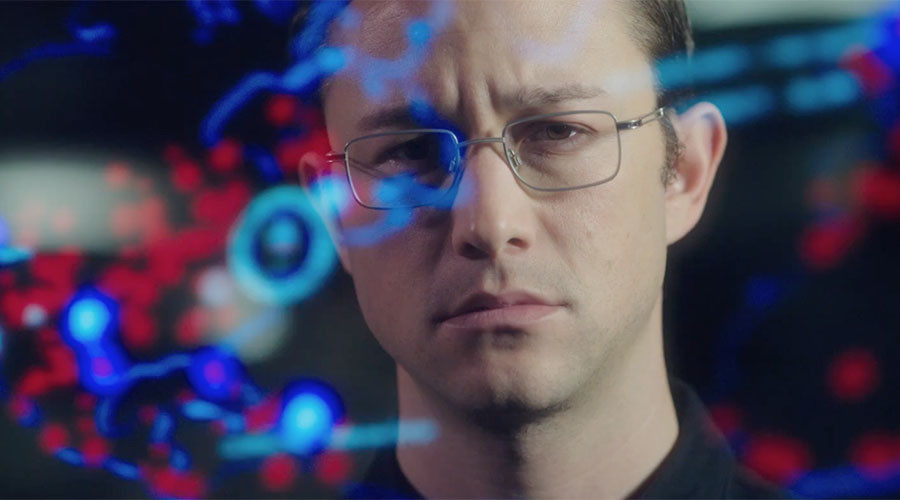 My biggest problem with Snowden is that I walked out feeling like I wasn't as interested as I wanted to be, and I felt like I didn't learn much. I didn't know a huge amount about the events in the movie before I saw it, but I still feel like I didn't get the in-depth analysis and behind-the-scenes look at what I wanted to see. Actually, I'm not 100% sure what I wanted to see. It wasn't because they skimmed over one specific thing. I felt like I missed why this character was so interesting before he leaked the documents, so I've come to the conclusion that he just wasn't. He was your typical smart guy, and once you get past the fact that he's definitely one of the most brilliant guys to work for the United States, he just doesn't really interest me. The only time I feel as into the story as I should be is when the documents are about to be leaked and when I see that the film is working toward that. Other than those times, I'm kind of disinterested in what is going on.
Overall, I think that Snowden is really well made by Oliver Stone, and there are plenty of great performances in the movie, but it just didn't pull me in the way I wanted it to until we get to the part of the story that everyone knows about which is the leaking of the documents and Snowden on the run. I was just waiting for that moment, and I was hoping that I would have a learning break through where I was floored by what was really happening and the way he went about leaking the documents, but I just wasn't. I'm going to give Snowden a 5.5/10.
Will you be checking out Snowden this weekend? If you're going to see it, comment down below and let me know! Also, I should have a review for Blair Witch out later this week as well as a review for Deepwater Horizon the Thursday before its release. As always, thank you, and keep listening to 88.7 The Pulse!