It's time for another movie review presented by our good friends over at FatCats Gilbert on the southwest corner of Greenfield and Baseline! FatCats Gilbert is the best place to check out all of the latest movies! With the most comfortable recliners in the valley, there is no better place to kick back and eat popcorn!
I think that with the release of Manchester by the Sea, I can officially say that we're in Oscar season! We're in the season where we could see movies that take home statues in February, and that excites me! Manchester by the Sea is a movie that I've been wanting to see since I first saw the trailer at a showing for Hell or High Water. I've been so excited for it since then, and I finally had the chance to see it! Let's talk about it!
Manchester by the Sea is directed by Kenneth Lonergan and stars Casey Affleck, Michelle Williams, Kyle Chandler, and Lucas Hedges. Following the death of his brother, Lee Chandler, played by Casey Affleck, is left to take care of his nephew Patrick, played by Lucas Hedges. Lee doesn't want to be Patrick's guardian, and Patrick doesn't want to change the life he has to follow his uncle back to Boston. They're both going to have to compromise as they continue with their lives.
Manchester by the Sea is a movie I wanted to be talking about come Oscar season. I wanted an Affleck showdown for Best Actor between Casey Affleck in Manchester by the Sea and Ben Affleck in either The Accountant or Live By Night. I don't think we're going to see Ben Affleck nominated for The Accountant, and I still haven't seen Live By Night, but I think we're going to see Casey Affleck nominated for Manchester by the Sea. He is absolutely incredible in this movie. He faces so much darkness and so much conflict in his life that you have to assume he's going to break at any second, and Affleck does an amazing job capturing that. This is a very emotionally heavy movie, and Affleck hits the tones so well. The characters in this movie are probably my favorite thing. These characters are so fleshed out, and it isn't because they go through huge character arcs, but rather just because we see them at every point of the spectrum. We see them at their highs, we see them at their lows, and we see when they completely break because they have nothing left to give. A lot of it is helped by how scenes are just allowed to develop. There aren't any fireworks in this movie, but the scenes are allowed to draw out to a perfect point where we get to see the characters develop through their eyes and their actions. We spend the right amount of time and the right moments with them to be able to feel so much emotion for them. This movie is also beautiful looking, and I feel right there on the east coast near Boston when I watch it. It captures the season, the weather, and the look amazingly well.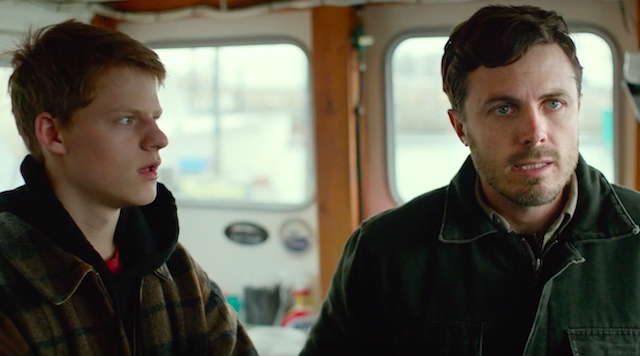 I did have some negatives with Manchester by the Sea. First of all, there are times where it feels a little bit conventional and forced. It's not a constant thing because the moments where real emotion explodes far outnumber these, but there are definite times where I feel like it pushed a little bit too much. Next, I didn't like the way music was used in this movie. The music is very strong and forthcoming, but the movie is very subtle. Watching Manchester by the Sea is like reading. You are constantly reading emotions and tones, and there are never huge fireworks where I feel like the music it uses is necessary. The scenes are subtly powerful enough without loud music.
Overall, I think Manchester by the Sea may not be the 10 that I wanted, which isn't fair to hope for, but it's pretty darn close. It's an emotional ride, and if that was the main goal of Manchester by the Sea, they nailed it. Casey Affleck was incredible in this movie. I think he's the front-runner for the Oscar at this point. The characters are also so well-realized. Lucas Hedges was also excellent, and I can't wait to see what's coming for him. The way this story is told is really amazing, and it has some of the best usage of flashbacks for storytelling I have seen. I didn't like the music because I didn't think it matched the subtlety of the film where I feel like I'm reading emotion and tone, and even though most of the film is extremely powerful and emotional, there are a couple of times where it felt forced. I'm going to give Manchester by the Sea a 9.2/10.
I do want to stress that this is a very heavy movie from an emotional standpoint, so if you are considering checking out Manchester by the Sea, that may be something to either keep in mind or at least be prepared for. Also this week I should have reviews for Fantastic Beasts and Where to Find Them, The Edge of Seventeen, Nocturnal Animals, and Bleed for This, so be sure to stay tuned for those! It's going to be a busy week! As always, thank you, and keep listening to 88.7 The Pulse!