It's time for another movie review presented by our good friends over at FatCats Gilbert on the southwest corner of Greenfield and Baseline! FatCats Gilbert is the best place to check out all of the latest and greatest movies at the box office including the brand new Star Wars film, Rogue One: A Star Wars Story! You can click right HERE to see all of the showtimes at FatCats Gilbert, and you can see Rogue One: A Star Wars Story as soon as Thursday night!
So Rogue One: A Star Wars Story might be the biggest movie coming out this weekend, but I was still extremely excited to check out Collateral Beauty. I'm sure everyone is going to be skipping Rogue One to check out Collateral Beauty, so this is definitely the more relevant review. I really loved the trailers for this film, and I absolutely adore the cast. I was kind of expecting a weird cross between A Christmas Carol and Eternal Sunshine of the Spotless Mind. Maybe I was only thinking Eternal Sunshine of the Spotless Mind because of the title drop in the trailer, but I thought it had a similar dramatic and comedic tone with an odd, original, and interesting story. Let's talk about Collateral Beauty!
Collateral Beauty is directed by David Frankel and stars Will Smith as an advertising executive who has recently lost his daughter. He hasn't been the same person since the incident, and all his friends want is for him to come back for the good of the friendships and the business. Maybe he can with some help from personified versions of Love, Time, and Death.
This movie actually really impressed me. It looked inside me and basically told me that it was going to make me appreciate what it means to be human and to have relationships with other people and my family. First of all, Collateral Beauty shook me to my core on an emotional level. I think that anybody who has ever had a relationship with another person or a family member can connect to this, I think anyone who has ever lost someone can connect to this, and I think that anyone who has ever experienced frustration in being able to communicate feelings, especially sadness following a loss, can connect to this. Collateral Beauty is a movie with a soul and a heart, and that's why I like it so much. From a filmmaking perspective, it's not reinventing the wheel, but from a story perspective, I was fully emotionally invested from start to finish, and I mirrored the feelings of these characters. The characters in this film are great, and they exemplify humans and human relationships during both good times and bad times in a way that you barely ever see in film. The characters are also nailed down by such great performances led by Will Smith. It's very well-written, and the way it portrays pain, communication, human relationships, and the frailty of life makes Collateral Beauty one of the most powerful movies of the year, in my opinion. I also have to praise it for its originality. It ended up being something I didn't expect it to be, and I ended up liking that. It is kind of a take on A Christmas Carol, but it's done in such a different way with a different purpose that it feels so fresh. I think you need to embrace what it's offering up to be invested in it, and if you can do that, I believe you will be emotionally invested as well.
I don't have many glaring errors with the movie, but it did leave me with a couple of questions in terms of plot. It's something I can get over, and maybe I just need another watch, but I did have unanswered questions that I felt like had no reason to be left unanswered. Other than that, this movie isn't going to blow your mind from a filmmaking point-of-view. It is an interesting and heart-wrenching story, but it has pretty standard camerawork, editing, and cinematography. Finally, if you don't buy into the movie, it may not be for you. This is one that you may have to dive into instead of dipping toes because, I'm not going to lie, it's a stretch, and it's a stretch that I can see some audiences not being able to make.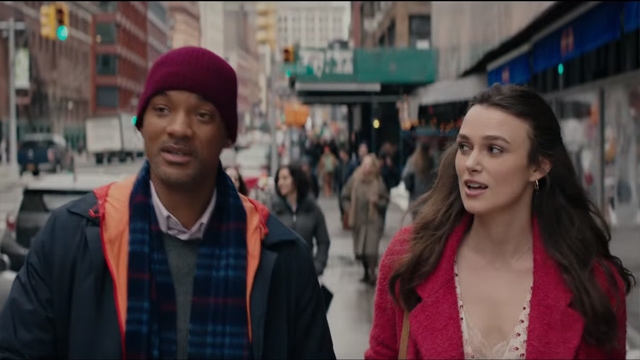 As a person, Collateral Beauty really moved me, and I would think that anyone who has ever experienced a human relationship, loss, or even happiness could absolutely connect to this. I think it does an amazing job of portraying humanity, appreciation, and mortality, and it tugged on my heart-strings. The performances were excellent led by Will Smith, and it is very well-written. Again, it's nothing technologically special, and it does leave a few unanswered questions, but the story and the characters are special, and Collateral beauty hit me in the right way. I don't think this movie is for everyone. I think people are going to find it a little bit absurd and a little bit pushy, but if you buy into what this movie is offering, I think it will hit your emotions the right way. I bought in, and it is one of the most emotionally captivating movies of the year for me. I'm going to give Collateral Beauty an 7.5/10.
Will you be seeing Collateral Beauty this weekend? You probably will right before you see Rogue One, right? If you're seeing either of the two new releases this weekend or even just heading to the theater to see something that's hanging around after a few weeks, let me know down in the comments! I should have plenty more reviews and movies to talk about now that we're into Oscar season, so be sure to stay tuned for those! As always, thank you, and keep listening to 88.7 The Pulse!
All images courtesy of Warner Bros.