It's time for another movie review presented by our good friends over at FatCats Gilbert on the southwest corner of Greenfield and Baseline! FatCats Gilbert is the best place to see all of the latest releases with the entire family! With so many options at an affordable price, FatCats Gilbert is fun for all ages!
After hearing about Monster Trucks possibly taking a $100 million hit for Paramount, it wasn't a movie I was looking forward to. In fact, I was pretty sure it was going to be a contender for my list of worst movies of 2017. I actually really like Jane Levy, and I've liked Lucas Till in what I've seen him in, but this wasn't a premise I was psyched about. It's a movie for kids in January where the studio has already accepted that they were going to lose nine figures. How could I be excited? Was it as bad as it could have been? Let's find out!
Monster Trucks is directed by Chris Wedge and stars Lucas Till, Jane Levy, Thomas Lennon, Barry Pepper, Rob Lowe, Danny Glover, and the guy who wishes he would have built a house before he died in Fight Club. His real name is Holt McCallany, but that's how I know him. Tripp, played by Lucas Till, just wants one thing in life: a truck. Well, he has the truck, but he doesn't have the money to get it running. After an accident at a local oil-drilling plant, he might not need an engine. He just needs his mysterious, slimy friend.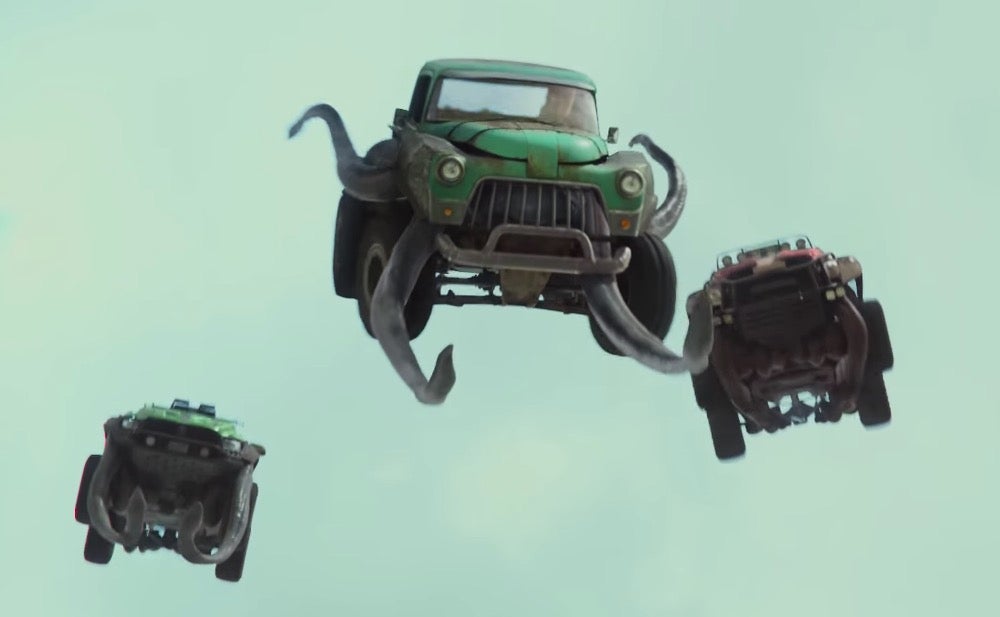 This movie should have been an absolute pile of junk. I was imagining myself in the theater enjoying the fiasco on the screen. Well, it's actually not that bad of a film. It's not that great of a film, but it sure isn't as bad as it should have been. In fact, it's a perfectly fine January movie for kids. Lucas Till does as good of a job as he could have with the material he is given, and he gives a decent performance with characteristics that you'd expect from your characters in a movie for kids. It's definitely watchable, and it has enjoyable moments. There were enough scenes in this movie that let me take my "realism glasses" off and become a little kid who is fascinated by giant jumps from monster trucks and over-the-top action sequences. I'm not going to say that you heard it here first, and I'm definitely not going to say that Monster Trucks is the reason I'm saying this, but don't be surprised if Jane Levy breaks out in the next few years or even this year. Just by looking at her schedule for 2017, it doesn't look like she's going to be a giant star coming out of the year, but don't be surprised if she is a mega-celebrity at the end of 2018 or 2019. She's very likable, and she gives a good performance in this. I had my problems with her character, but she gave a decent performance.
This movie was better than it should have been, but that doesn't mean it was good. First of all, sometimes it's hard to get behind the characters. I didn't actually like Tripp. He's kind of a tool who only cares about his engine-less truck. He doesn't even say many nice things to the monster driving his truck and actually giving him the ability to drive, he constantly ignores the smart, nice girl who is obviously interested in him, and he essentially uses a younger kid so that he can look at cars and work at a dealership. This kid thinks that Tripp is the coolest guy to ever set foot in North Dakota, but Tripp ignores him and will only hang out with him so that he can use the dealership. He's not an evil murderer, but he's not a great guy. This is definitely a movie for kids from a character and a story perspective, so I think that kids will enjoy the heck out of this movie, but that's about it. They aren't going to learn anything about becoming a better person or about life. They're just going to see some awesome scenes with giant trucks doing cool things.
Overall, Monster Trucks is better than it should have been. It should have been something I leave out for bulk trash pickup on the first Monday of every month. It actually has some good action sequences, good performances, and good CGI. It's enjoyable enough to be a passable, forgettable movie that is made for kids and comes out in January. I think kids will enjoy this movie so much, but it's not something that will teach them a lesson or show them how to be better humans. It will probably just take their minds away for two hours and maybe even begin a path into a love for cars and trucks. Specifically Dodge cars and trucks. There's some pretty obvious product placement in here. Kids are enamored by cars and trucks, and Monster Trucks uses that to its advantage to become a decently made and entertaining movie. I'm going to give Monster Trucks a 5/10.
Will you be seeing Monster Trucks? It's a good one for the kids, so I would actually suggest taking them to see it. Wow. I didn't see myself saying that twenty-four hours ago. What are you seeing this weekend? Some Oscar movies are still hanging around or even getting their wide releases this weekend, so let me know down in the comment section! As always, thank you, and keep listening to 88.7 The Pulse!