It's time for another movie review presented by our good friends over at FatCats Gilbert on the southwest corner of Greenfield and Baseline! FatCats Gilbert is the best place to see all of the latest releases at the box office in the most comfort! With pizza, fries, wings, and plenty more brought right to your Recline-N-Dine seat, you can feel like royalty at FatCats Gilbert!
Boy I'm excited that I get to talk all about Split today. This is a movie I have been looking forward to for a very long time, and I couldn't wait to see what M. Night Shyamalan had in store for us. Now, of course, we all know that Shyamalan comes with some baggage. By baggage, I mean the four piles of garbage following three excellent movies and one okay movie. Yes, Signs is included in the "excellent" section of that. The ending doesn't bother me as much as it bothers some people, and the first hour and forty minutes stand right next to his first two big releases. The Sixth Sense, Unbreakable, and Signs had Time Magazine calling Shyamalan the next Spielberg. Who knows what could have been? He ended up making Lady in the Water, The Happening, The Last Airbender, and After Earth, and everything was forgotten. Then he made The Visit. Truth be told, I still haven't seen The Visit, so I'm going to give it a watch this week, but Split was my first journey back into Shyamalan's movies. I was hopeful, but I still had to be cautious. Let's talk about Split!
Split is directed by M. Night Shyamalan and stars James McAvoy, James McAvoy, James McAvoy, 20 other James McAvoys, Anya Taylor-Joy, Betty Buckley, Haley Lu Richardson, and Jessica Sula. Three girls are abducted and held captive by a mysterious man. They're held in his basement while they try to find out who kidnapped them and why he kidnapped them. They soon find out "why" they were kidnapped, but the answer to "who" might be a little bit more difficult as the man begins to exhibit a personality disorder as he transitions between twenty-three different personalities. They see many different sides of this man, but the scariest one is the one everyone seems to know the least about.
First of all, I just want to say that this review isn't going to spoil anything. I'm going to be as vague as possible, and once I get a chance to see this movie again, I'll release a spoiler-filled review with all of my thoughts. Like I said, I didn't see The Visit, so this is my take on Shyamalan right out of After Earth. Well, Split is nowhere near his low points. In fact, there is a lot of competency and quality in this movie that gives me the feeling I had when watching older Shyamalan movies! Let's start with James McAvoy who definitely gives, in my opinion, the best performance of his career. He is absolutely incredible in this film, and he drove it all the way home. He had to inhabit so many different personalities for this role, and every single time he shifts, you can tell by his posture, the way he moves, and the way he talks. He's so automatic and smooth in his shifts, but he never stays in transition. It's instantaneous, and he gives everything he has to every second of screen time he gets. By the end of the film, it's almost like we've grown accustom to this man as compared to James McAvoy,and I forgot he was even in the movie. I also have to give Anya Taylor-Joy a ton of credit. She perfectly pulls off the stress, horror, and shock that her character needs to go through. I really didn't like Morgan, but she wasn't the problem with that film, and I've heard that she's incredible in The Witch as well. I think she has so much ahead of her, especially in the horror and thriller genres. Next, this movie looks absolutely beautiful. The colors are dark and dreary, but they're used so well, and the lighting is perfect to set mood and to make an incredible looking movie. Shyamalan also uses the camera well for the most part. The movie has so many amazing looking still frames that allow you to think about everything going on. It doesn't need a fast-paced cut or dynamic sound design to pull out the thrills. We just see a lot of shots that linger on a character or a setting, and it gives the perfect amount of information and time necessary to process ideas yet still leave questions spinning in your mind. The first half is where this movie really excels in that area, and Shyamalan crafts the thrills so quietly and delicately that you don't even realize the small frog that's building in your throat. Split shows that Shyamalan can still do it when he stays small and returns to his roots. That talent is still inside him, and it came out for this movie.
I mentioned that the first half of this movie is where Shyamalan excels. Well, if the first half is where he goes back to his classic thrills, the second half is where he comes unglued and lets everything fly. He did such an incredible job staying contained and quiet in the first half, but all of a sudden the movie introduces a few twists and turns that didn't work for me. Twists and turns are to be expected in a movie like this, but if Shyamalan continued on his path of containment, he probably would have been better off. I'll definitely outline which twists and turns didn't work for me in the spoiler-filled review, but for right now I'll just say that it was a combination of interjecting scenes and story arcs. Next, this movie has definite pacing issues. I mentioned that the first half was very good, but it was where I had most of my pacing problems. We spend a lot of time in places that aren't interesting, and I found myself begging the movie to go back to where the story was. Again, if it sounds vague, that's probably because I want you to go into Split as fresh as possible. Finally, I didn't think some of the side characters were very good. They weren't developed, they didn't have great performances to raise them up, and I didn't care about them. McAvoy and Anya Taylor-Joy steal this movie, and they're the reason that the movie works at most points.
Overall, Split is nowhere near The Last Airbender, which I think is Shyamalan's worst film, but it's not quite on the level of Signs, Unbreakable, or The Sixth Sense. Shyamalan excels when he stays small and contained. The first half of this movie was great! Shyamalan focused on building tension and thrills with his material and this great premise. Then he unleashed a bit more than he could handle with the final turns as well as some stuff that didn't matter and probably shouldn't have even been in the movie. I can't understate how amazing James McAvoy was in this film. I really think it was his best performance yet, and he did an incredible job morphing and changing second to second. Anya Taylor-Joy was also amazing in this film, and she carried the emotional weight so brilliantly. I'll definitely go into a bit more of what I didn't like about the film in a spoiler-filled discussion later this week just so that you can go in completely fresh, but I will say that some of what was introduced in the second half of the film didn't work for me. I had to sleep on this one before I wrote the review, and I still want to give it another look, but for right now, I'll say that I did enjoy the film, and it's the closest we've seen Shyamalan to his 1999-2002 self. I'm going to give Split a 7/10.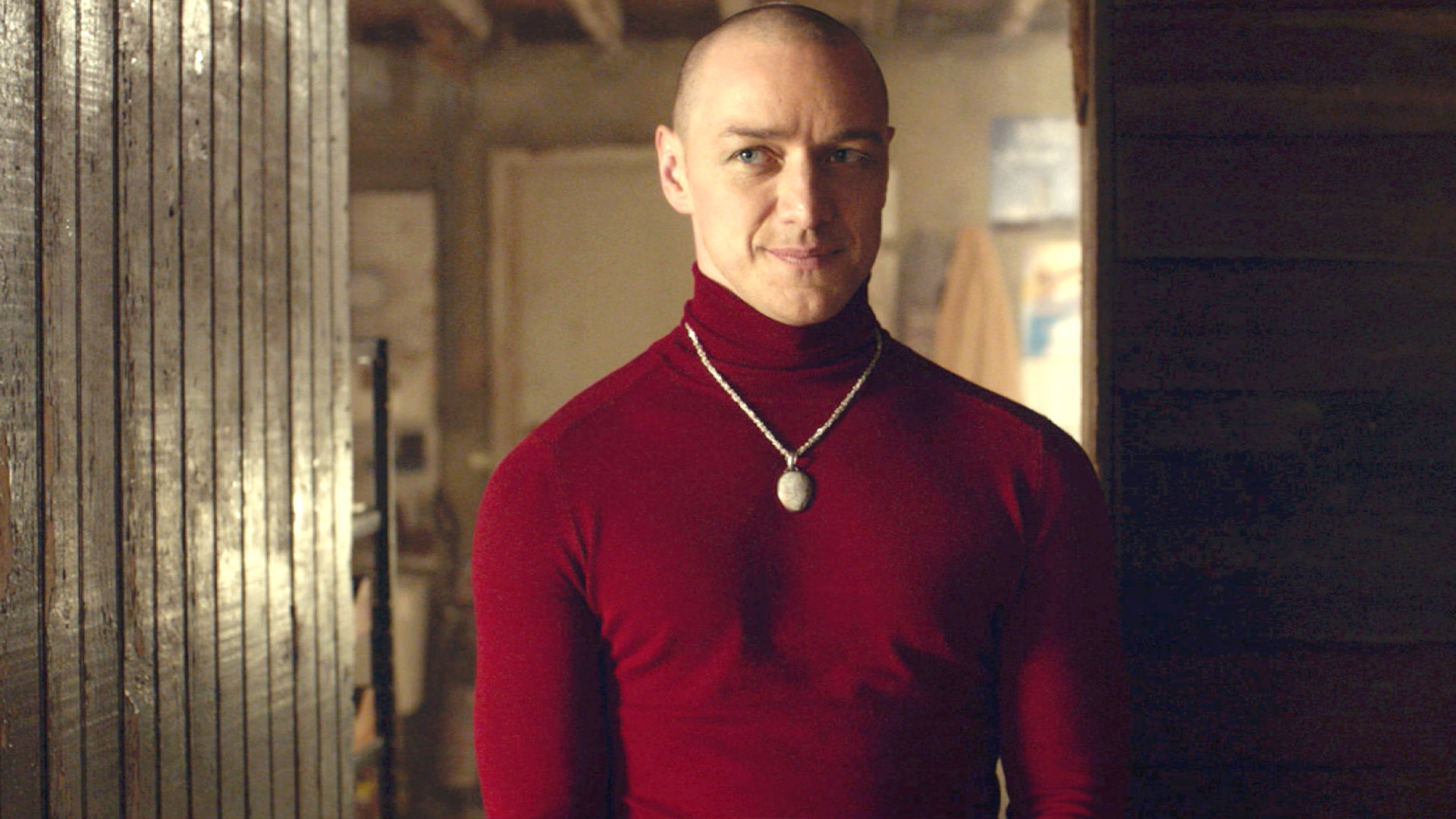 I actually wrote two reviews for this movie. I wrote one right after seeing it, then I wrote this one after I let if marinate a bit, so once you see it, give it some time to run through your brain. It's a good one to see if you like talking about movies because it will get people talking. Will you be checking Split out this weekend? Comment down in the comment section and let me know! Also, I'll be ranking all of Shyamalan's films later this weekend, so be sure to stay tuned for that! There's quite the gap from top to bottom, so I'm excited to talk about all of his movies! As always, thank you, and keep listening to 88.7 The Pulse!
All images courtesy of Universal Pictures