It's time for another movie review presented by our good friends over at FatCats Gilbert on the southwest corner of Greenfield and Baseline! FatCats Gilbert is the best place to see all of the latest movies at the box office! To see all showtimes and to purchase tickets, you can click right HERE!
This is probably the most excited I've been for a review all year! I know that we're only in mid-February, but I stand by that statement. I was lucky enough to get into an extremely early screening, so it's time to talk about Logan. When a studio shows their movie weeks in advance, it typically means that they have a lot of confidence in the film. Take, for example, Captain America: Civil War. They showed the film a month in advance and didn't even set an embargo date (a date for reviews to be published). They knew that critics would see their film and love it, and that's exactly what happened. That's part of the reason I was so excited for Logan. Couple that with the incredible trailers and the fact that we were finally going into a deep character study, and I was psyched. I just want to stress that this will be spoiler-free. I'm not going into any exact details, and I'm going to spoil as little as possible. Hopefully it's not a spoiler to say that there is a lot to spoil because I fully intend to have a spoiler-filled review posted once the film is released. Let's talk about Logan!
Logan is directed by James Mangold and stars Hugh Jackman, Patrick Stewart, Dafne Keen, and Boyd Holbrook. The year is 2029, and Logan and Charles Xavier are among the final mutants in existence. They're hiding out on the Mexico-US border, but they're not lucky enough to stay hidden. They're called back to action when a young girl similar to Logan emerges into the light, and they must find a way to get her to a safe place and keep mutants from going completely extinct.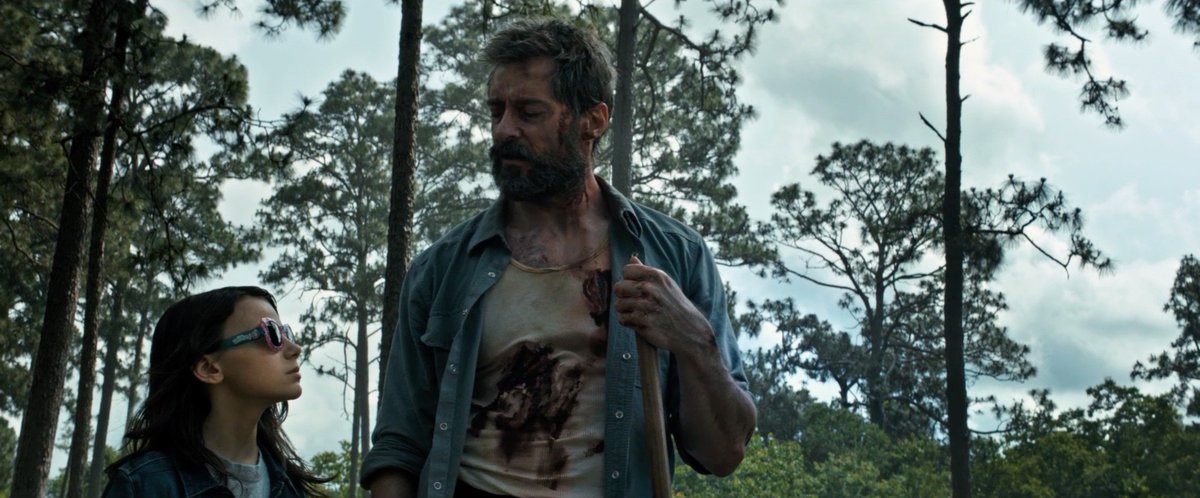 After these trailers, I didn't see how we could possibly get a movie that was less than great. As it turns out, we're getting an excellent movie! I loved this film, and I think that it's one of the best X-Men films in the entire franchise. James Mangold, who did a great job with The Wolverine until the final act, directed this movie so beautifully and completely, and the action is fantastic. It's a beautiful looking film, and all of these amazing wide-shots from Mangold come together to perfectly display a new dystopian-esque world that we don't see very often in comic book films. It almost had more of a Mad Max: Fury Road feel when it comes to the world-building, and I never questioned it. It established the setting, and it never pulled away. When you think about advancing twelve years into the future, it's hard to imagine that it's possible for us to digress, but in this world, we appear to have gone backwards, and something about the ambiguity and vagueness of an X-Men wasteland completely captivated me. I also thought it was very well-written, and this is by far the best look at the character of Logan we've seen so far. We don't just seem his as a big ball of hate and rage. He actually has plenty of depth and emotional range, and he proves that he has a lot of love to give. He's almost the perfect representation of the hard-shell outside but the softer inner-core, and it worked very well for both the character and his relationship with Charles and Laura. To be completely honest, this is barely a blockbuster comic book film. This is more of an indie-western with great character moments and a great story. I think that's what a lot of people were looking for headed into Logan, and that's what we're getting, so I think it will please a lot of fans. While some of the best moments are moments where Logan is just a man with Charles and Laura, we also get some of the greatest Wolverine "rage-mode" moments. This film puts that R-rating to good use, and we get excellent sequences with Logan and Laura both clawing their way through scenarios. One of the biggest complaints about the Wolverine films so far is that we never see an unleashed version of Wolverine, so hopefully Logan fills that void. They also use the R-rating when it comes to the tone. The extremely dark tone that is teased in the trailer is what we see for the entire movie, and it works to portray Logan as this broken character. They also throw a little bit of levity in there, and if you like the levity that Wolverine brought to previous X-Men films, I really think it will work for you. I laughed more than I expected to, but I never felt like they faltered when bridging the gap between the serious darkness and the levity. I thought the comedy was well-timed and it never felt off-kilter, but even through those moments, I always felt that Logan was in danger. I never fully felt that in prior films because we never see him wither and deteriorate, so I think Logan really allows us to appreciate the character and the man. Finally, I love the ending of the film. Again, I'm not going to spoil anything, and I will have a spoiler-filled review out once the film is released in theaters, but I thought that this brings the entire universe to a perfect point of completion while it also leaves many options for the future.
I still do have a few problems with Logan, but I'll keep them relatively vague as a few of them could be seen as spoilers. First of all, as we see with so many comic book films, I thought the villain was a bit weak. He shows up and is instantly this horrible man who we obviously need to stay away from. We get a little bit of depth through a different character, but for most of the film he felt like a plot device. Also, the character of Laura's mother/guardian doesn't always work for me. The few scenes she appears in are a bit choppy and instant, then they don't have a payoff. Next, the villain uses a similar tactic to beat Logan that we've seen before, and at this point it feels like an obvious, easy way to up the ante. Again, it probably sounds vague, but it's something I'll discuss further in the spoiler-filled review. Finally, in the finale there is a moment of self-awareness that pulled me out of the film. In the second trailer we saw a few shots of comic books, which is something I actually liked, but there is a moment that goes far past what's necessary as far as self-awareness goes, and it took me out of the movie at an extremely important time.
Overall, I think Logan is the story and character-driven Wolverine movie that we've been waiting for. This is by far the deepest iteration of the character we've seen, and seeing a withered and battered Logan gave me a much deeper appreciation for the most popular X-Man of all time. This doesn't even feel like a comic book movie. It just feels like a good character study and an exploration of this dystopian world that we automatically assimilate to. I say that, but I also have to stress how great every single moment is where Logan is unleashed, and he and Laura make a great duo. There's always a constant fear of danger, and this is the first time I've genuinely been scared that I might lose a few characters I've become very close to over the past decade and a half. It's very well-written and directed, and Mangold nailed the ending. Both Wolverine films have struggled in the third act, but this one sticks the landing for the most part with closure while still leaving some options open that I would be totally interested in exploring. It's not without problems including the villain and the villain's methods, but this is a great movie, and it's by far the best we've seen from Wolverine both as a complete story and as a character. If Hugh Jackman is going to go out, he went out with a bang. Or a slice. Or a chop. Or with his claws through the jaws of some unlucky dude. I'm going to give Logan an 9/10.
Will you be seeing Logan? Comment down in the comment section and let me know what you thought! I should have a spoiler-filled review released once the film hits theaters, so be sure to stay tuned for that! As always, thank you, and keep listening to 88.7 The Pulse!