It's time for another movie review presented by our good friends over at FatCats Gilbert on the southwest corner of Greenfield and Baseline! FatCats Gilbert is the best place to see all of the latest releases in comfortable recliners while delicious pizza is brought right to your seat! To see showtimes and to purchase tickets, you can click right HERE!
I'm so excited to be able to talk about The Wall today! I'm a big fan of war movies, so I always look forward to the one or two we get per year. Even more exciting was that Doug Liman was behind the camera on The Wall. Doug Liman might be known for his action chops, but he also directed Swingers, so he can handle different genres, even if multiple genres come together in the same film, and that's exactly what he was out to do with The Wall. I was hooked from the minute this movie was announced and I saw the trailer. I thought John Cena killed it in Trainwrecked, and he and Dwayne Johnson are leading the charge of charismatic WWE transfers who I can't wait to see in movies. I've also been a huge Aaron Taylor-Johnson fan since I saw first saw Kick-Ass, which ended up being one of my favorite films. Let's talk about The Wall!
The Wall is directed by Doug Liman and stars John Cena and Aaron Taylor-Johnson as two American soldiers, a sniper and a spotter, who are on a mission to inspect a hot area for any life. After waiting for almost an entire day, they decide that it's safe to converge on the spot, but they suddenly realize that they were outlasted by another sniper who shoots both of them. Without help on the way, the only place to take cover is behind a wall on its last leg.
Like I mentioned earlier, I'm a huge fan of war movies. Though they can be controversial, I like to look at them as character pieces, and I think that they can pull out the most fearless and daring stories through brave characters, excellent drama, and visceral action sequences. I think that The Wall is a very effective war film on most aspects of your typical war flick, but let's start with the performances. I actually think that this is the most suitable role for John Cena to be introduced to a purely dramatic part. Though there are really only two actors physically making an on-screen appearance, Cena doesn't get a ton of screen time. It's not that I don't want to see Cena suck up screen time, because I do, but it's always going to be hard to see a character instead of John Cena because he's such a presence both in his body and in his personality. He doesn't have enough screen time in this film to be an infectious and likable guy, so he was really able to peel back the layers of the soldier and become what he needed to become. I thought he gave an amazing performance that will probably open more dramatic roles for him. I wish we were here to talk about how much fun we had in a John Cena movie, but Aaron Taylor-Johnson stole this film. He didn't have any choice but to steal it. This is his Cast Away. 70 of the 80 minutes of this film's runtime are focused on Aaron Taylor-Johnson, and it takes something special to be able to carry a story all by yourself for that long, and Taylor-Johnson kept me locked in. Another thing that I loved about this movie was that it's a turtle-paced, high-intensity drama. Most of the time when you go into a war movie you can expect an all-out action scene. I'm never against those scenes, but this movie stayed so small and contained, and it felt like a real military mission. War isn't a constant battle. There's a lot of waiting around and patience involved. This movie mirrors that aspect of war so well, and it takes a strategical approach to the genre as compared to the typical stance that looks like an action blood bath. War is a psychological battle as well, which can be even more terrifying, and The Wall tackles that.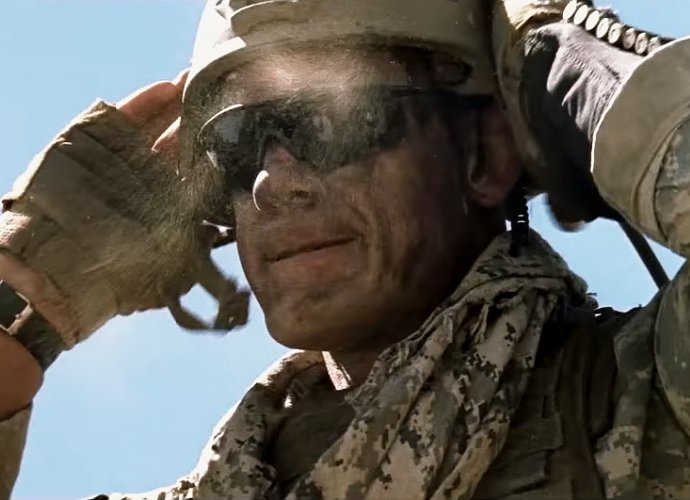 As much as I love the slow burn, I do think that the pacing is where this movie falls short. There are times where I fell out of the movie, and most of the reason is because I feel like the characters could have been expanded upon a bit more. The only reason that this movie is watchable is because of Aaron Taylor-Johnson's screen presence. We meet this character right off the bat, and from there we don't learn a ton about him other than a few conclusions and theories I drew by myself that I won't discuss here so that I don't spoil anything. We learn why he's a spotter, but that's about it. From there, the psychological battle is the reason that this movie works. I do think it's possible that this was a concept that wasn't fully developed. The runtime helped tremendously because if it was longer than 80 minutes, it would have been a paper-thin snooze fest. I think that this story could have worked for a single act of a film better than as a feature-length film all by itself.
Overall, The Wall gave me goosebumps in certain moments. It has sequences that were able to lock me in and keep me hooked due to the fact that it took a completely different approach than most war films. So many war movies present an all out battle, but war does have a lot of psychological components and moral contests to it. I have to appreciate war movies like The Wall because they're uncommon and put known stories in different perspectives giving them a whole new edge. Though I don't like it as much, The Wall could be 2017's Eye in the Sky. Aaron Taylor-Johnson pulled a Cast Away in this movie, and he carried it to the finish line. He was the only one on-screen for most of the film, and his screen presence is what brings this movie to life. Doug Liman also directed this movie as well as he possibly could have, and his long takes allowed Taylor-Johnson to become the character and really act as compared to cutting around difficulty. I do think that the story feels stretched, almost as though it should have been a single act of a film as compared to a film in itself, and I wish we would have learned more about Taylor-Johnson's character as compared to only being able to draw conclusions based on the facts we gathered throughout the story. The Wall might be slow, but it brings something fresh to the table. I'm going to give The Wall a 7/10.
Will you be checking out The Wall? Comment down in the comment section and let me know! As always, thank you, and keep listening to 88.7 The Pulse!