It's time for another movie review presented by our good friends over at FatCats Gilbert on the southwest corner of Greenfield and Baseline! FatCats Gilbert is the best place to see all of the latest box office smashes in the most comfortable Recline-N-Dine seats in the valley! Without even leaving your theater, you can enjoy delicious pizza, fries, chicken tenders, and more brought directly to you!
A24 is one of the hottest studios in the game right now, and they have yet another movie releasing this week with The Exception. The director of this movie is named David Leveaux. I don't feel too bad about not knowing exactly who he is given that this is his feature debut, but to start your career with a studio like A24 after being a successful stage director must be an experience like no other, so I was excited to see this movie! Jai Courtney is the lead in this film which still makes me take a step back. Yes, he was good in Suicide Squad for what he needed to be, but he has still never impressed me in a leading role. I do like Lily James. In fact, this isn't the only movie of hers I'll be talking about in the next few days, but for now I'll say that I was happy to see her on-screen again. Let's talk about The Exception!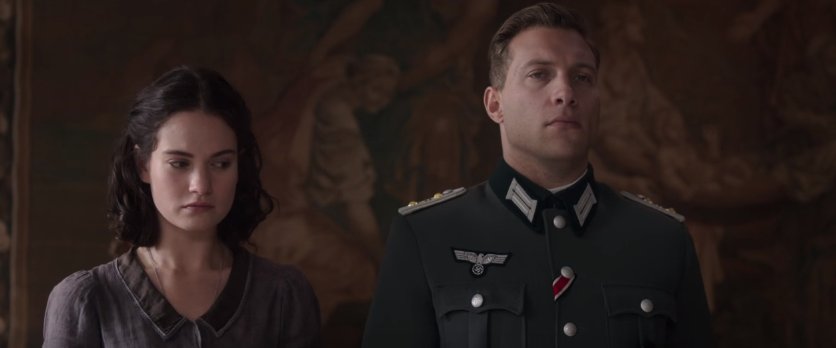 The Exception is directed by David Leveaux and stars Jai Courtney, Lily James, and Christopher Plummer. A rumor is going around that a Dutch spy has infiltrated the exiled German Kaiser, so a German soldier, played by Jai Courtney, has come to investigate the situation. As he does his best to unmask the spy, he develops a relationship with one of the maids at the Kaiser's castle, and he must make a decision between loyalty to his job and loyalty to his newfound love.
Without a doubt what carried this movie was the acting. Starting with the two leads, Jai Courtney and Lily James, we had a very strong relationship. Jai Courtney, again, has never blown me away in a lead role. In The Exception, he certainly did as he, an Australian, played a German soldier falling in love with Lily James, a British actress playing a Dutch maid. I thought that both of them nailed it, and they sold me on their heritage while giving so much humanity and commitment to their relationship. I also thought that Christopher Plummer handled his character so well by bringing balance to the role. He gives comedy, drama, heart, dismay, and secrecy to this character, and he carried the film for the most part. I also really liked how the film itself balances so many different ideas and tones. In film, it's so difficult balance tones and genres, so when one comes along that is able to combine a period piece, a deathly serious subject, some light-hearted understanding, and a romance that is exponentially more emotionally and physically stimulating than Fifty Shades of Grey, it must be praised. Yes, the baseline of this romance is a physical relationship. It begins as such and may progress for that reason, but once the emotional connections and sacrifices begin to surface, the movie rises to a whole new level.
Where I do think that The Exception begins to drop the ball a bit is in the thrills. There are plot points that should feel forbidden and should feel as though our characters are risking everything for this relationship, but there are plenty of times that feel convenient or set-up, and it slightly took away the thought of risks and stakes in the film. While this is a romantic period piece, it obviously has aspects of a thriller in the script, the cinematography, and the direction, but with it came only a small bit of tension. Finally, I think that the film is a bit exposition-heavy. It's trying to juggle so many historical accuracies and explanations for story elements, so it's understandable that something would drop, but if it stayed away from the explanations and the expositional dialogue we may have had more time to explore the thrills of the love affair.
Overall, The Exception is yet another excellent production from A24 that ropes us in with fantastic acting and keeps us there with a great romantic relationship. I really bought into these characters through Jai Courtney, Lily James, and Christopher Plummer. They were able to sell the tone shifts as well as each different aspect of their respective characters. No character in this movie has a single side to him or her. They are all either pretending to be one thing while actually being another in private or openly shifting ideas and personalities in front of others, and you can easily see the timing of the fluctuations through character development. I think there was a bit to be desired when it came to the thrills given that this is a romantic thriller centering on a forbidden love, and the facts bog the film down with exposition, but overall this is an emotionally compelling period piece that brings a riveting and passionate love affair to the screen. I'm going to give The Exception a 7/10.
Will you be checking out The Exception? Comment down in the comment section and let me know! As always, thank you, and keep listening to 88.7 The Pulse!