It's time for another movie review presented by our good friends over at FatCats Gilbert! FatCats Gilbert is the best place to see all of the latest movies at the box office including the one I'll be talking about today, Valerian and the City of a Thousand Planets! To see all showtimes and to purchase tickets, you can click right HERE!
There's no way that this was one of my most anticipated movies of the year. It probably wasn't near the top ten, but the day I could check it out, I was really excited to see it. I couldn't wait to get in the theater the day of the screening, and it's mostly because of Luc Besson. Léon: The Professional is one of my all-time favorite movies, and I've at least enjoyed just about everything else Besson has directed. In fact, if you haven't heard of Luc Besson, check out his writing filmography because you might be surprised how many movies you've seen from him. I wanted to see Besson take this movie on because it's based on a French comic series. That's right in his wheelhouse, so I expected his creative peak. Let's talk about Valerian and the City of a Thousand Planets!
Valerian and the City of a Thousand Planets is directed by Luc Besson and stars Dane DeHaan and Cara Delevingne as Valerian and Laureline respectively, a duo of government agents assigned to protect Alpha, a city of, well, a thousand planets. When the city is threatened, the two must uncover the secrets hidden years ago and aid a planet involved in a battle they never wished for.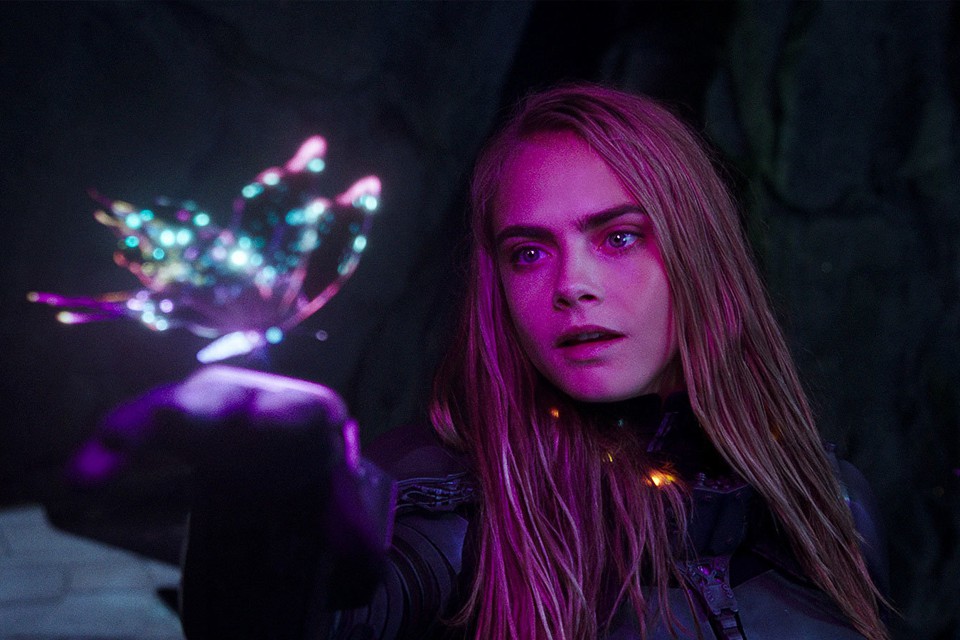 This movie is really wonderful. I don't mean that it's wonderful in the sense that it's one of the best movies of the year. I think that a lot of people will dismiss Valerian as an unorganized mess of weirdness, but to me, that's what makes it so awesome. The visuals all by themselves are a reason to see it. By themselves, you can look at this movie and see an oversaturated, bloated visual mess, but somehow it all comes together when the characters are on-screen. Early on in the film, I thought that the visuals would be overblown, but I never ended up having an issue with them. They actually enhanced the film by building such a bright and visually interesting world. The budget on this movie is massive at almost $210 million, and every penny seems to be invested in creativity. What's so cool about this movie, and what makes me love it so much, is that Besson doesn't seem to care. He doesn't seem to care that hundreds of millions of dollars went into the film. He doesn't seem to care that he probably needs to double that number to make profit. He doesn't even care that critics are likely going to bash this movie and tell all of their friends not to see it. Besson is involved because he's allowed to show off his creativity and imagination. Valerian and the City of a Thousand Planets is pure imagination, and it's so unafraid to be different and weird that it becomes one of the most entertaining movies of the year. It never stops to question itself or wonder if it's getting off track. It never establishes ground rules, so no rules can be broken in this universe. It's easy to accept what's happening on-screen because it let's itself be so free and weird. Dane DeHaan earlier this year starred in A Cure for Wellness, another movie that was so bold, out there, and odd that I loved it. I really liked Dane DeHaan in this role. I wouldn't expect him to star in a role like this as a space opera action hero, but I thought he was great as an overconfident leader, and he worked well with Cara Delevingne. It's not like they're a fiery couple who are leaking steam, but in this context it was never something that pushed me away from the movie.
Now, I love this movie, but it does have issues here and there. First of all, some of the dialogue is really bad and exposition-heavy. In a weird story world like this, you might need a little bit of exposition, but sometimes a character will tell you exactly who they are or what's happening when I wish it would let my imagination run wild just like the film does. It can get to the point where it's a little bit laughable because it's campy and exactly what you're expecting, but honestly, I was enjoying the ride so much that I almost didn't care. There are also definitely pacing and story issues with the film. Often times are way too many things happening to contain, so it does lose track extremely often and either slows or packs too much in a couple of moments. Again, a lot of people will dislike this movie for those exact reasons. If you think that too much is happening for its own good, you may see the film as never finding its footing.
Overall, I think that Valerian and the City of a Thousand Planets is one of the most special movies of the year. I loved it all because Luc Besson's imagination takes center stage. It's really refreshing to see someone make a movie using creativity without caring what critics say. It's passion for making movies at its finest. It also doesn't hurt that the visuals are amazing through their brightness and the way they create this visual world with seemingly no rules whatsoever that could possibly be broken. Besson never limits himself or his source material, and it embraces its own weirdness in all the best ways. Yes, there are dialogue, story, and nitpicked technical issues, but I lost sight of those because everyone making this movie was having the time of their lives, and it poured out through the screen. I'm going to give Valerian and the City of a Thousand Planets a 7.8/10.
Will you be checking out Valerian and the City of a Thousand Planets? Comment down in the comment section and let me know! As always, thank you, and keep listening to 88.7 The Pulse!