It's time for another movie review presented by our good friends over at FatCats Gilbert on the southwest corner! FatCats Gilbert is the best place to see all the latest box office hits including Kingsman: The Golden Circle! To see all showtimes and to purchase tickets, you can click right HERE!
There were a couple of reasons I was excited for this movie. First of all, the first movie was fantastic. It was one of my favorites from 2015, and I think it spoofed the spy genre extraordinarily well with a perfect balance of grounded relationships and unrealistic world-building sequences. I think it's right up there with my favorite spy movies of all time, and I have no reservations about saying that. Second, I love Matthew Vaughn. I'm a huge Matthew Vaughn fan, and I don't think he has made a bad movie yet. I've loved everything he has directed, and his style and tone completely lock me into his films. This is the first sequel he's directing, and he gets to stay in this world he created so perfectly in the first film, so I'm glad to see him back. Let's talk about the movie!
Kingsman: The Golden Circle is directed by Matthew Vaughn and stars Taron Egerton, Colin Firth, Mark Strong, Julianne Moore, Channing Tatum, Pedro Pascal, Jeff Bridges, and Halle Berry. After the Kingsman headquarters is blown up, the organization of spies must take its remaining members to America to team up with their cousin organization, the Statesman. In collaboration with the Statesman, they must find out who is behind this deadly new side-effect of recreational drugs and put a stop to her plan of monopolizing the market.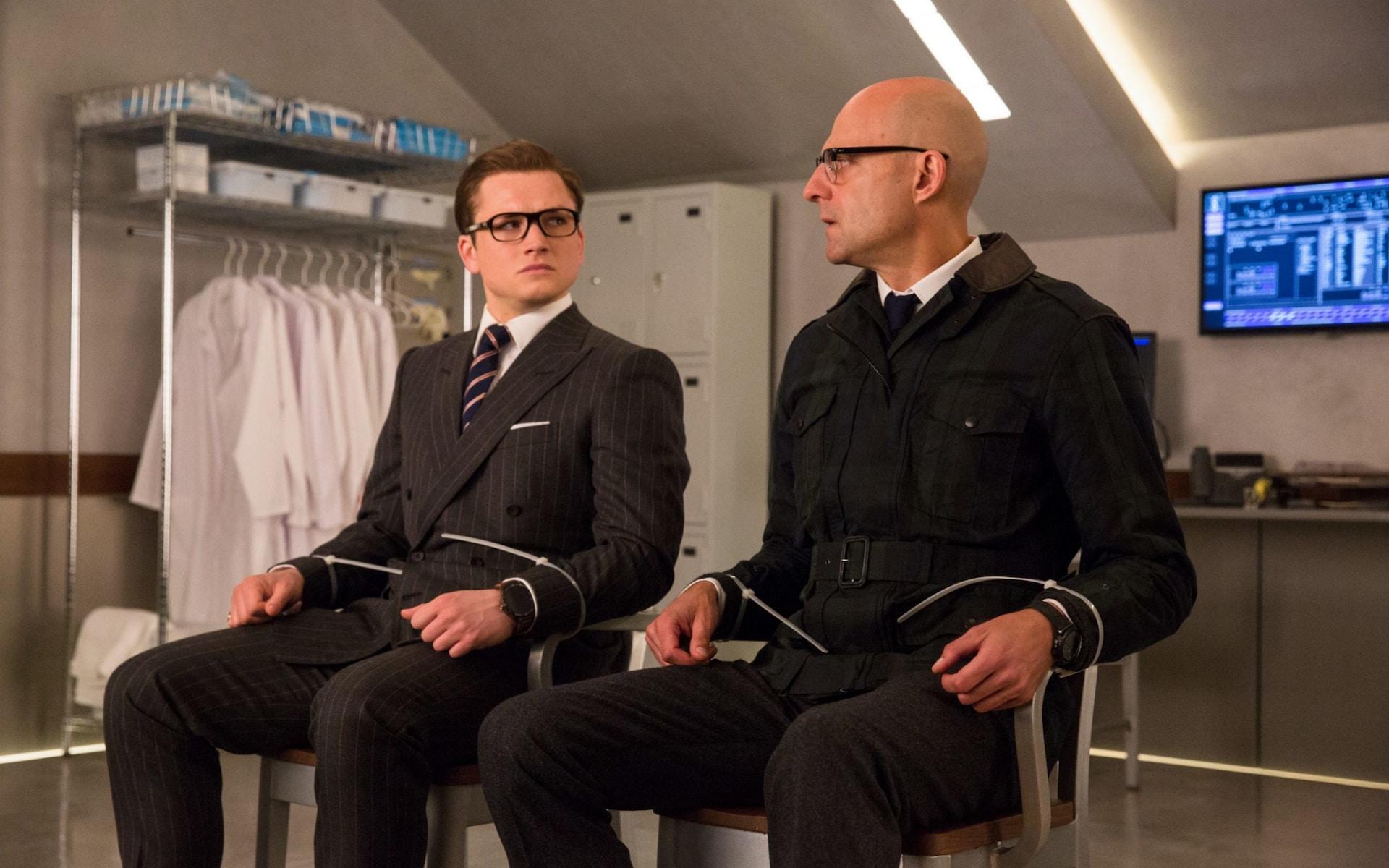 As I mentioned, I'm a huge Matthew Vaughn fan, so I'll start with his impact on this movie. The first Kingsman movie was incredibly well-shot and directed, and this one follows closely behind. Vaughn's style is so distinct in every possible way, and I love what he brings to the table. His direction of the action is so entertaining, and every shot looks beautiful. From the opening sequence, the movie tells us exactly what we're about to see, and the action that follows is really well put together. I was also happy to be back with Eggsy. One of my favorite things about the first film was getting to see Taron Egerton bust out in a great role. He came back in this movie and delivered once again. I love seeing the progression in Eggsy. Now he's the tough veteran who understands how to balance his social life and his Kingsman life, and I loved seeing how he was able to get that down. He also has some great character moments. We understand his relationships from watching the first film, but we're just as tied to them now as we've ever been. On top of the action sequences, Egerton nails the dramatic scenes which are vital for advancing his character. Also in this movie, The Statesman organization was introduced, and I absolutely loved them. I love seeing the different iterations of the world's protective spy groups, and they pull great pieces of American culture to make these spies work. Channing Tatum, Pedro Pascal, and Jeff Bridges are all perfect side characters for their British counterparts. Tatum and Bridges definitely deserved more screen-time, but when they were on the screen, they stole the show.
I love Matthew Vaughn's action, but this movie overdid the action, in my opinion. The action sequences are amazing, but when we get one after another after another, they tend to get less special and less special. Eventually, the action became something that just happened as compared to something that reeled the audience in and grabbed our attention. If you remember the church sequence in the original film and loved it, you might be pleasantly surprised when close to ten sequences exactly like the church sequence appear in this film. Or you might be disappointed because they lose their flair. If you eat ice cream for breakfast, lunch, and dinner every single day, eventually it won't be a special treat. It will become predictable, and it will feel like you're not getting much variety. That's how I feel about Kingsman: The Golden Circle. Next, I stated this above, but I found the Statesman to be extremely underused. Maybe we'll get more if a third Kingsman movie comes in a couple of years, but I loved what they brought to the film with their awesome gadgets and juxtaposition to British business. Channing Tatum has one of my favorite moments in the trailer, but it's not in the movie. We don't get much Channing Tatum in the film at all, and after introducing us to him as such an awesome character, I was disappointed to see him drop off the map. Next, a lot of plot points felt unnecessary or convenient. So many things happen in this movie, and often times I wondered if certain things were necessary. I can't get into too many specifics just to be wary of spoilers, but some of the character moments and plot points didn't need to be in the movie. Other times it just seems convenient that certain things work out for the Kingsman and the Statesman, and maybe I buy into them having everything figured out long before they need to, but it still seems convenient. Finally, I didn't find Julianne Moore very threatening. Her performance was great, but she has her own thing going on for a good chunk of the movie, and even when she's on-screen, she's tough to take seriously. Samuel L. Jackson's villain might have been crazy and silly, but he had a much darker side to him to take seriously. This sequel was never able to walk before running. It started sprinting out of the gate, and eventually ran out of gas.
Overall, I think that this is a very well-directed and shot movie, and it can be tons of fun. I enjoyed it a lot as a Matthew Vaughn spy flick where I can shove popcorn in my face by the handful. It's an enjoyable enough companion piece to the first film, but I do think that it had a lot of wasted potential. The Statesman organization was one of the brightest spots of the film, but they were severely underutilized. Where as the Statesman organization was underutilized, the action was over-utilized. I don't mean to sound like a spoiled little kid, but after so many action sequences, they stop being special. Story-wise, this one definitely felt convenient and rushed, so I was a bit disappointed. I do think that this is Matthew Vaughn's worst movie despite having the potential to be one of his best. Either way, it's a fun enough action movie that allowed me to spend more time with the characters in this story-world with its great gadgets and mythology. I'm going to give Kingsman: The Golden Circle a 6.5/10.
Will you be checking out Kingsman: The Golden Circle? Comment down in the comment section and let me know! As always, thank you, and keep listening to 88.7 The Pulse!