Happy Thursday! It's time for another movie review brought to you by FatCats Gilbert where you can Recline-N-Dine in comfortable seats with top-notch food!
It is officially Oscar season with the awards being presented in just over a month, and one film that is vying for four awards is the new film based on a few true stories and a book, Room. Room was made for a whopping six million dollars, so if you haven't seen it or even heard of it, don't worry. You probably haven't been paying attention to any film awards recently either. I was so excited to see Room, mostly because I had heard so much amazing buzz about it. I heard amazing things about both leads in the film, and the premise was undeniably interesting. Unfortunately, not too many others were as psyched about Room as I was. When I went to Room, I went with two friends. I knew that the movie was relatively small, and other than the award worthy praise, I had not seen much of an advertising campaign for Room. I thought that my two friends and I would be three of maybe ten people in the theater. I was wrong. We were the only three people in the theater. What's actually pretty cool for film nerds such as myself is when you go to independent films in theaters, you get to see all of the independent film trailers at the beginning of the movie, and all of these trailers are for movies that are so small that I haven't had a chance to see them or even develop an interest in seeing them. That's my quick spiel on independent film and how I think it should get more recognition, but let's get going with the review of Room.
Room is directed by Lenny Abrahamson and stars Brie Larson and nine-year old Jacob Tremblay as a mother and son being held captive in a locked room for seven years after Joy Newsome, the mother played by Brie Larson, was abducted by a man who planned to use her for her body. In the following years, she was impregnated and gave birth to Jack, played by Jacob Tremblay. Room is the story of the two and their time in the room before they escape and must learn to adapt to the world now that everything has changed since Joy had last seen sunlight. What's actually very surprising about this film is that as dark, deep, and depressing as it sounds, it is actually an intelligent, feel-good, uplifting movie. Sure it has some moments that have you biting your fingers and growing grey hairs, but for the most part it's such a happy and bright movie. I was completely expecting a dark escape movie, but it brought joy (no pun intended) to the table, and I absolutely adored this movie.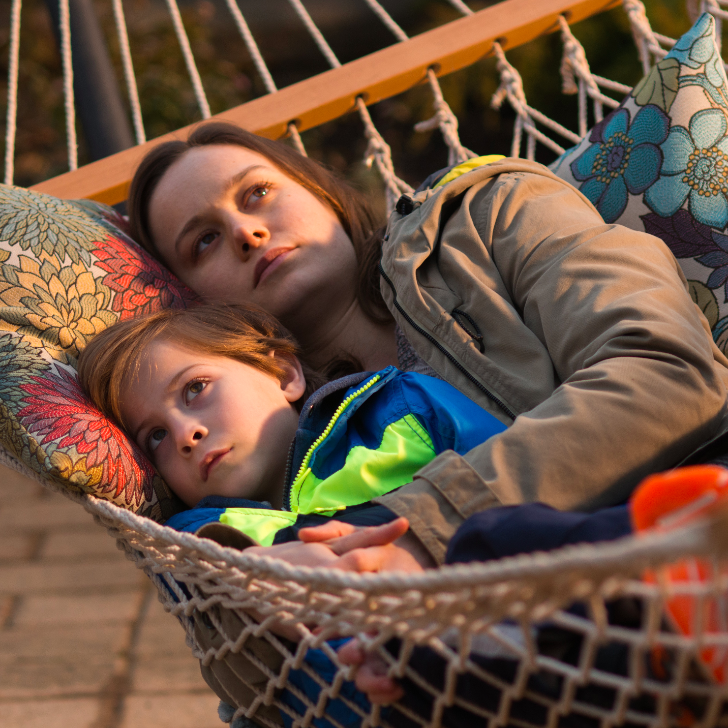 I've been hearing so much about Brie Larson in this movie. She took home the Golden Globe for Best Actress in a Drama Picture and is currently the front-runner for the 2016 Oscar for Best Actress in a Leading Role. It has taken her a little while, but she has finally hit her stride this year with both Room and Trainwreck. She was very good in Trainwreck, but she blew me away in Room. I'm so used to recognizing her as Molly from 21 Jump Street, or even from The Gambler, a movie that actually disappointed me, but this movie sets her apart from any of her previous roles, and puts her on a whole new level. She completely transcends what I thought of her before, which was a good actress in mediocre films. In Room, she is mind-blowing in a stunning film. The way she goes through this movie is absolutely incredible, and we see her character go through struggle and change, and we see her go crazy. She's not operating at 100%. She's always on edge, and for good reason! She was abducted at 17 years old and used for a creepy man's purposes. She portrays so well a character in the situation she has been put in, and I really hope that she takes home the Oscar, not just because it's always nice to see a new Oscar winner, but because I truly believe that she gave the best performance of the year. I also cannot say enough about Jacob Tremblay. Wow. He was incredible. He is so likable and so easy to watch. If he doesn't go into the child actor funk, which I don't think he will, he has such a long career ahead of him. If you haven't seen his speech at the Critics' Choice Movie Awards, check it out. I'll put it further down on the review. You'll fall in love with him. He gives what may be my favorite child performance of all time, and what is interesting about Room is that it focuses on Jack. I was expecting the film to focus on Brie Larson's character, but it focuses on Jacob Tremblay's. He transitions so well from the room to the outside world, and we see his character learn to let go, but never forget, which is something very difficult for kids. He perfectly captures the way a kid would act if he was held in this room with only one relationship and a nonexistent knowledge of the outside world. He is such an intelligent young boy, and I can't think of any other kids who could have come even remotely close to what pulled off in Room.
This movie was also incredibly directed. I really liked Frank, which was the first time I noticed Lenny Abrahamson, and this movie is even better. The way that he captures the characters in this room, and makes the room seem so large, but it's such a small, tight area that these characters are held in for a good chunk of the movie. The way that each shot is captured and taken from Jack's point of view is truly amazing. He also brings out the best performances in his actors, and that was one of the best aspects of this film on top of the compelling story. Do you remember when I said that I was in the theater with two friends and we were the only ones in there? I have a very difficult time keeping one of those friends quiet during movies, so I assumed that being just us three in the theater I would struggle to keep conversation short. Room quieted him up right away and kept him speechless for the entire run time. The lighting used by Abrahamson was also mind-blowing as he uses it to illustrate emotion and the tight space. It is also used so effectively to show the shift from the room to the outside world, and it was spectacular filmmaking on Abrahamson's part.
I really only had one problem with this movie that I need to talk about, and that is the pacing toward the end of the first half of the film. I was mesmerized and along for the ride, then the movie began to shift courses, and it all happened so fast, and almost seemed too easy. Brie Larson's character suddenly begins to make spontaneous decisions, and the climax of the film begins to come at a rapid speed different from the rest of the film. It wasn't enough to take away from the experience and how much I loved this movie. Honestly, it has become my dark horse for the Best Picture Oscar, and I can definitely say that I can't wait to bring this movie home. I told everyone I know about Room, and hopefully the word will begin to spread that this is a must-see movie. Maybe a little bit of the Oscar buzz will help it catch fire. Brie Larson's and Jacob Tremblay's performances alone are good enough reasons to see this movie. I'm going to give Room a 9.5/10.
Did you get a chance to see Room? I know that it's pretty limited right now, but if you get a chance to see it, please do. You won't regret it. If you have seen it, comment below and let me know what you thought! If you haven't, please see it and come back to let me know what you thought. Also, what is your favorite Brie Larson performance? Is she going to win the Oscar? I will be checking out The 5th Wave tomorrow, so a review for that should be out very soon, so stay tuned for that! I'm sorry I didn't get to Ride Along 2. Sometimes there are movies I just don't get a chance to see. I do my best, but sometimes I miss one here and there. If you saw Ride Along 2, what did you think? I'd love to know if it's something I need to check out at a later time. There is no Throwback Thursday Review this week, so hopefully this one will suffice. I'll be back soon for my review of The 5th Wave, but until then, as always, thank you, and keep listening to 88.7 The Pulse!