It may not be Friday, but I promised a new movie review, so I've got a new movie review presented by FatCats Gilbert located on the southwest corner of Greenfield and Baseline. It's the most comfortable place to check out a movie, and it's even $5 on Tuesdays to see any movie at any age at any time!
I'm really excited about this review because I've been looking forward to this movie for a very long time, so I'm so glad I finally got the chance to check it out. If you got a chance to check out my Top 52 Most Anticipated Movies of 2015, Midnight Special was number 27, which doesn't sound high, but it's a huge year in movies! We're getting a Star Wars movie, two Marvel Cinematic Universe movies, two DC Cinematic Universe movies, two Marvel movies from Fox, a Scorsese movie, a Bourne movie, and the list goes on and on. 27 isn't bad for 2016. Anyways, this movie sounded awesome from the moment I heard about it. I love Jeff Nichols. Mud was one of my favorite movies of 2012, and in my opinion, Jeff Nichols is one of the most underrated working directors right now. I also love the cast. Ever since I saw Warrior, Joel Egerton has been one of my favorite working actors, and with Adam Driver who has been blowing fans away as of late, I was on board. It also has Jeff Nichols' associated actor Michael Shannon in the movie, and Kirsten Dunst has been fantastic in what I've seen in Fargo, and I did really like her in Sam Raimi's Spider-Man trilogy. Midnight Special has placed itself perfectly in a world of fans of science fiction, and after Ex Machina stunned the movie world by taking home Best Visuals at the Oscars (I picked that by the way), low budget science fiction movies are proving that they can compete with the big boys. I'm droning on, so let's just talk about the movie.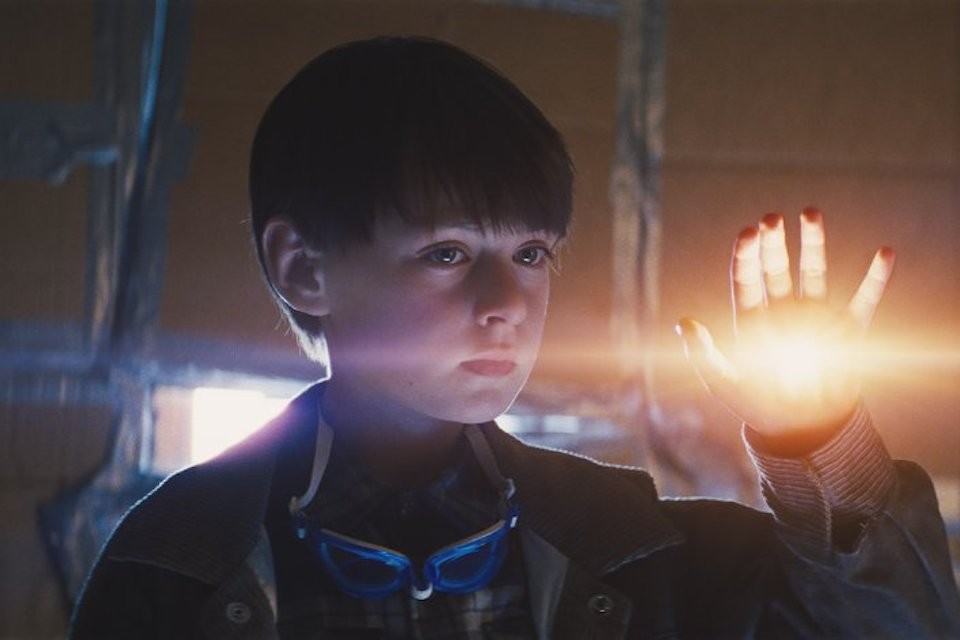 Midnight Special is directed by Jeff Nichols and stars Michael Shannon, Joel Edgerton, Kirsten Dunst, Jaeden Lieberher, and Adam Driver. After Roy, played by Michael Shannon, finds out that his son, played by Jaeden Lieberher, has special powers, he goes on the run from authorities and church groups to save his son and himself from being captured and questioned. Along the way we learn that the boy can do strange things, and led by NSA agent Paul Sevier, the authorities will try to find the boy and unlock the secret to his differences.
As I said before, I was very excited for this movie. While the plot and crew probably already had me buying a ticket, I had been hearing such good things from critics, and everything coming out of the South by Southwest film festival was overwhelmingly positive. I have to say that I really liked this movie. I liked it a lot. First of all, Jeff Nichols is a phenomenal director. He and Michael Shannon have such amazing chemistry, and they seem to bring out the best in each other. I think that Jeff Nichols is one of the most underrated directors in the business, and I love his style. His movies have such a gritty yet real feel with tads of hope, and I love that about him. I love how he uses the camera, and though some lighting a tad over the top, most of the movie is well lit to set the mood and draw that gritty, real feel that Jeff Nichols brings to the table. Joel Edgerton was also very good. I love Joel Edgerton, and this is just another reason I love him so much. This movie also intrigued me. The plot was so intriguing, and the lead up to the finale with the little boy had me on board all the way, and I was completely and fully invested in the little boy's side of the story. It was so mystifying and interesting, and I was constantly on the edge of my seat. The visuals were good for the most part, and Midnight Special gave me the science fiction thrill and story I crave. I was so invested in the story, and I was backing most of these characters; especially the characters I should have been backing.
I loved Midnight Special, but it wasn't without its flaws. First of all, I didn't find the church, their motivation, or their leader intriguing. That aspect of the story was pretty flat, and I could never invest myself in that side of the movie. I also found the entire antagonistic side of the story flat. I understand that if a young boy exhibits other worldly powers like the boy did in this movie, it's going to raise some questions, but they were just after the main characters for sake of the story, and I didn't buy it. Finally, I didn't fully grip Adam Driver's character's importance. He played the role of a sort of chosen one, and nothing showed me why he deserved to be the chosen one. I say chosen one, but it's not as special as it sounds. He was incredibly intuitive, but other than that, I saw no reason that he deserved to be as special as he was. He also had a scene where he drew a conclusion that made no sense, and it wouldn't make sense to any audience member. I don't need to be spoon fed, but still, I want to know why he's special. I want to know why he understands things that others don't, and why he was chosen, and I never got that.
Overall, I really liked Midnight Special, and I can see why it received so much praise at the South by Southwest film festival! Michael Shannon and Joel Edgerton were both fantastic, and Jeff Nichols proved once again that he can direct a powerful, gritty movie, and that is the reason this movie is as good as it is. It is another small budget science fiction thriller, and the way Nichols brings the film to life is absolutely incredible. I was invested in the story, and I truly cared about most of the characters; especially the characters who I needed to care for. It had small issues here and there, but they were minor issues that I can live with, and I still enjoyed the movie nonetheless. I even hope to give it one more look! I'm going to give Midnight Special a 8/10.
Have you had chance to check out Midnight Special yet? If you have, what did you think? Let me know down in the comments! If not, do you plan to get out to see it? If you do, come back and let me know what you thought? I'm going to be checking out Hardcore Henry tonight, so be sure to check back when that comes out! There will not be a Top 10 list this coming week or a Throwback Thursday review, but I will still keep the new movie reviews coming with Hardcore Henry and The Boss next week, so stay tuned for those, and as always, thank you, and keep listening to 88.7 The Pulse!