It's finally the weekend, but the weekend also means a few new movies being released, so it's time for another movie review presented by FatCats Gilbert located on the southwest corner of Greenfield and Baseline. FatCats Gilbert has so much to do, and it's the best place to spend the red-hot summer!
It's an exciting weekend for movies because so many movies I have really wanted to see are coming out! Movies being released this week include The Shallows, Free State of Jones (one I probably won't get a review out for, but will still see before the end of the year), The Neon Demon, and, of course, Independence Day: Resurgence. Man, I love me some Independence Day. I think Independence Day is just so much fun, and I absolutely love watching it. It really showcases how much fun the sci-fi genre can be, because let's be honest, sometimes sci-fi pushes and pushes until it's too much or it's boring, in my opinion. Independence Day found the perfect balance between fun and sci-fi. It's no perfect movie. It's actually far from it. But it is a darn good time. That's why I was looking forward to Independence Day: Resurgence so much. How could you not love Jeff Goldblum? Is that even possible? Anyways, let's talk about the new flick in the world of sequels we have been waiting way too long to see, Independence Day: Resurgence.
Independence Day: Resurgence is directed by Roland Emmerich, director of the original 1996 film, and stars Jeff Goldblum, Liam Hemsworth, Bill Pullman, Maika Monroe, Brent Spiner, Jessie Usher, and Judd Hirsch. 20 years after the events of 1996's Independence Day, a 3,000 mile wide space ship has landed on Earth. After pulling out the upset with a flash drive virus in the first film, they realize that probably won't work again. If you're one of those picky movie fans, it probably never worked for you. The United States must call in expert David Levinson to investigate the new ship and determine what kind of threat it poses to humanity. The government also calls in some new faces such as Liam Hemsworth's Jake Morrison, his fiancé Patricia Whitmore, and son of the legendary pilot Captain Steven Hiller, Dylan Hiller. The ship may be bigger, and they may be bringing a queen of the species, but the humans will not go quietly into the night! They will not vanish without a fight! They're going to live on! They're going to survive!
I love the first Independence Day, and the reason I love it is because it's so much fun. I have an awesome time watching Independence Day each and every time I watch it, and it's a staple in my Blu Ray collection. That's what I wanted out of Independence Day: Resurgence. I wanted it to be a ton of fun. I didn't need it to be a perfect movie because the first one sure isn't. I will say that this movie is pretty fun. There definitely is fun to be had with this movie. You know what? Why am I saying it that way? I had fun with this movie! I had a good share of fun with this movie. I wouldn't say it was near as much fun as the first one, but I still enjoyed myself in the theater watching this movie. It also looks great! I mean, it's made for about 200 million dollars, so it should look top of the line, and it looks really great! You know going in that this movie is going to be a big CGI fest, and that's exactly what you get, and the effects are done well. All of the space spectacles and the otherworldly species all look really good, so I have to give it to Independence Day: Resurgence because I have definitely seen movies with a higher budget that look much, much worse. Finally, it's really cool to see a lot of these characters back. It kind of has that way of checking in with all of the characters we know and checking out with all of the characters, but it's still really cool to see them come back together, and it looks like they're having just as much fun making this movie as I did watching it.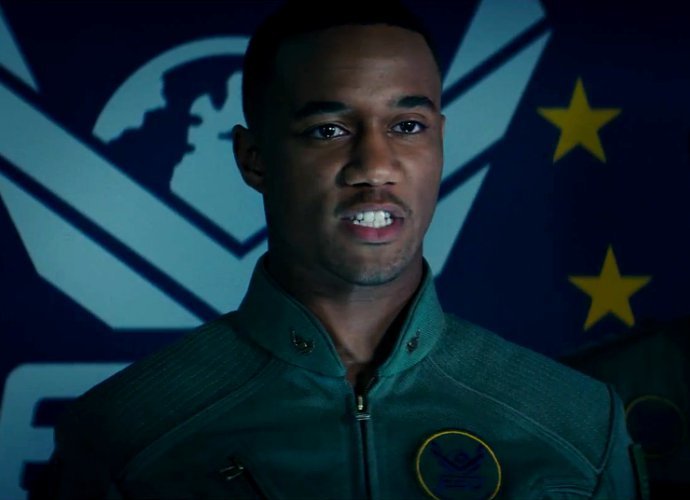 I wanted to like this movie so much, but I didn't like it as much as I was really hoping for. First of all, this movie has way, way, way, way, way too many characters. Way too many. It got to the point where I stopped caring about most of them, and their storylines didn't even matter to me. I lost track, I lost names, and I don't even think I will remember them if and when we get Independence Day 3. I'm not going to spoil anything, but if you see this movie, come back and let me know if you think there's going to be an Independence Day 3 if this movie makes money. Just let me know. The movie continues to introduce brand new characters, and even when I was listing the cast at the beginning of the review I sifted through so many names to try to decide which ones to pick. Next, the movie is kind of all over the place. It takes a long time to get into the thick of the plot and get to the fun, exciting part of the film. There is so much introduction and foreshadowing to develop characters who don't end up being very well-developed. Also, with all of the characters, it kind of gets off track a lot of times to check in on those characters who I just don't care about. Finally, there are some laughable moments in this movie. There are plenty of laughable lines and plenty of moments that are just flat-out bad whether it's writing, acting, story, or Liam Hemsworth switching accents.
Overall, I actually had a good time with Independence Day: Resurgence, and if you are looking to have an awesome time with a dumb summer movie, I would definitely suggest checking it out. It's also plenty of fun if you like the 1996 film Independence Day, and it's a nice summer spectacle. There are way too many characters in the movie, and that easily moves the narrative off track sometimes, but it's still a relatively enjoyable time, and it's cool to see all of the original characters back on-screen. I'm going to give Independence Day: Resurgence a 5.8/10.
Have you had the chance to see Independence Day: Resurgence yet? Will you be seeing it this weekend? Do you love the original Independence Day? Answer all of these questions with a comment right down below in the comment section! I also released a few reviews for other movies this week, so if you would like to see my review for The Neon Demon, you can click right HERE. I also reviewed The Shallows, so if you would like to check that out, you can click right HERE. Finally, I know I'm doing plenty of plugging right now, I also checked out a brand new documentary about the famous cellist Yo-Yo Ma called The Music of Strangers, so if you would like to read that, you can click right HERE! I should have reviews for The Legend of Tarzan, The BFG, Mike and Dave Need Wedding Dates, and maybe, just maybe, The Purge: Election Year next week, so be sure to stick around for all of those. As always, thank you, and keep listening to 88.7 The Pulse!