 It's been a while since the last one, but it's time for another top ten list, and in honor of The BFG being released this weekend, we're going to talk about the top ten movies directed by Steven Spielberg! Steven Spielberg is one of my biggest inspirations in creativity and film, and he is one of the directors who has really shown me how magical movies can be and how they can reach you on an emotional and personal level. It sounds cheesy, but I'm serious. Spielberg is one of those special directors who you can pick out from just one shot, and he has made some of my favorite movies of all time. In fact, my only problem with Steven Spielberg is that his Blu Rays cost so dang much. Other than that, he is one of my all time favorite directors. Also, please keep in mind that this is the top ten movies directed by Steven Spielberg, so you won't find Back to the Future or Poltergeist on here, even though I love both of those movies! So without further ado, let's count down the top ten movies directed by Steven Spielberg!
I'm going to start with a few honorable mentions because Spielberg's awesomeness can't be contained in just ten movies, so here are a few that don't quite get a place in the top ten.
Honorable Mention- Empire of the Sun
In one of Christian Bale's first roles, and with one of the most legendary filmmakers nonetheless, Bale plays a young boy who is separated from his parents in internment camps in the aftermath of Pearl Harbor. Bale is so amazing in this movie, and Spielberg shows again that he isn't just a spectacle director after the oohs and ahhs. He can focus on his filmmaking and drawing out excellence from everyone around him.
Honorable Mention- Hook
This movie is awesome. Today, you couldn't sell me on another Peter Pan movie if it was twenty-five cents and I had a buy one, get one free coupon. Spielberg and Robin Williams came together to send an older Peter Pan back to Neverland and bring the magic of Peter Pan back to the screen.
Honorable Mention- Munich
Munich, again, let's Spielberg show that he is a phenomenal filmmaker with a historical thriller about the events following the murder of eleven athletes at the 1972 Olympic games. Eric Bana shines as a lead actor in a way that he doesn't get to very often in films, and Spielberg did such an amazing job capturing the suspense and thrill of the event and the moments.
10. Duel
I really think that this is Spielberg's most underrated movie. A lot of people haven't heard of it because it was Spielberg's biggest project at its time of release, but it was still a television release, and a smaller budget film where Spielberg, again, had to demonstrate his ability to create tension and explore elements of man. It's a simple premise with a driver being followed by a large truck appearing to have it out for our main character. Spielberg does such an amazing job creating suspense and bringing out the best in his actors.
9. Minority Report
I don't think that the story of Minority Report sold me as well as Spielberg's abilities did. Spielberg proves that he can direct action with the best out there in Minority Report, and with superstar Tom Cruise in the lead role as a man who can see future murders occur before they happen, he has a movie star and action star to bring out the best in Spielberg himself. After John Anderson, Cruise's character, sees himself commit a murder, he must figure out why he has seen himself killing a man he does not know and try to prevent it.
8. Close Encounters of the Third Kind
Close Encounters of the Third Kind came out in 1977, and it still holds up today. Spielberg brings space to life, and with effects that still hold up today, it is an awesome alien spectacle. Richard Dreyfuss is so amazing in this movie, and after his prior performances with amazing directors, he continues in this movie where we get to see him take over a film by himself. Spielberg brought the magic right to the screen, and Close Encounters is still one of the most stunning films about UFOs and space.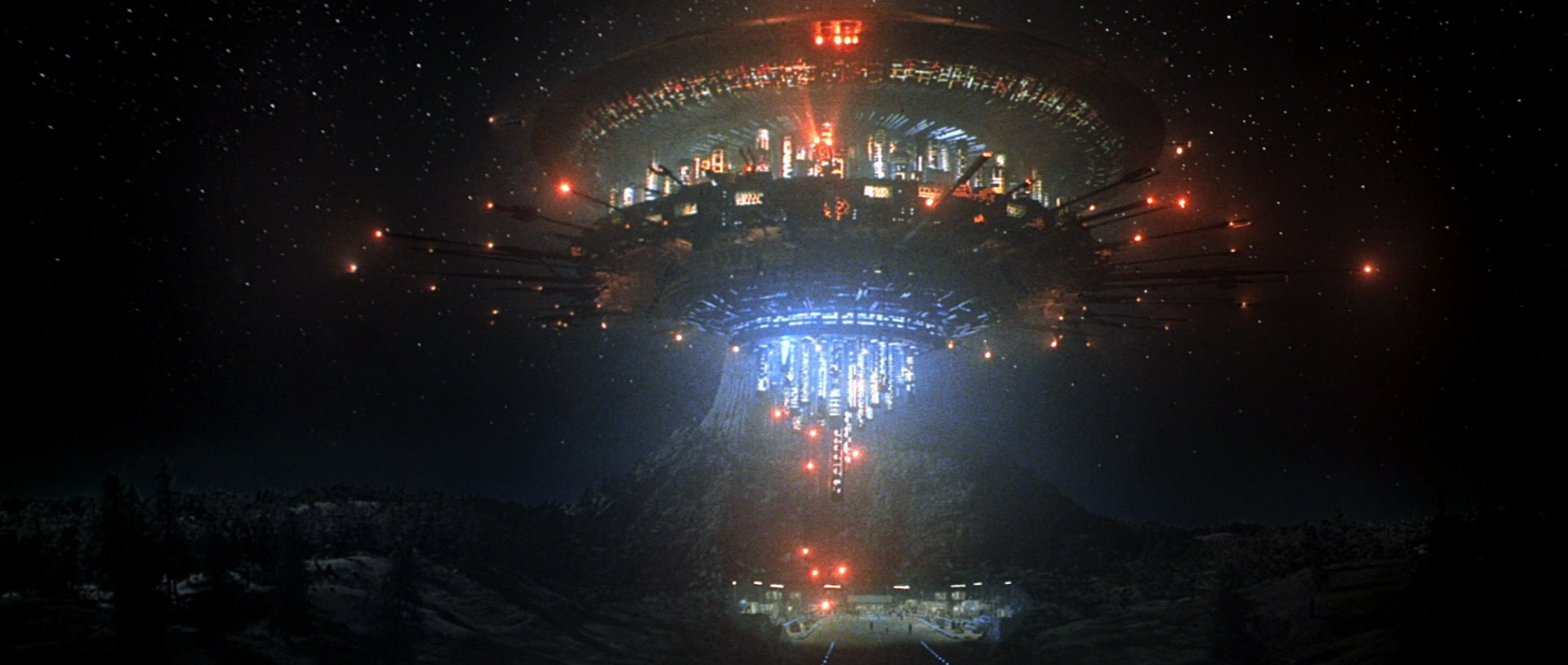 7. Indiana Jones Trilogy
So, truth be told, I'm cheating a little bit. I know this is three movies, but I'm counting all three in one spot. I'm actually not the biggest Indiana Jones fan out there, but I still love the original three films. We can all be honest, Kingdom of the Crystal Skull is not a good movie. It's not. That has nothing to do with these three. These are three amazing movies, and in what could be the strongest trilogy of all time (I said COULD BE Star Wars fanatics!), Harrison Ford is such a charismatic, human protagonist who is so easy to connect with.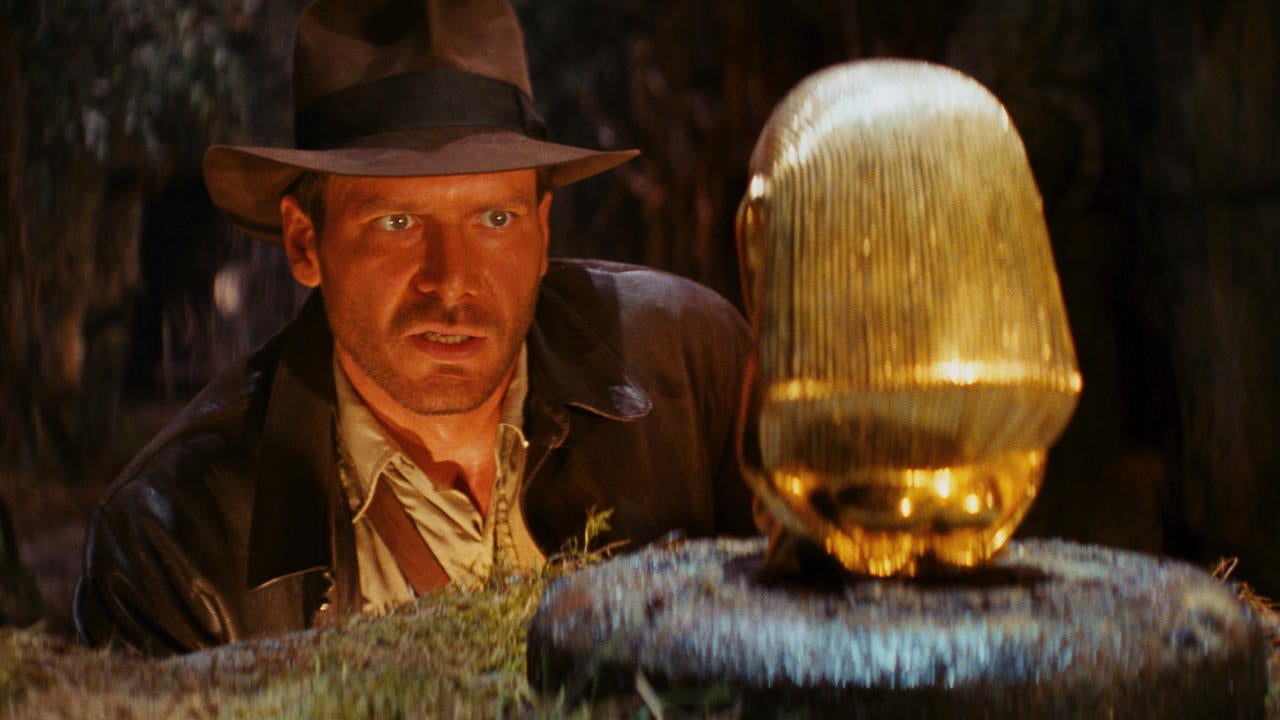 6. Jurassic Park
This movie is pure creativity. Spielberg did something that nobody had ever done before. Or at least nobody had done it in thousands of years. He brought dinosaurs to life. Life finds a way, and this movie has so much life. I absolutely love Jurassic Park, and though it is just number seven on the list, that doesn't say anything about how good this movie really is. With amazing suspense, fear, and characters I really cared about, this movie is magical. It also has one of my favorite jump scares in history along with another movie we will talk about later.
5. Catch Me If You Can
I have this movie much higher on my list than most people would probably put it, but it is one of those movies that I personally love, and it's a very personal decision to have this movie at number five. Leonardo DiCaprio is so phenomenal in this movie, and he creates such an incredible chemistry with another one of my favorite actors, Tom Hanks. Both are so witty and charming, and there are so many intelligent scenes in this movie that absolutely captivate me, and I am pulled along the story of Frank Abagnale Jr. because he is just such a fascinating and smart guy. It's so much fun for me to watch the way he interacts with people and to watch his antics, and I love Catch Me If You Can.
4. E.T. the Extraterrestrial
We're getting into Spielberg's meat and potatoes now with the ones that everyone knows like the back of their hand. I mean, almost all of these movies on this list are memorable, but E.T. the Extraterrestrial did something to people that is almost indescribable. E.T. is one of the most charming movies with the lovable character of E.T., and Elliot, played by Henry Thomas, is such a likable and well-realized character. Can you ever forget the scene where the bike lifts up off the ground? It is something I will never forget, and E.T. is a movie that shows me that movies can touch people in an incredible way and bring life to an idea that can only be bigger and better than life.
3. Schindler's List
Even though Schindler's List is number three, I know that many people would have it higher. I feel pretty comfortable with it at number three because while it is not my favorite Spielberg movie, it is absolutely brilliant. It has one of the best casts of all time, and the way that Spielberg could still bring this movie to life using black and white in a way that not many can is incredible. It is still just so real and harsh, and it still has the power to affect anyone who watches it in a way that is completely unforgettable. It's emotionally damaging, and that is one of the reasons that this movie is so good. It rips your heart out, and even though if I was sitting in my room at night trying to choose a movie off my movie shelf and narrowed it down to Schindler's List and say my number six choice, Jurassic Park, I would probably choose Jurassic Park, this movie is absolutely incredible and touching, and it is, in my opinion, one of the greatest films ever made.
2. Saving Private Ryan
Movies are subjective, and I love war movies. It's one of favorite genres of film. Backed by amazing performances and the exploration of all of these characters is absolutely amazing to me. Saving Private Ryan is the kind of movie that I would want to be part of the production of. One of the best ways to involve a viewer in a war movie is to connect them with the characters and actually feel the depth and danger of the characters, and that aspect of this movie is perfect. Spielberg is at the top of his game in this movie, and with his acting muse, Tom Hanks, in the lead role, Saving Private Ryan can give me chills and tears at the same time.
1. Jaws
I can't say enough about Jaws. Jaws is the quintessential summer blockbuster, and I watch it multiple times every summer. What is crazy about Jaws is that the best scenes of the movie aren't even the scenes with the shark. The best scenes are where some of the most legendary movie characters in history are being built into film greatness. The scene with Brody and his son at the dinner table and the scene with Quint's speech about sharks are two scenes of pure cinematic perfection, and I will never get sick of Jaws. I recently saw The Shallows, and I seem to be the only one who doesn't think that the shark looks really good. There are scenes where the shark does look good, but typically when we get a good look at the shark from The Shallows, I'm not really impressed. Jaws is the reason for that. Jaws was released in 1975, and I still think the shark looks better than any other shark ever has. The comparing and contrasting of characters and their competition and compensation for each others' imperfections is brilliant, and Jaws is a magical, thrilling, suspenseful, masterpiece, and how could I not mention John Williams' score? It's a staple in my movie collection and my favorite poster hanging in my room, and as someone who wants to produce films, I can only look at Jaws in awe.
What does your top ten Steven Spielberg movies list look like? What is your number one? What did you think of The BFG? If you would like to check out my review for Spielberg's latest movie, you can click right HERE! Next week I should have review out for both Mike and Dave Need Wedding Dates and The Secret life of Pets, so be sure to stay tuned for that! Which top ten list do you want to see next? Let me know! As always, thank you, and keep listening to 88.7 The Pulse!