It's time for another movie review presented by the best place to spend the summer, FatCats Gilbert located on the southwest corner of Greenfield and Baseline. There is so much to do at FatCats Gilbert, and for just five dollars you can check out the latest and greatest movies at the box office all day on Tuesdays every week. With mini golf, bowling, and food that tastes like it's from a restaurant instead of a bowling alley, FatCats Gilbert lives up to the fun in their name!
I really like a good comedy. When I say that, I mean a good comedy. I love to laugh, and I love to laugh like a little girl for eight hours straight. I'm into that. That's why I was actually looking forward to Mike and Dave Need Wedding Dates…….. until the red band trailer. I thought that the green band trailer was pretty funny. I like the cast with Zac Efron, Adam DeVine, Anna Kendrick, and Aubrey Plaza, but I thought that the red band trailer was unbelievably unfunny after picturing what it could be from the green band trailer. Say what you will, but I can always get excited for a Zac Efron movie. High School Musical sequels aside, Zac Efron is actually a really talented guy with tons of charisma. He's a really talented actor and really good with comedy, so I do get excited to see him in a movie. I also think that Adam DeVine is really funny, and I like Aubrey Plaza in Parks and Rec. I think Anna Kendrick is an awesome actress, but I haven't seen her in a really raunchy comedy before, so I wanted to see what she can do, so let's talk about it!
Mike and Dave Need Wedding Dates is directed by Jake Szymanski and stars Zac Efron, Adam DeVine, Anna Kendrick, and Aubrey Plaza, and it may or may not be based on a true story. It says it kind of is. It actually says it in those words. "Based on a true story…. kind of." If it is, that's pretty amazing, because Mike and Dave are the two black sheep of the family. After destroying all of the family gatherings, their sister requests that they bring dates to her wedding. They put an ad on Craigslist, get on TV, and interview almost one hundred girls before finding two who may just match their own level of insanity. That would be pretty incredible to get on TV with a Craigslist ad, but from experience, getting on TV isn't that easy, which is the reason I don't buy that this is a true story. Anyways, let's get on with the review.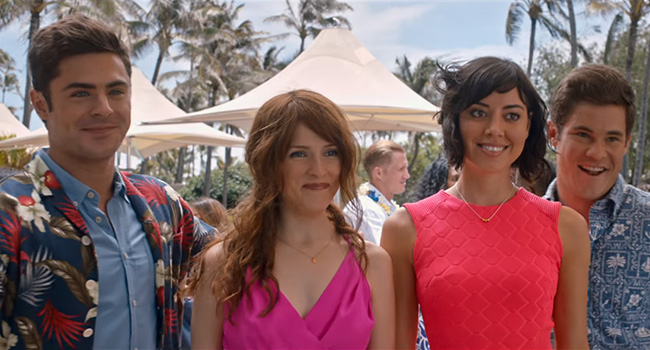 Beginning with the positives in this movie, I really like Zac Efron. I think he brings to this movie the same charisma and hilarity he has in the first Neighbors movie and all of the other terrible movies he has been in with the exception of The Paperboy. I like that one. Other than that, he is always a diamond in a pile of garbage. Not garbage like some milk jugs and water bottles. That's recyclable. I try to be green. It was just an example. I mean garbage like when the bananas have been left out too long and they turn black, and the bag is dripping from all of the smelly stuff that has liquified over a long period of time. Zac Efron would be the equivalent of finding a twenty-dollar bill in that garbage. It goes the same way for just about every movie he is in. Not to say that his movies are garbage because I do realize how difficult it is to make a movie, and how extremely difficult it is to make a quality movie, so props to those who get to make movies. The problem is, there are so many that I don't like. He is the reason I got a chuckle here and there in this movie, and he does a great job being a good guy who is able to create really amazing chemistry with cast members. I thought he had great chemistry with Adam DeVine and Anna Kendrick, and it really worked for me. Next, there is a short scene with one of my favorite stand up comedians, Kumail Nanjiani that made me laugh a little bit. I think he's hilarious, and I did actually enjoy his scene. If you haven't had a chance to check out his stand up, I would definitely suggest it! This movie is watchable, and Zac Efron, Kumail Nanjiani, and the scenes where Anna Kendrick gets to show off why she is such a great actress are the reasons why.
Now it's time to get down to the nitty-gritty. I just didn't think that this movie was very funny. I probably could have predicted that from the red band trailer because I usually like to expect a good laugh in a red band trailer to see an audience on a comedy. Some show literally every funny part of a movie, then there is nothing left for the movie. Yes, A Million Ways to Die in the West. I'm talking to you. The red band trailer for Mike and Dave Need Wedding Dates isn't funny, and they sure weren't hiding much. I thought that the green band trailer was actually hilarious, but once I got into the movie I had seen most of that coming. I didn't really get a big laugh out of this movie, and even though there is a chuckle here and there from a one liner or an absolutely ridiculous line, it's not very funny. I feel like I say this a lot, but the audience laughed a lot, and I didn't. I heard a lady leaving the theater saying that she hadn't laughed that much in a while, so who knows? Maybe I'm a stick in the mud. I actually thought that a lot of the outtakes and bloopers following the end of the film worked better than what was actually in the final cut. Next, like I said when I was talking about this movie being based on a true story, I didn't buy the premise. A lot of the characters just didn't work for me, and neither of the two lead actresses sold me. Aubrey Plaza didn't sell me because I thought that she relied on the deadpan raunchiness that I've seen a million times from her in movies, and I didn't buy Anna Kendrick because her raunchiness just felt forced. She is an amazing actress, but her dirtiness is so forced, and even though she is pretty open and vocal in real life and on Twitter, which isn't a bad thing, it didn't work for me in this movie. I also think that Adam DeVine has been so much funnier in things like his Comedy Central show Workaholics, Pitch Perfect, and The Intern. Finally, if this movie had made me bust a guy laughing, this would have been forgiven, but the editing in this movie is so rough. So many times there is a close-up of a character with a smile, then a cut to a side view of a character who is frowning, then a cut back to a close-up of the smiling character. It just felt like a weird range of emotions, and it felt rough to me.
Overall, I just didn't find Mike and Dave Need Wedding Dates funny, and that's what I wanted so badly from this movie. My mom asked me tonight what I thought because she did want to see it, and I told her it would be better suited as a Redbox night with some pizza if she sees it at all. Who knows? Maybe I'm crazy because I heard an insane amount of laughter in the theater tonight, but as much as I wanted to be part of it, I just wasn't. I didn't buy the premise, and there were a few technical flaws that I noticed. Technical flaws typically don't bug me. I just kind of accept them and move on with my life, so I did, but I still want to mention them. I'm going to give Mike and Dave Need Wedding Dates a 4/10.
Did you get the chance to see Mike and Dave Need Wedding Dates? If you did, what did you think? Am I lame because I didn't think it was funny? Last week I also reviewed The Legend of Tarzan, so if you would like to see my review for that you can click right HERE! Also,  I was lucky enough to check out The BFG last week, so you can find my review right HERE! Unfortunately I won't have a review for The Purge: Election Year out, but I should have a review out soon for The Secret Life of Pets, so you can expect that this week. As always, thank you, and keep listening to 88.7 The Pulse!