In honor of Sully, let's talk about Tom Hanks. Tom Hanks is a guy who I think is universally loved. If you don't like Tom Hanks, I have a few things to say. First of all, you're wrong. Second of all, why? Third of all, if you had an answer to that, you're wrong. I'm no different. Tom Hanks is one of my favorite actors of all time, and for a great reason. The man can do no wrong. I figured that the best way for me to honor him was to cover his ten best movies. This is just my opinion, so if your top ten list looks different, neither of us are wrong! I'd love to see yours and just spark a good conversation about Tom Hanks and how great he really is. If I left one of your favorites off, let me know! This is also not a list of his best performances. That would be a completely separate list. In fact, one of my honorable mentions would make a run for the top spot if this was his list of best performances. Let's get into it!
I'm going to start with a few honorable mentions, and even that won't even cover all of the movies I love from Hanks, this is going to have to do!
Honorable Mention- Bridge of Spies
This is a pretty new movie, but I still definitely think that it deserves a spot on this list. It was missing a little bit of that Spielberg magic, but Tom Hanks and Mark Rylance bring the movie right back to where I want it to be. It was one of my favorite movies last year, and with the Coen Brothers penning the script, it was so clever and interesting. For me, Mark Rylance stole the show, and the way Spielberg shoots some of these scenes still impresses the heck out of me. The first shot of this movie makes me recognize that it's his movie, and it never turns back.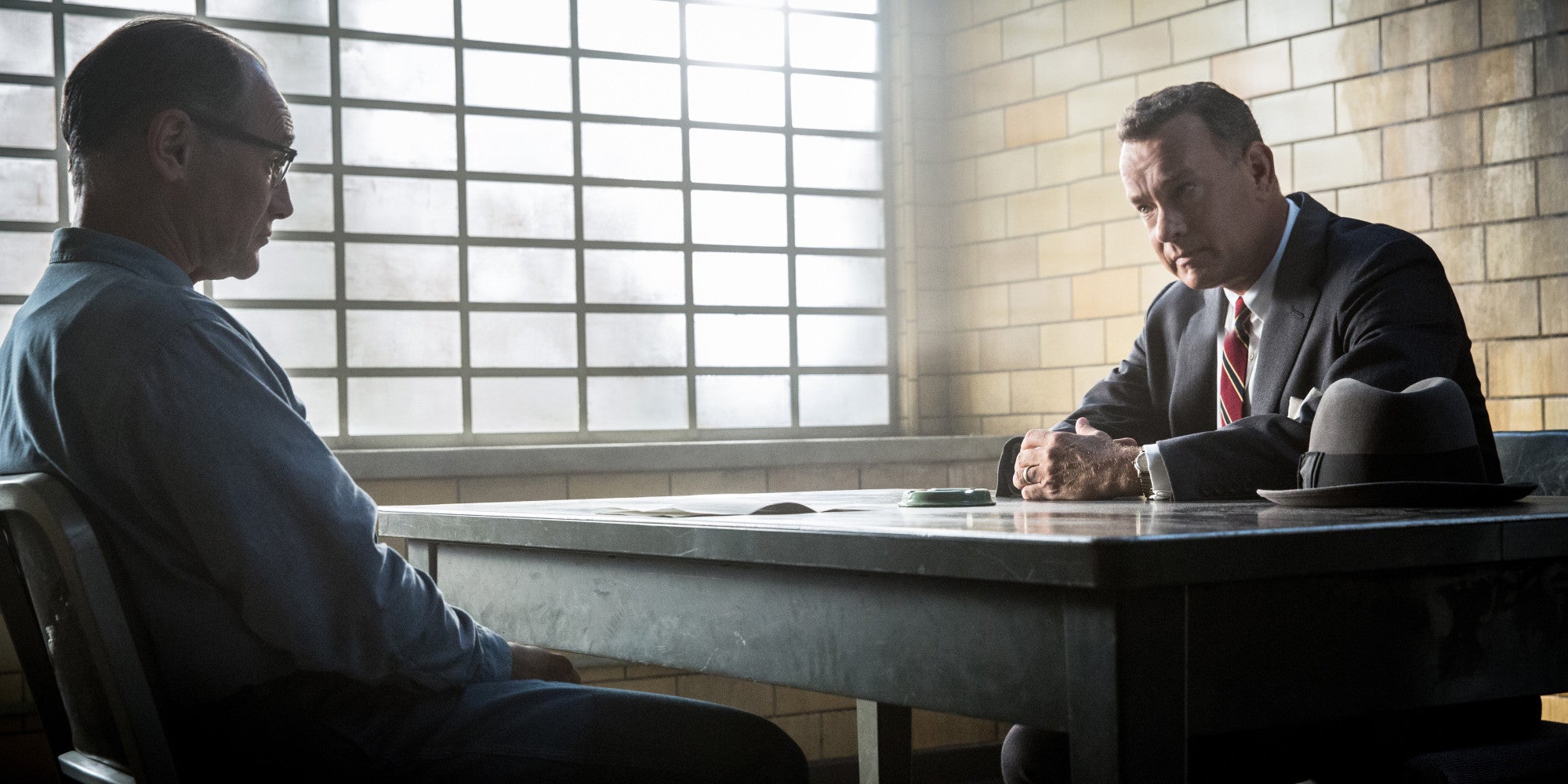 Honorable Mention- The Terminal
I think that The Terminal is one of Hanks' most underrated movies. In one of his collaborations with Steven Spielberg, who I also did a top ten list for, he makes such a charming film. I think that The Terminal has an extremely peculiar story and concept, but it works for me, and I think that a lot of it is due to the chemistry between Hanks and Spielberg. They know how to work with each other, and I'll still stand by The Terminal.
Honorable Mention- Road to Perdition
Tom Hanks may be one of the greatest actors to ever live, but that doesn't mean that he shouldn't be surrounded by other greatness. When you can stand out over Paul Newman, you know you are good at what you do. Tom Hanks gets to give another amazing dramatic and thrilling performance. Sam Mendes made another movie that is interesting in the same way his earlier films are, and Road to Perdition can give you both the craft and thrill you crave.
Honorable Mention- Philadelphia
Truth be told, I don't love this movie. In fact, despite Hanks being incredible in this movie, I think that Denzel Washington made this film. It's not a premise that I'm jumping for joy over, but just since this movie has a great director and great, likable performances and actors, I can appreciate it for what it is. I don't even own this movie. I own twelve of the fourteen movies on this list when including the honorable mentions (four honorable mentions plus the top ten), and this is one of the ones I do not have. For some reason, I would still watch it and suggest it to people. I would say that Hanks is a good portion of that reason.
10. The Green Mile
I've seen this movie once in my life. I own this movie on Blu-ray. This movie has Tom Hanks and Michael Clarke Duncan who I think are two incredible actors. I can't bring myself to watch The Green Mile again. I just can't do it. This is one of the most emotionally resonating movies I've ever seen, and I struggled to get through it with dry eyes. I may not be dying to pop The Green Mile in the player and give it a watch, but I have to admit that it's an incredible movie. After Stephen King and Frank Darabont came together for a second time, it's so hard for me to not say this movie is great even though I think it struggles in terms of replay value.
9. Captain Phillips
I really love Captain Phillips, and if this was a list of the top ten best Tom Hanks performances, this would be higher. Paul Greengrass did such an incredible job directing this movie, and when Captain Phillips is taken out of the ship and just breaks down, I don't know what to do except break down with him. This is one of Hanks' most powerful performances, and one it pulls you in it never lets go.
8. Apollo 13
Apollo 13 makes me realize that I never want to go to space. It also makes me realize how much Tom Hanks and Ron Howard can thrill me. This movie is awesome! It has such an amazing cast, and for anyone who loves science fiction (or science non-fiction in this case), Apollo 13 holds up in terms of both story and visual effects. The way I see Apollo 13 is that it isn't just a movie. It's a space adventure and an experience.
7. A League of Their Own
So I have a soft spot in my heart for baseball movies. I have a soft spot in my heart for sports movies in general, but A League of Their Own is a movie I grew up watching, and it's where I learned that there's no crying in baseball. I'll never forget that quote for as long as I live. It's such a charming and funny movie, and it's one that I can pop in and just enjoy the heck out of at any moment. Tom Hanks and baseball are two things I absolutely love, so I always look forward to watching A League of Their Own.
6. Cast Away
I had a hard time putting Cast Away this low, but after thinking about how much I like numbers one though five, I think it fits right in here. I really love Cast Away because I think it showcases the abilities of Tom Hanks and Robert Zemeckis as well as any movie does. How difficult is it to make a movie where one man is stranded, and the better chunk of the movie revolves around this man all by himself surviving and keeping his mind busy? It has to be insanely difficult, and this is a movie that captures emotion and this character so well. Tom Hanks is amazing in Cast Away, and this movie will always be a classic.
5. Big
I think that Big is a movie every kid should watch. I think it is also a movie that every adult should watch. It's a film that everyone can learn from, and it has comedy that everyone can appreciate. Tom Hanks does such an incredible job in this role not only capturing his adult character, but the kid inside the adult character. Big works so well because it perfectly showcases what it is like to be both an adult and a kid. It shows the great parts and struggles of both, and for any kid who wants to grow yup or any adult who wants to be a kid again. watch Big, and you can get the best of both worlds. Like I said, everyone can learn a little bit about themselves from Big, and that's one of the reasons I love this movie and reference it all the time. Again, I couldn't believe it was this low on my list, but it had to make room for what's to come.
4. Catch Me If You Can
In my opinion, this is the most underrated Steven Spielberg film. On top of being a story that absolutely captures your attention, imagination, and dreams, the dynamic between Tom Hanks and Leonardo DiCaprio is so incredible. This is one of my favorite cat-and-mouse stories, and both characters are so amazing. It's so well-written, and watching DiCaprio's character pull the stunts he does and almost beg for Hanks' character's attention is fascinating and interesting to watch. Catch Me If You Can is definitely a staple in my movie collection, and it's one I go to very often. If you haven't seen the movie, keep your eyes peeled for the scene with Jennifer Garner. The way DiCaprio handles himself in that scene blew me away and made me laugh at the same time. Tom Hanks is irreplaceable, for me, in this role, and Catch Me If You Can is one of my favorites from him.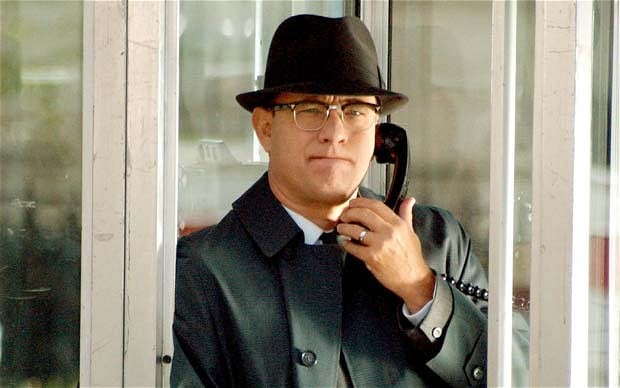 3. Toy Story
I can't say enough about Toy Story. I guess I better start off by saying that I do know I'm cheating by doing this, but this includes all three Toy Story films. The first is my favorite, followed by the third, then the second, but really, I love them all so much. These movies gave a whole new life to Disney and Pixar and started the trend of amazing animated film we know today. I don't even think they have a miss. What is crazy is that sitting on top of all of the hits, in my opinion, is Toy Story. These movies include something for everyone and emotionally tie us to our childhood. All three of these can have you in tears just as easily as they can make your stomach hurt laughing, and that is the best thing about them. I can see myself in these, and I can see myself growing up and watching my childhood come to a conclusion. Just writing that sentence got me a little worked up.
2. Saving Private Ryan
Need I say more? In one of the greatest, if not the greatest, war story of all time, Tom Hanks delivers one of his best performances of his career. You couldn't put anyone else in this movie and make it work the same way Tom Hanks made it work. Just the emotion he conveys and his leadership position abilities make me absolutely adore this movie. In a movie as brutal as this one, it even has the Spielberg magic that we have come to know. From the opening scene to the scene on the beach of Normandy to the final scene cutting back to present time, this movie stuns me. The ending is one of my favorite endings of all time, and the writing, story, and the way the story is told are all brilliant. The wide shots and moving camera capture everything that this movie had to offer, and Saving Private Ryan is going to take the same spot on this list as it did on my Top Ten Movies directed by Steven Spielberg.
1. Forrest Gump
I can't even count how many people I've talked to in my life who have said that this movie is their favorite movie of all time, and I can't blame them. This movie has just about everything to offer that you can ask for unless what you're asking for is Transformers. It has brilliant characters, so much heart, an amazing and heart-wrenching love story, and a man determined to be the best person he can be. Forrest Gump may not seem like the smartest man, but maybe he taught us things that only someone like him can teach us. I own this movie, but if I see Forrest Gump on television, I immediately sit down and watch it because I watch movies to feel things. I think that this is Tom Hanks' best performance of his career, and in a career like his, that is no small feat. I think that Forrest Gump is a movie that anyone can enjoy at any point in their lifetime, and I would strongly urge anyone who hasn't seen it to give it a look because I think that this movie has the power to change you.
Well, that's going to wrap up my top ten list, but I want to hear from you! What are your top ten favorite Tom Hanks movies? Comment down in the comment section to let me know. Also, if you're wondering why I'm doing this, I was lucky enough to check out Sully this weekend, and I had a review out yesterday afternoon, so if you would like to check that out you can click right HERE! Like I said, even if your list is different, we're all right, so let me know what your list is or even just a few of your favorites if you just can't pick. As always, thank you, and keep listening to 88.7 The Pulse!