It's time for another movie review presented by our good friends over at FatCats Gilbert on the southwest corner of Greenfield and Baseline! FatCats Gilbert is the best place to check out all of the latest movies including the biggest releases from Marvel Studios just like the movie we're going to talk about today, Doctor Strange!
With the second movie of the year from Marvel Studios, we might just have the most brain-shattering film we've seen. Just from the trailer, I expected to have my mind messed with in this movie, and I loved the casting of Benedict Cumberbatch. I also love Scott Derrickson. He blew me away with Sinister, and since then I went back to check out all of his films, and he is an incredible visual director. Sure, he has made his living in the horror genre as compared to Fantasy, Science Fiction, or even just the typical big budget blockbuster, but I actually like that better. Scott Derrickson crafted his career using small budgets and filmmaking talent as compared to mastering a computer generated visual effects movie, and now he gets to make a film with the biggest franchise in American cinema at the moment. Let's talk about Doctor Strange!
Doctor Strange is directed by Scott Derrickson and stars Benedict Cumberbatch, Mads Mikkelson, Chiwetel Ejiofor, Rachel McAdams, Tilda Swinton, and Benedict Wong. After a car accident leaves Doctor Stephen Strange with crippled hands and a broken body, American medicine can't help him recover. He turns to outside sources, and being a doctor, he isn't completely willing to accept the fact that his best option might just be a soul-searching journey to heal his body through his mind. Strange has to decide whether he wants to accept the help he is given and take on a brand new multiverse or stay a broken man struggling to find meaning in life without his renowned work.
Maybe this goes without saying at this point, but this movie is mind-blowing from a visual perspective. It is filled with visual effects, and they are all amazingly high quality and suck you into this dimension. Doctor Strange is Marvel's most visually impressive film. I really believe that this movie has some of the best effects of all time. Yes, there are scenes that look similar to Inception, but Doctor Strange spends so much time involving the audience in the visuals, and what the VFX artists did to the atmosphere is really something I haven't seen before. That leads me to say that Doctor Strange is a movie I can suggest checking out in 3D or IMAX. I was lucky enough to be able to check it out in IMAX, and it really elevated the already incredible visuals, and I felt like I was in the film. I'm usually not a 3D fan, but this time, I really believe 3D helps tell this story. Next, Doctor Strange is such a cool character. I know roughly nothing about him, so to be able to be introduced to him like this is eye-opening. I loved what Benedict Cumberbatch brought to the character from his cocky arrogance to his final breaking point and his development into the mystical Doctor left me wanting to see more from Strange in the Marvel Cinematic Universe. I can't picture anyone else as Doctor Strange now. I think about Joaqin Phoenix or Ryan Gosling as Doctor Strange, and as much as I love both of them, I can't picture them bringing what Cumberbatch brought to the character. Finally, I thought that Scott Derrickson did a very good job. As I mentioned, the film is visually astounding, and I give Scott Derrickson a huge amount of credit for that. I was visually impressed with Sinister, and it led me to check out Derrickson's other films, and getting to use the budget and studio perks of Marvel let Derrickson really put together Marvel's most mind-boggling movie.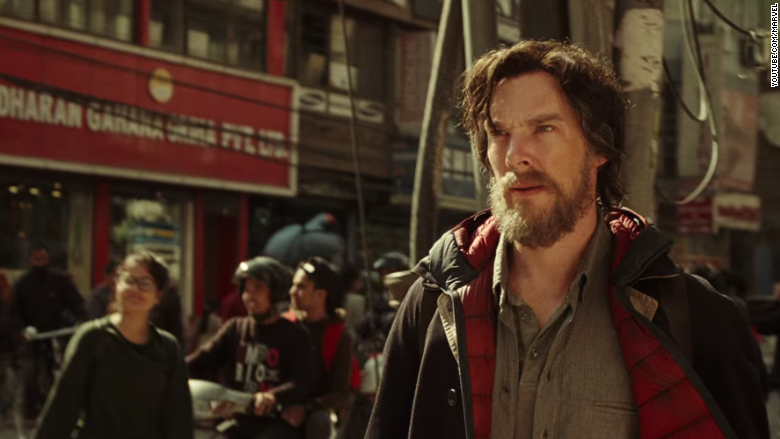 While I had a ton of fun with Doctor Strange, it wasn't perfect, and I don't think it's going to fall near the top in the MCU. I thought a lot of the comedy fell short, and even though it didn't make me cringe or bother me, it didn't make me laugh the way the comedy in Ant-Man or even Avengers: Age of Ultron did. Next, it's a pretty standard back story and origin story for a superhero. As far as story and storytelling goes, Doctor Strange is pretty basic. It's fun, but very standard. Also, I really did not care for the villains, but I think that's something I'll discuss in a spoiler discussion. Finally, if you had a hard time getting into the Guardians of the Galaxy universe, I think you'll have an even more difficult time getting into the Doctor Strange universe. I didn't buy the world for a few minutes because I thought that the inter-dimensional quality of Doctor Strange didn't cross with Earth as well as I wanted.
Overall, I can't complain about what I saw with Doctor Strange. It's not one of Marvel's best, but it's also not one of the worst, and I am beyond excited to see what the future holds for this character. There are so many great performances from Benedict Cumberbatch, Chiwetel Ejiofor, Rachel McAdams, and Mads Mikkelson. I even liked what Tilda Swinton brought to her character despite the controversy when she was cast. I don't know anything about the comics character, so I can't comment on how I feel about her casting, but I thought she was great! Where Doctor Strange stands out is in the visual department. I think this is Marvel's most visually impressive movie, and seeing it in IMAX actually enhanced the experience. A lot of my negatives I want to get to in a spoiler discussion, but it is a relatively standard origin story. Like I said, I'm excited for the future, and I can't wait to see how the character of Doctor Strange ties into the MCU. I'm going to give Doctor Strange a 7.7/10.
Are you headed out to check out Doctor Strange this weekend? Comment down in the comment section and let me know! I should have a spoiler discussion out this weekend, so be sure to stick around and check that out! There is plenty to discuss that I can't talk about here, so after one more viewing I can talk about it! Be sure to stick around for reviews of Hacksaw Ridge and Trolls this weekend, and with Oscar season rolling around, stick around for all of the reviews coming soon! As always, thank you, and keep listening to 88.7 The Pulse!