It's time for another movie review presented by our good friends over at FatCats Gilbert on the southwest corner of Greenfield and Baseline! FatCats Gilbert is the best place to see all of the latest movies at the box office in the most comfort and style in the valley! With food brought right to your Recline-N-Dine seat, you can feel like the most important person on the planet for a few hours!
I mentioned that we were getting out of 2016 and moving onto 2017, but this is one that I truly do not know whether it's a 2016 or 2017 film. Nevertheless, this cast is what excited me for A United Kingdom. To be honest, I was expecting great performances to elevate a serviceable movie, and with Loving out last year, I didn't think it was going to blow me away. We haven't seen Rosamund Pike since she teamed up with maybe my favorite working director in David Fincher for Gone Girl, so that's the memory I was taking into this movie. I also love David Oyelowo every single time I see him, and every time I talk about one of his movies, the discussion always turns to him as the big highlight. Anyways, let's talk about A United Kingdom!
A United Kingdom is directed by Amma Asante and stars David Oyelowo and Rosamund Pike as forbidden lovers. Prince Seretse, played by Oyelowo, causes a massive commotion in the entire hemisphere after bringing a British white woman named Ruth, played by Pike, back to his home country to become his wife and rule by his side. The story is set in the 1940s, so as can be expected, this caused a great backlash in the native countries of both lovers, and they may have to give up everything they have to be with each other.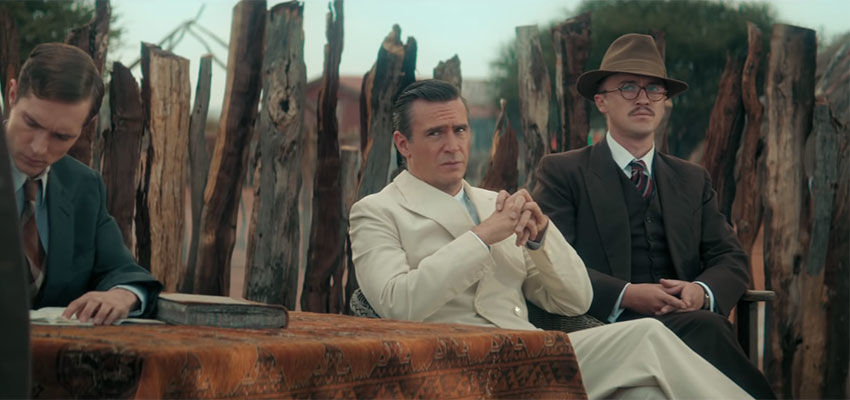 First of all, this movie has incredible performances. I was expecting to say that solely because of history, but both Oyelowo and Pike definitely make this film what it is, and they have good chemistry. Though it's something that has been done to death, when you can spin some fire into a tale about forbidden lovers, I'm usually hooked. The performances gave so much humanity and depth to these characters who were completely developed, and I could tell exactly why this story was told. Like I mentioned, we've seen this before, but it's something that stays relevant and continues to make for very strong characters that an audience can buy in each and every one of the scenarios the story puts them in. I also always love to watch a test of strength and beliefs. Everyone on the outside of this relationship was doing their best to rip Seretse and Ruth apart, but their strong will and love for each other kept the flare lit, and the battle of morals and love did catch my attention. I also think this movie is very well made. I'm a little bit confused as to why this movie didn't get more of an Oscar push than it did. As much as I like to joke about it, I did know that this was a 2016 movie, so I had to wonder why it didn't even get a tiny "playground shove" into the Oscar discussion. When I say Oscar-bait, I'm never going to portray that in a negative light. If you're trying to win an Oscar with xXx: Return of Xander Cage, and you're willing to put in a great screenplay and story, more power to you. xXx: Return of Xander Cage won't be taking home any gold except for maybe a Golden Raspberry, but A United Kingdom was an Oscar type movie from the story to the cast to the dedicated and detail-oriented filmmaking. This movie looked incredible, and it completely sucks you into that 1940s atmosphere in Britain while doing a 180 degree turn when we go back to Seretse's native country. It's very well-edited and well-directed, and I'd love to see Amma Asante take on more true stories in her future.
While this does have the performances, subject matter, and technical dedication of an Oscar movie, it fell short, for me, in many other areas. For example, this is a relatively generic love story with the forbidden lovers and the x-factor of the interracial couple that we have seen before. We actually saw it just a few months ago in Loving, but I thought that Loving had the emotional tug, the lasting impact, and the complete story to make it as good as it was. A United Kingdom, at times, suffers from a pacing problem that likely occurs because it's about twenty minutes too long. I think we could have been in-and-out in an hour and a half, but the film tried to milk a story that didn't have what it took to become a 110 minute-long film. I'm not saying the story is unimportant or impertinent to today's society, but a political aspect with government influence was introduced later in the film, and none of it worked for me. I didn't think it was handled well from an understanding perspective or a reasoning perspective, and it didn't pull me in the way the two performances and characters did. This could be my fault for not knowing my politics and government information for that time period and region, but I felt like it dragged because we were seeing things play out that I had simple solutions to. To me, if a king is a king or a queen is a queen, he or she has the power to govern his or her own territory. Why does a bigger body get to step in and have the kind of power that it did? To me, that entire aspect of the film fell flat, and it's where the movie slowed down to take away from the fact that this is a pretty generic story about an interracial couple who struggles to find acceptance. Maybe had I not seen Loving just months earlier, I would have felt a profound impact from this film, but after feeling what a story like this can do in Loving, I would have had to get the same emotional power from A United Kingdom, and I didn't.
Overall, A United Kingdom is a very well-made film with excellent performances that will keep David Oyelowo's and Rosamund Pike's phones ringing as they should be. It looks beautiful, and it completely captures the essence of culture and community. It has a great score, a great director, and a great relationship and chemistry between two characters, but in the end, it falls a little bit flat because of the conventions and the stretchy story. By stretchy story, I mean that this movie took an event (a very meaningful and important event) and tried to stretch it into a feature-length film when the material just wasn't there. I think the main element that faltered was the aspect of government and politics, and it made me call into question the legitimacy of a character's rank as well as my knowledge of 1940s territorial government. Maybe that one's on me, but if a movie can't explain that well enough for me to grasp onto a reason, I can't fully buy into its logic. The relationship is charming enough for me to buy into that aspect, but it's probably not one I'll ever pop into the movie player when I can watch something like Loving and be hit harder on an emotional level with a story I can count on. I am going to give A United Kingdom a 6/10.
Will you be seeing A United Kingdom? Comment down in the comment section and let me know! As always, thank you, and keep listening to 88.7 The Pulse!
All images courtesy of Fox Searchlight Pictures