It's time for another movie review presented by our good friends over at FatCats Gilbert on the southwest corner of Greenfield and Baseline! FatCats Gilbert is the best place to see all of the latest summer blockbusters! To see showtimes for movies like Wonder Woman, The Mummy, and the movie I'm lucky enough to talk about today, Cars 3, you can click right HERE!
We have a couple of Pixar films coming out this year. Later this year we're going to get a brand new film from Pixar called Coco, but before that we're completing the Cars trilogy with Cars 3 being released this weekend. Cars 3. Because it's exactly what we movie fans are asking for. Whether it's the sequel I was most hoping for or not, I was still excited for it. The trailers looked much more adult than either of the two previous Cars movies. I think that the reason most people don't like Cars isn't because it's a bad movie. In fact, it's a perfectly fine movie that made for one heck of an amusement park ride. People didn't like it because it doesn't quite stack up to the Pixar standard of giving us a little bit more than just a kids movie. Let's see if Cars 3 could change our minds about this animated franchise!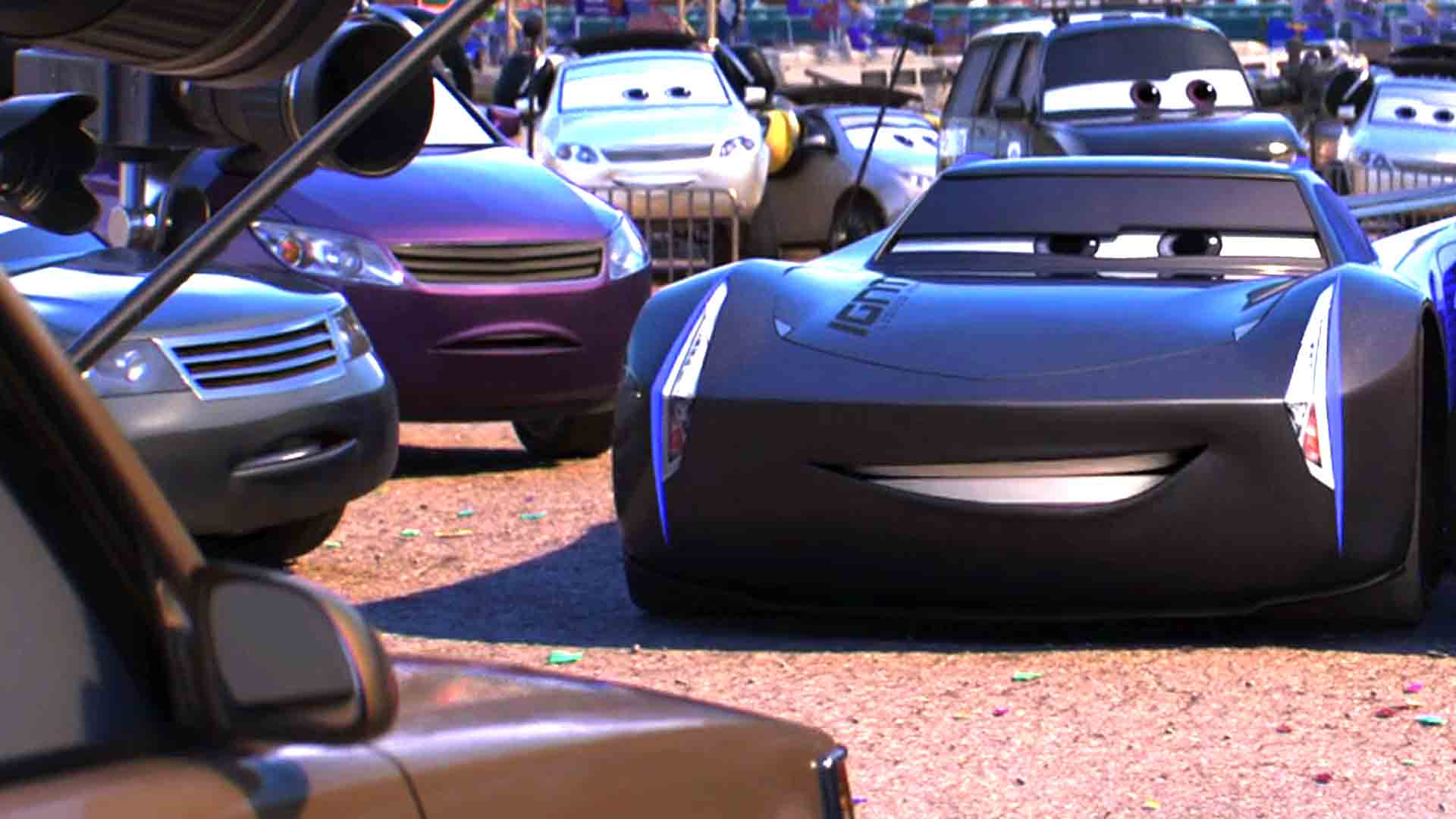 Cars 3 is directed by Brian Fee and stars Owen Wilson, Cristela Alonzo, Armie Hammer, Chris Cooper, Nathan Fillion, Larry the Cable Guy, and Bonnie Hunt. Lightning McQueen is getting older, but he's still getting wins. Until all of the rookie sensations hit the spotlight and begin to chase him down, that is. Leading the charge of the new cars with better technology and training is Jackson Storm, an overly confident showman who knows all about speed. After a crash sets Lightning McQueen aside for the rest of the season, he has to decide if he has the strength and will to claw his way back to the top of the game.
I won't be the first one to tell you this, and I won't be the last. This movie is brilliantly animated. Pixar never fails to blow me away. When it comes to animation, it's usually the meticulous craft that impresses me the most. It's all about the details, and the environments are great places to absorb the details. From the race tracks to the state-of-the-art racing facilities to the old dirt roads, everything looks magnificent. Even the way light hits all of the environments perfectly captures tones and moods, and it's such a bright and positive movie. I couldn't help but be happy in this film, and it's mostly due to the way the visuals carry the tone. The cars also look better than they ever have. Of course, we're eleven years removed from the original cars and six removed from Cars 2, so it makes sense that technology has advanced, but it's still amazing to think that a team of people created these amazing looking images on computers. The edges are sharp, and the dimensions are clear. Next, I enjoyed the film as a whole and a lot its pieces. I really liked a lot of the new characters brought into this world. Jackson Storm is a bit thinner than I like my villains to be, and a mental rivalry never really forms between them, but he is a great physical match for McQueen that causes us to look deeper into Lightning's motivations, drive, and work ethic. We see how McQueen, an all-in-all optimistic character, faces adversity. I also liked Cruz Ramirez. I thought she gave a lot to the racing world and her background really touched me. We also see her passion and her dreams, and her motivations are all completely justified as she became my favorite new character. Cars 3 also made an addition through subtraction. Cars 3 uses Mater much less than either of the previous installments. He even had moments that I enjoyed in this movie because he wasn't wearing me down. It gave plenty more time to Lightning McQueen and Cruz Ramirez allowing us to explore their characters more.
Though I liked this movie quite a bit, Disney does seem to have the formula down to a science. Structurally and through plot points, this movie is exactly what you were expecting. There won't be any surprising moments, and there aren't true stakes. At no point in this movie did I ever feel like there would be danger or loss. It also has some of the most obvious examples of Chekhov's gun. I don't think that Chekhov's gun is a bad thing whatsoever, but you always know what's coming, and it's purely formulaic at this point. It goes through the stereotypical journey where things are going exceptionally well to begin with, then a new threat is introduced, then the protagonist must train until he or she is able to go toe to toe with the new threat. This is beat-for-beat the story that you've seen before in prior franchises, and even in the same franchise. Also, a good portion of the writing doesn't work. There are great scenes with moments of character building and developing dialogue, but just about every single joke and car pun misses the target by yards. If it missed the mark once in a while it might be forgivable, but it happens very, very often. There are even certain scenes in which every line or every other line is a one-liner or a pun, and it's so forced and fake.
Overall, Cars 3 is a good, and maybe the best, installment in the Cars franchise. The animation and visuals are absolutely incredible. This is some of the best environmental world-building I've seen in an animated film, and it sold me on the settings of the film as well as the physical dimensionality of the characters. I saw this film in 3D, but even without the 3D it would feel as though I could reach out and touch the cars. I also think that there are excellent character moments in the film, especially from Cruz Ramirez. We even get more from Lightning McQueen as we see him give up literally everything, and his character arc from the first film is actually uplifting. The story is very formulaic and predictable with many standard storytelling plot points, and the comedy and puns in the dialogue fail much too often for this film to be near the top of the list of Pixar movies, but it's a surprisingly heart-felt top-ten finish for a franchise that really needed one. I'm going to give Cars 3 a 6.8/10.
Will you be checking out Cars 3? Comment down in the comment section and let me know! As always, thank you, and keep listening to 88.7 The Pulse!