It's time for another movie review presented by our good friends over at FatCats Gilbert on the southwest corner of Greenfield and Baseline! FatCats Gilbert is the best place to see all of the latest box office smashes with the entire family! To see all showtimes and to purchase tickets, you can click right HERE!
Another Marvel movie is hitting theaters, and this time it's for Marvel's newest property in Spider-Man. A few years ago it would have been tough to imagine Spider-Man in the Marvel Cinematic Universe just because Sony owned the rights. Spider-Man is a hot property, so the chance of the rights to the character reverting back to Marvel were not very high. Nevertheless, after an awful conclusion to Raimi's trilogy and two terrible Amazing Spider-Man films with Andrew Garfield as the lead, Sony and Marvel reached a deal to bring Peter Parker to the MCU. Tom Holland as Peter Parker was one of my favorite parts of Captain America: Civil War, so I couldn't wait to see this movie! Let's talk about Spider-Man: Homecoming!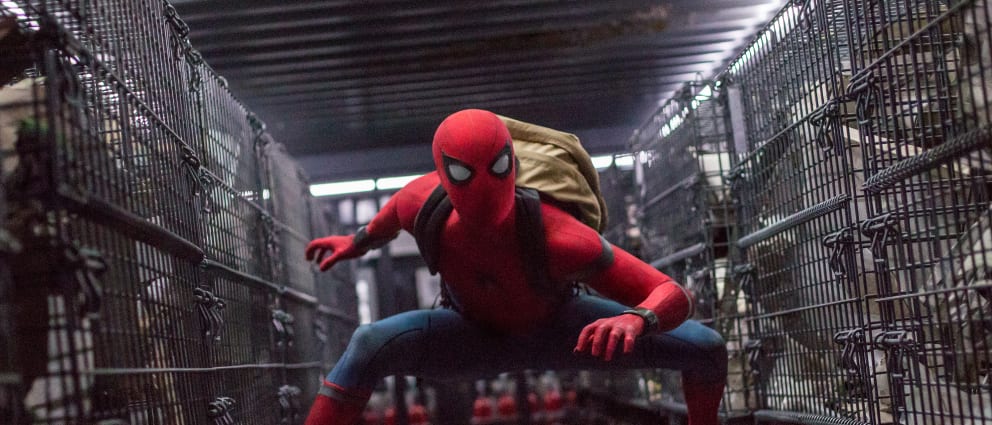 Spider-Man: Homecoming is directed by Jon Watts and stars Tom Holland, Michael Keaton, Robert Downey Jr., Marisa Tomei, Jon Favreau, Zendaya, and Laura Harrier. Peter Parker, played by Tom Holland, is still learning how to be a high school student and a superhero at the same time. When a brand new villain hits the streets of Queens with the latest alien technology, Peter must figure out how to stop him and keep his commitments to schoolmates, friends, and mentors.
After three straight disappointing Spider-Man movies, it's about time we saw a good one, and Spider-Man: Homecoming is that good one. Starting with exactly what I expected to be great, Tom Holland was amazing as Peter Parker and Spider-Man. He perfectly embodies all of the qualities that fans love about Spider-Man. A lot of people were disappointed that Garfield's Spider-Man didn't encapsulate the caring yet also fun-loving characteristics seen in the comics and television series. This Spider-Man does, and that's what makes this character so likable. He loves being Spider-Man, and every decision he makes shows us exactly what he believes is the greater good. Tom Holland's delivery of every line is perfect for the character, and he brings so many layers to the role. He's hilarious, but he also has a huge heart. This movie is also just an absolute blast. Most of that falls into Tom Holland's performance, but the tone and pacing makes this one of the most enjoyable movies of the year. The 133 minutes flew by, and the bright tone was so refreshing and suited the character so well. This film also meshes the aspects of a high school movie and a superhero movie and gives fans the right amount of both genres. Spider-Man: Homecoming is a movie that finally gets high school right. You won't see twenty-five year olds portraying sixteen year olds. You will see fifteen and sixteen year olds playing fifteen and sixteen year olds. It makes all of the high school scenes so much easier to stomach and brings the awkwardness of high school to life. I could connect to all of the characters, and they made sense in reality. On top of the high school characters being great, Spider-Man: Homecoming also finally gave us a good Marvel villain. Vulture wasn't just in the film for the sake of having an antagonist. He had a purpose for what he was doing, and his character arc followed a clear, yet surprising line. Though all of his conclusions made sense, he was still able to shock me in ways that I didn't see coming.
Though I do think that this is the best Spider-Man movie in thirteen years, I did have a couple of issues with it. First of all, there are a few moments where the film so obviously tries to acknowledge the fact that the Avengers also exist in Spider-Man's universe. Maybe it's because the past two films are not set in the same cinematic universe, so Sony and Marvel together decided that it was absolutely necessary to make that incredibly obvious through expositional dialogue and lines that didn't fit the way this universe is portrayed. For me, the simple addition of Tony Stark to the film should have been enough for most people to acknowledge that this is the same universe, but the film continued to force that fact. Finally, while I think that this is one of the most enjoyable movies in the MCU, I did find it to be a relatively surface-level film. Nothing in Spider-Man: Homecoming tested my emotions or my mentality, and while it absolutely nailed the character, it did seem to be played more for fun. For those who say that every single Marvel movie is the same, this will give you a different taste in your mouth due to how well it mixes genres, but I wouldn't say that it's nearly as emotionally compelling as the best of the MCU. When we're getting comic book films like Logan, Wonder Woman, and Captain America: Civil War that all have a social and cultural relevance or an emotional hook, it becomes even more noticeable when there isn't a ton more to offer than an absolute ball at the movie theater.
Overall, Spider-Man: Homecoming is the best Spider-Man movie since the second installment in the Raimi trilogy, but is probably the best depiction of the character. It's so easy to see that this cast and crew, centered around Tom Holland, adores this character and cares about bringing him to life the correct way. Spider-Man is awesome because of his crime-fighting style matched with his comedy and the way he cares about others. He's smooth as Spider-Man while the cat gets his tongue as Peter Parker, and Homecoming nailed that aspect, especially in one scene involving Peter Parker's ability to continue being Spider-Man. It's such an enjoyable ride that finally gets high school somewhat right, and uses those correct high school ideas to show us the other side of being a superhero as a fifteen year old. The two genres, high school and superhero, are married together so nicely, and I was thoroughly entertained by both sides as the runtime flew by. We also see arguably the best villain Marvel has given us since Loki, which hopefully finally gives us something to cheer for since the MCU is known for weak villains. There are sequences in this film that truly made my palms sweat out of suspense and thrills, and the best realization of Spider-Man to date carried the movie to the finish line at a great pace. I think my main issue with the film is that it only scratches the surface of the genre as far as emotional pull goes. By setting this film after Spider-Man's origin, it's able to acknowledge what happened without getting bogged down in a story that we already know, so it had the chance to use a lot of time hooking us emotionally, but I really only latched on because of how much fun it was. I'm going to give Spider-Man: Homecoming an 8/10.
Will you be checking out Spider-Man: Homecoming? Comment down in the comment section and let me know! As always, thank you, and keep listening to 88.7 The Pulse!