It's time for another movie review presented by our good friends over at FatCats Gilbert on the southwest corner of Greenfield and Baseline! FatCats Gilbert is the best place to see all of the latest box office hits including the brand new film from the DCEU, Justice League! To see all showtimes and to purchase tickets, you can click right HERE!
I've actually been looking forward to this movie for a while now. I'm a big fan of Martin McDonagh. If you've read any of his plays or seen Seven Psychopaths or In Bruges, you're probably aware the McDonagh writes incredible dialogue and is one of the best directors when it comes to mixing tones. He also always pulls award-worthy performances out of his cast. Unfortunately he's not working with Collin Farrell this time, but Sam Rockwell and Woody Harrelson are back from Seven Psychopaths, and Oscar-winner Frances McDormand looked perfect in the trailers, so I was still excited for the headlining names. Let's talk about the movie!
Three Billboards Outside Ebbing, Missouri is written and directed by Martin McDonagh and stars Frances McDormand, Sam Rockwell, Woody Harrelson, Peter Dinklage, John Hawkes, and Caleb Landry Jones. When the murder of Angela Hayes goes unsolved in the town of Ebbing, Missouri, her mother, Mildred, played by Frances McDormand, rents out three billboards calling out the police department for being unable to find her killer, causing a brutal war between Mildred and the city's law enforcement led by Chief William Willoughby, played by Woody Harrelson, and seconded by the violent, foul-mouthed Dixon, played by Sam Rockwell.
Let me say this again. I love Seven Psychopaths and In Bruges. I rewatch them all the time, and I always get laughs and an emotional response from both. As much as I love those two movies, I honestly believe that Three Billboards Outside Ebbing, Missouri is Martin McDonagh's best film. I loved every single second of this movie, and we're going to need an unprecedentedly strong last six weeks of the year to knock this movie out of my top three or even two, of 2017. Yes, awards season is coming up, so I'm sure we'll see tons of great movies, but I'd be shocked if I enjoy any the way I enjoyed this one. It all starts with Martin McDonagh's screenplay. Please, Academy, give him the Oscar right now. This is a perfectly written screenplay, and I have a difficult time imagining anything topping its combination of pace, wit, story, characters, drama, and will. There's not a single dry moment in this story, and I laughed harder than I have all year. I didn't even laugh. I cackled, and I'd apologize to those sitting around me, but everyone was laughing the same exact way. It's the kind of laugh where society tells you that you shouldn't be laughing at such hot-button issues, but it's too honest and real not to. At one second you'll be laughing, then at the next second you'll be deep inside these characters fully understanding where they come from and why they've become the people they've become. I couldn't even walk out of this film hating the characters I thought I was going to hate because I understood them. I understood their history, their motivations, and sometimes their lack of self-awareness or moral conscience that would tell them that their actions are wrong. Every single character has an arc, and they're all given the perfect amount of time to have their arcs fully realized, and that was probably the most impressive thing about this script from McDonagh.
I only have amazing things to say about the cast. As an ensemble, the performances might be the best I've seen this year, but to single my two favorites out I'll talk about Frances McDormand and Sam Rockwell. I wouldn't be the least bit shocked to see both of them go home with an Oscar. On top of how beautifully realized their characters are by McDonagh as a writer and a director, they both bring so much humanity and depth to the role. In taking a unique route to get her point across, McDormand showcases so much emotion, but she also has so much personality. After seeing this film, I can't picture anyone else absolutely murdering this role the way she does and pulling off the mental and emotional characteristics of this character, and her range is amazing. Though not instantly obvious, everything she does comes from this place of love that's buried deep inside her that none of the other characters get to see, but that's what's so great about being viewers. We see it, and we understand her. Rockwell is also Oscar-worthy, and he might have given the best performance in the film. For a good chunk of the movie I really despised Rockwell for who he was. His character worked well for the story, but I despised him as a person, and he does some unspeakable things. As the movie continues to move, I slowly started to understand where he was coming from, and his interactions with his mother allowed me to climb right into his mind and completely get why he's compelled to become the violent, racist, entitled animal that he is.
I also think that this is such a relevant and poignant movie. Martin McDonagh is one of those special filmmakers who can make a movie unlike any other storyteller out there while also making it completely accessible and relevant. He brings his stories to life, and by addressing themes that society tends to stay away from with both comedy and drama, he brings out the best in every character and every plot point. The overarching themes and the individually addressed themes all speak so loudly, and McDonagh lets us laugh at them and think about them. A lot of McDonagh's comedy comes from crass dialogue and characters who aren't afraid to say anything, but so do the emotional ties, and Three Billboards Outside Ebbing, Missouri provoked thought and left me moved. It's been a long time since I've both enjoyed and connected to a movie as much as I do with this one. I don't necessarily connect with these characters because they're stunningly relatable to me. I connect with them because I see their arcs and fully understand where they're coming from emotionally, and they feel like real people. I do, however, connect to what McDonagh is trying to say, and I think he does an excellent job getting his point across while maintaining a wonderfully told story with timeless characters.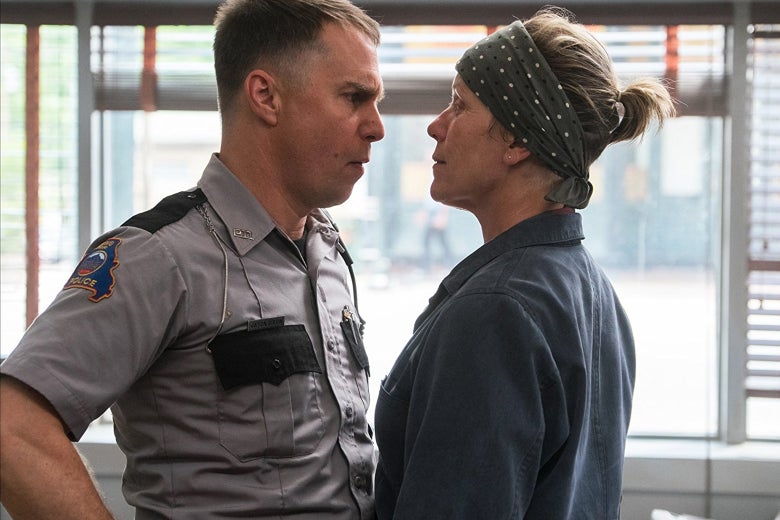 Overall, Three Billboards Outside Ebbing, Missouri is one of the best films of the year, hands down, and it all comes down to Martin McDonagh's script. To me, this is easily the best screenplay of the entire year, and I'd love to see McDonagh walk out of the Oscars with a statue for writing. He mixes comedy and drama extremely well, and there are moments where I instantly go from cackling out loud to a complete understanding of what certain characters are experiencing without a jarring feeling or a feeling a discrepancy in tone. Every single character has a character arc, and we really get to the bottom of everyone's motivation and background. I mentioned that I want to see McDonagh walk out with an Oscar, and I'd love to see McDormand and Rockwell nab statues as well. They both bring so much life and layering to these characters, and I buy them in this ruthless little town where rules seem to be nonexistent. It's entertaining, beautifully crafted, and perfectly conveys the messages that it's trying to convey, and I couldn't possibly get enough of McDonagh as a director or as a writer. From the opening shot to the final shot, I think that everything he does in this film works, and I'm going to give Three Billboards Outside Ebbing, Missouri a 10/10.
Will you be seeing Three Billboards Outside Ebbing, Missouri? Comment down in the comment section and let me know! As always, thank you, and keep listening to 88.7 The Pulse!