It's time for another movie review presented by our good friends over at FatCats Gilbert on the southwest corner of Greenfield and Baseline! FatCats Gilbert is the best place to see all of the latest box office hits like The Predator and Night School! To see all showtimes, you can click right HERE!
Is it Oscar season yet? Well, four of the last six Best Picture winners have been released in October, so bring it on! I was really looking forward to this movie. I'm a big fan of Bradley Cooper, and I think that Lady Gaga is extremely talented. To be honest, I haven't watched American Horror Story to get a feel for her acting ability, but the trailer for A Star Is Born sold me. This is the fourth time this story is being told, and the rise of an entertainer with a love story has been covered countless times under a different title. Remake or not, this one has plenty of award buzz surrounding it. Is it worth it?
A Star Is Born is Bradley Cooper's directorial debut, and he takes the lead along with pop-star Lady Gaga. Jackson Maine is far past being a budding star. In fact, his career is going downhill relatively quickly. One night at a bar, he runs into Ally, an unbelievably talented singer-songwriter who dreams of singing on the big stage. As Jackson helps Ally grow her career, the two grow closer and closer as a couple. Jackson continues to spiral downward as Ally rides the rollercoaster to the top, and their careers and relationship are tested through the big, scary world of modern art and entertainment.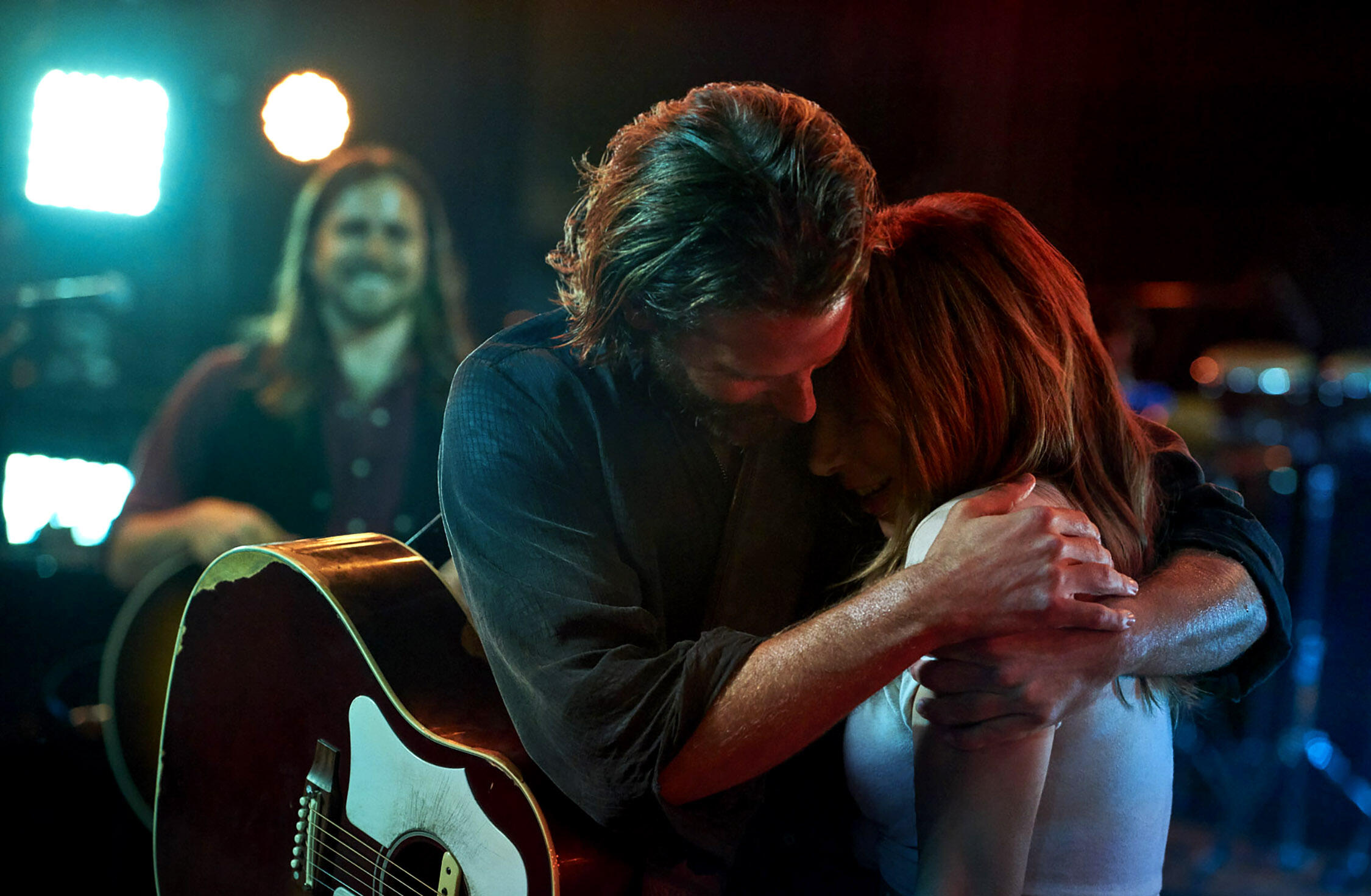 Movie fans always complain about remakes, but are they really that big of a deal? If you don't like remakes, don't go see them. If you want to give them the same shot as any other movie, go give them a watch in theaters. There's always a chance you'll walk out loving another iteration of a classic tale. That's how I feel about this movie. I absolutely love it, and I think that it's coming for awards. First of all, the performances are amazing. I haven't seen every film that will be nominated for awards, but I have a very good feeling about both of the leads' chances. Bradley Cooper gives, in my opinion, the best performance of his career without a doubt. He's so committed to this story, and it's obvious that he has a passion for this industry as well as the toll it can take on people. Both he and Lady Gaga give such raw, layered performances with so much humanity. Neither of them hold anything back, and they're both completely emotionally invested in this story and this relationship. When everything comes together the way it does in A Star Is Born, the audience becomes just as emotionally invested in the story as the actors portraying the characters, and this movie hit me emotionally on a level that I haven't experienced all year.
If you want to know how to craft main characters, watch this film. It is perfect example of the old storytelling cliché of "show, don't tell" at its finest. There aren't any scenes in which the characters lay out every single piece of exposition. Every moment that builds characters simply puts us in their shoes and puts us right in the room with true-to-life people. Great storytelling can make you believe that the beings on the screen are real, and the whole-hearted performances and character designs made me believe in Jackson and Ally. Cooper and Lady Gaga also have excellent chemistry. I was completely sold on their relationship and its foundations, and I loved watching it come to fruition.
I also think that this movie has a lot to say about mental illness and addiction, which is a pretty topical subject in today's day and age. Jackson's character arc takes him through things that people should never have to go through, yet we still see it all around us today. So many people, wealthy or poor, famous or not, go through what Jackson goes through in this movie, and it doesn't shy away from covering these themes. It faces them head on with a message about help and blindness to the need for help while also showing that some wounds can never be healed. Some gashes last forever, and we take our scars with us, and our decisions about what to do with those scars shape our present and future. This movie makes you ask questions about our ability to read signs and give aid to those in need, and I think that the questions need to be asked. Doing so in a powerful way with a moving story only makes the message more clear.
Bradley Cooper also directed the absolute heck out of this movie. It's so obvious that everyone has the same goal in putting this film together. Everyone is on the same page and working with the same amount of commitment to bring this story to life. From the performances to the storytelling to the camerawork to the cinematography to the editing, everything is given so much care and means to make a point. There is an intention behind every cut, every shot, every line of dialogue, and so on. Cooper also hints at both the future and the past in amazing ways that bring the characters and the situations to life. A Star Is Born is natural in a way that few movies are allowed to be. Yes, there is still the suspension of disbelief that comes with all films, but Cooper allows this movie to release every last ounce of humanity it has, and I loved it. Again, it goes back to the old saying about a simple story well-told. You have seen this story before. I guarantee that. What you may not have seen is this story being told with this level of commitment, dedication, emotion, and skill, and this is why remakes can be great.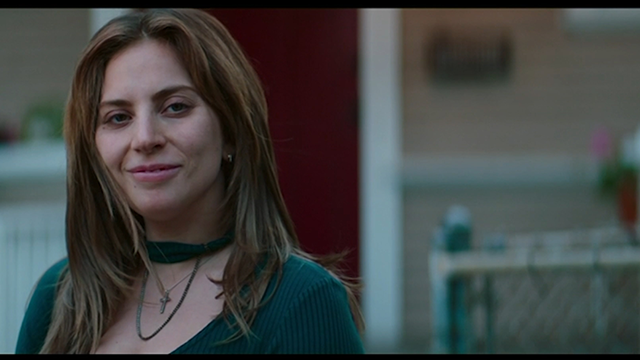 While this isn't a musical, it does put a lot of its weight on the music, so I have to touch on it. The music is amazing. Bradley Cooper has said that he spent a year and a half taking vocal lessons to prepare for this role, and I think that they absolutely paid off. They didn't pay off in a way that made Cooper the best vocalist on the planet, but he definitely has a defined sound and vulnerability with his voice that is so difficult to master. As you can probably imagine, Lady Gaga is the real musical star behind this movie, and she kills it. Her voice, the lyrics, the rhythms, and the way she performs all find her perfect comfort zone and bring out the best in her as an actress. She also raises the bar for Bradley Cooper's Jackson. Cooper, as a director, was able to use Lady Gaga's strengths to escalate his performance, and he was able to use his strengths to escalate Lady Gaga's performance. That is great direction.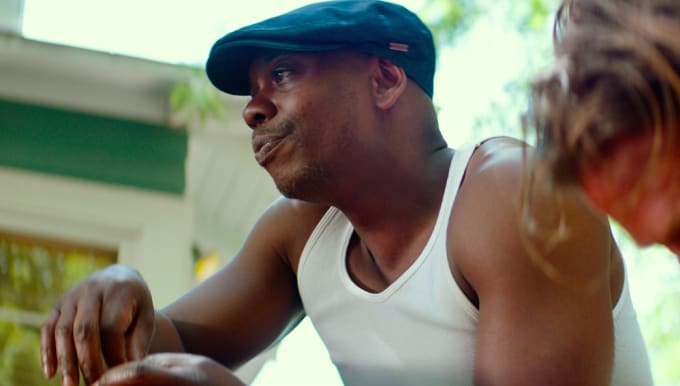 I don't really have glaring issues with this film. It may have dragged a bit beginning at about the halfway point, but I was still emotionally invested enough to care. I was still hooked, and I wanted to get as much information about these characters as I could. I wanted to keep tabs on them at every point in their lives and in their relationships, so I didn't mind the slight drag. I also would have liked to have seen a few of the side characters a bit more than I did, but the heart of this movie is the relationship between Jackson and Ally, and any time spent on that relationship is not wasted. I'm not even going to take anything away from this film in terms of originality. I don't mind formula as long as the filmmaker is able to hit enough original notes or emotional notes to make me care or make me feel like I'm seeing the story for the first time, and I think that Bradley Cooper did that. He took a story that has been seen more times on the big screen than I could count on ten hands and made it feel fresh, and I give him a ton of credit for that.
Overall, A Star Is Born is one of the best movies of the year, and I can definitely see it taking more than a few awards home in the next few months. The leads are Oscar-worthy, they have great chemistry, and the relationship that the story is built upon is extremely solid. This is a somewhat simple overarching story that Cooper managed to milk every single nuance out of, and the product is beautiful. I hope he gets to direct more often because his passion for filmmaking and storytelling is plain as day. It moved me emotionally on a level that I wasn't expecting. I've been thinking about the movie since I saw it last night, and I have a feeling it's going to leave a lasting impression on many people. I also have to mention the music, which will clean up during the award season, and Lady Gaga is to thank. Bradley Cooper performs the music well, but everything he does is enhanced by his characterization and Lady Gaga's musical talent. Cooper used everyone's strengths to make the best movie possible, and I think he did it. He has outdone himself, and he'll be giving more than a couple of acceptance speeches. I'm going to give A Star Is Born a 9.5/10.
Will you be seeing A Star Is Born? Comment down in the comment section and let me know! As always, thank you, and keep listening to 88.7 The Pulse!