It's time for another movie review presented by our good friends over at FatCats Gilbert on the southwest corner of Greenfield and Baseline! FatCats Gilbert is the best place to see all of the latest box office hits like the one we're talking about today, Spider-Man: Into the Spider-Verse! To see all showtimes and to purchase tickets, you can click right HERE!
I'd be lying to you if I told you that I was the biggest Miles Morales fan. I don't dislike Miles Morales. I just didn't know anything about him. Outside of Flash and Green Lantern, I don't know much about superhero alter-egos after the first person to take up the suit. Somehow that actually made me more excited to see this movie. I'm always interested in seeing new characters, and the post-credits scene from Venom had me ready for a much different take on Spider-Man than we've ever seen on the big screen. Let's talk about the movie!
Spider-Man: Into the Spider-Verse is directed by Bob Persichetti, Peter Ramsey, and Rodney Rothman and stars Shameik Moore, Jake Johnson, Hailee Steinfeld, Mahershala Ali, Brian Tyree Henry, Lily Tomlin, John Mulaney, Kimiko Glenn, and Nicolas Cage. Miles Morales is just a kid in Brooklyn who loves art and hanging out with his uncle, but when he's bitten by a radioactive spider, he becomes Spider-Man and takes up all of the power and responsibility in his universe. He might think he's alone, but Kingpin opens a portal to alternate universes, sending more Spider-people into Miles's reality. With a team of Spider-powered heroes, Miles must stop Kingpin from sucking Brooklyn into a black hole and help his newfound friends get home.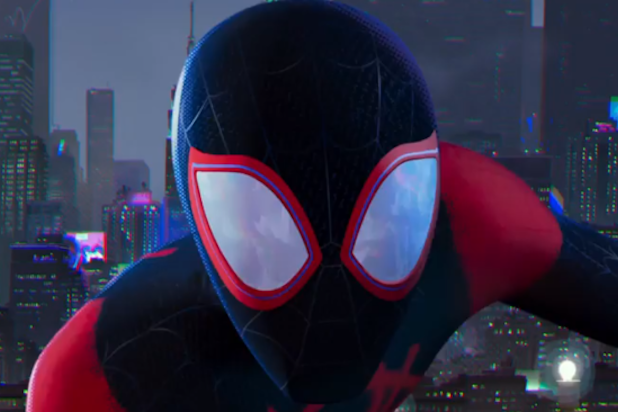 I wasn't expecting to say this at the beginning of the year, but Spider-Man: Into the Spider-Verse might actually be the best superhero movie of 2018. That's not a hill I'm willing to die on because of how much I love Infinity War, but Into the Spider-Verse might be the best Spider-Man movie to hit theaters. Maybe ever. It all starts with Miles Morales. Again, I didn't know a thing about him as a character, but this movie was able to hook me on him instantly. His relatability, humanity, depth, and history make him extremely easy to connect to. He's more than just a guy with the powers of a spider. He has passions and difficulties he faces with his family and in his social life, and I'd argue that he's an interesting enough character to be a film protagonist without his powers. He also makes this movie an absolute blast. I loved watching him learn about his abilities and interact with this team, and he has such a great energy that makes both comedy and drama work without feeling jarring in the slightest. The most impressive thing about the film might be the way that the animation style unlocks everything it can when adapting from comic book to movie. Spider-Man: Into the Spider-Verse isn't a comic book come to life. It's a nuclear explosion of the comic book genre from page to screen. Thought bubbles, text bubbles, colorful action sequences, visual depictions of sound, and even panels are used to make this movie an unbelievable experience. I really can't believe what it pulled off by going for it and unleashing every ounce of creativity it could have. It's beautifully animated, and it's able to do things that we've never seen on-screen and likely wouldn't have the chance to see on-screen in a live action film.
It's also incredibly consistent in its themes about heroes, faith, loss, and loneliness. Yes, we're still talking about an animated movie. Spider-Man: Into the Spider-Verse is proof that animated films and comic books are for adults. Movies for adults don't have to be R-rated and have heads being chopped off and f-words being thrown around every few seconds. This movie pinpoints its themes and nails every single one of them which alone makes it incredibly mature. The way the themes tie into the characters and narrative makes the story so easy to become emotionally invested in. None of the themes are beaten into our heads. They are addressed as inevitable facts of life that even people without super-human powers can grasp onto. This might just be recency bias because of recent news, but I think that Spider-Man: Into the Spider-Verse gives us Stan Lee's best cameo. It seems like the perfect way to sum up what Stan Lee stood for and his reasons for creating in the first place. All of his ideas about heroes and humanity come together for about thirty seconds in a moment that just about brought me to tears. The way the movie uses characters is also amazing. Each one has a character arc beginning at one defining point and ending at a different one. They retain certain consistencies in themselves, but they also change because of their experiences. Of course, Miles Morales probably has the most drastic arc, but the rest of the Spider-people, Miles's family, and certain villains are also so well-developed. It's rare to see a movie with this many characters and a runtime of under two hours that is able to accomplish so much character building.
From a storytelling standpoint, both content and method, Spider-Man: Into the Spider-Verse blew me away, but it also blew me away technically. The animation and visuals are amazing, and the sound brings this movie to life. I love the trend that seems to be taking over comic book movies lately that gives them an original soundtrack as well as a score. Look at Black Panther or either of the Deadpool movies. Original songs with lyrics and modern production are making their way into this genre, and I love it. I love scores, but I also love the stylistic touch that new artists can bring to a film about a young kid in Brooklyn. There will probably never be a time in my life that Hans Zimmer, James Horner, and John Williams will fail to give me chills, but doesn't it just make sense that a high school kid in 2018 would be listening to Post Malone, Swae Lee, Vince Staples, Juice WRLD, and other artists who have hit huge home runs recently? On top of the fact that it makes sense, the songs are great. They're well-written, they're well-performed, and they tie into the ideas that the story throws out.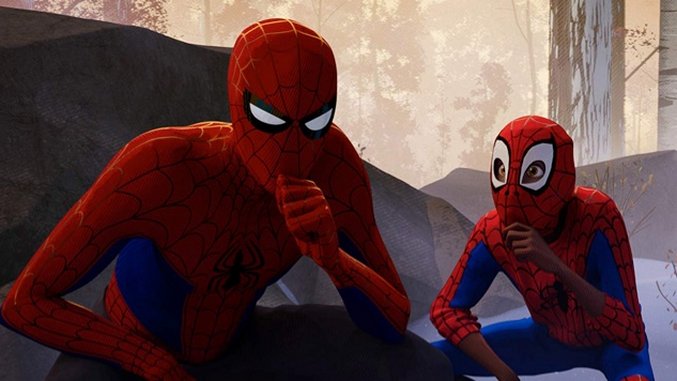 Overall, Spider-Man: Into the Spider-Verse took me by surprise as the same studio that has produced The Emoji Movie, The Smurfs, and the Hotel Transylvania trilogy might have given us the best Spider-Man movie to date. I knew nothing about Miles Morales, but I'm just as attached to him as I am to any other live-action Spider-Man. He's beautifully developed, and he has an amazing arc. Fortunately, he isn't the only character with an arc. Every single character makes a massive transition because of the events in the film whether it be in a family, a marriage, a friendship, as an individual, or a combination of multiple elements. Into the Spider-Verse has found a way to, not just bring comic books to life, but to make the comic book format explode off the screen with color, creativity, and energy. It's so consistent and mature in its themes, and its animation style makes the technical brilliance even more impressive. My only issue with the movie is probably in the villains. Kingpin, while given a back story, definitely isn't expanded upon nearly as well as most of the heroes, and most other villains outside Kingpin fell a bit flat for me. The movie is an absolute blast with tons of depth and mature themes, and it brings Spider-Man and Miles Morales to life in a whole new way. I'm going to give Spider-Man: Into the Spider-Verse a 9.4/10.
Will you be seeing Spider-Man: Into the Spider-Verse? Comment down in the comment section and let me know! As always, thank you, and keep listening to 88.7 The Pulse!