It's time for another movie review presented by our good friends over at FatCats Gilbert on the southwest corner of Greenfield and Baseline! FatCats Gilbert is the best place to see all of the latest box office hits, including Us! FatCats Gilbert is actually holding a special premiere event for Us, so if you'd like to see more details, you can click right HERE!
It's no surprise that Us is one of the most anticipated movies of the year. Coming off of Get Out, Jordan Peele is already being hailed as an all-time great in horror filmmaking. I'm part of the camp that believes you need to do it for at least a decade to become an all-time great, but he's definitely off to an incredible start. I actually didn't watch the trailer for Us until recently. I went to the theater to see The Favourite, and the trailer for Us was attached. Right from there, I couldn't wait to see the film. I'm also a big fan of Lupita Nyong'o, and I was excited to see Winston Duke outside the MCU. Is Us worthy of following Get Out?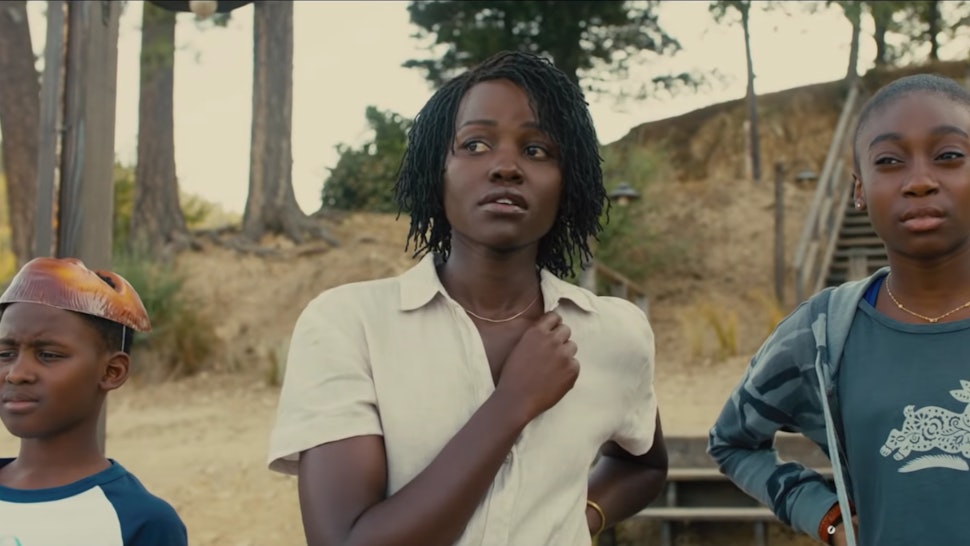 Us is written and directed by Jordan Peele and stars Lupita Nyong'o, Winston Duke, Shahadi Wright Joseph, Evan Alex, Elisabeth Moss, and Tim Heidecker. When the Wilsons hit the beach for a family vacation, a childhood memory of Adelaide, the mother, comes back to haunt them. A family appears at night, violently entering their vacation home, but it gets even weirder when the Wilsons realize that this family looks just like them.
I don't know if this is a necessary disclaimer or not, but this review will be spoiler-free. The best way to see this movie is blind, so I wouldn't suggest looking into the story. Jordan Peele has one of the loudest, and best, voices as a director in today's industry. There isn't a single storyteller in this medium with Peele's satirical and surrealistic approach to comedy and horror, and the genre melding works so well. Peele is the perfect example of why people say comedy and horror are similar. The build, the set-up, and the payoff play out almost identically, and in Peele's case, sometimes simultaneously. It doesn't necessarily deliver conventional scares, but Us is effective both with its horror and its comedy because of the way Jordan Peele can get underneath your skin. The horror in Us is meant to mess with your mind and make you uncomfortable, and once Peele builds the tension, he only releases it with a well-timed moment of comedy.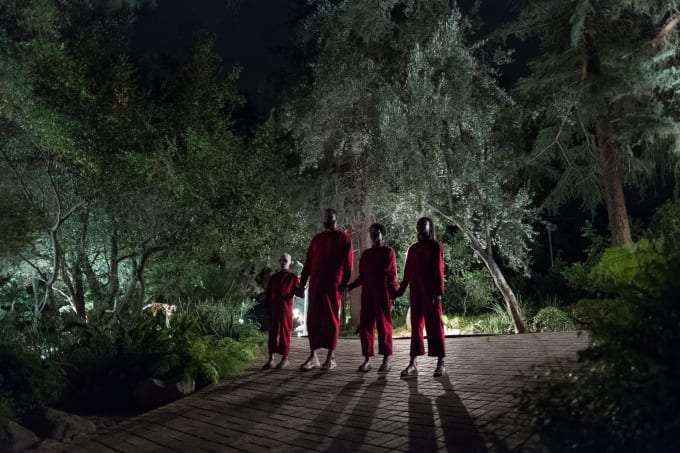 He's also able to connect the two because of the performances. First, Lupita Nyong'o gives a performance worthy of an Oscar nomination. All four of our main cast members are given a difficult task. They have to give extremely different performances, and Lupita Nyong'o is the reason the horror and the drama work. The stakes rise and fall with her, and it's her acting that becomes the most haunting part of the film. I also loved Winston Duke. Without his perfect delivery, I don't think the movie works. The differences in tones would completely rip the movie to pieces, but Duke has amazing comedic timing, which allows the comedy to fit right in with the horror and drama and release some of the tension. I also loved the children. Peele doesn't shoot around the children. They have a lot to do in this film, and again, both have to give two different performances. They both nail it and give the movie so much emotion.
As you probably could have expected, Peele's social ideas are distributed throughout this movie. I won't go deep into the allegory so that you're able to unravel it for yourself, but this movie tackles humanity and self as compared to Get Out's take on external race relations. Maybe that's obvious given the title, but I found its message very compelling, and Peele's way of unrolling that message is equally interesting. It has a very distinct commentary on the way we perceive differences in each other, whether that be through class or any other social hierarchy. I also think it has fascinating commentary on our flaws and the way we perceive ourselves. It blurs the lines between good and bad, so you walk out of the theater questioning everything you've been cultured to believe in the first two acts of the film.
With a less straightforward social and self commentary, I do think that Us does fall short of Get Out's near-perfect storytelling. It opens itself up to some flaws and holes in the story. Where I think Jordan Peele had a stranglehold on his ideas with Get Out, that grip is less tight with Us, and he has too many balls in the air to prevent a few from falling. I won't go into any details specifically because some my key issues are vital plot points, but it does have some missteps, particularly in the third act, that seem to detract from what it has built.
Overall, Us is a very well-made horror movie that proves Jordan Peele is an extremely gifted filmmaker. He gets great performances from Lupita Nyong'o, Winston Duke, Shahadi Wright Joseph, and Evan Alex, who have a tough job given that they all have to give two shockingly and unsettlingly different performances. The two always feel separate, but they always feel connected thematically. Peele has great voice as a director, and he builds his scares so well while adding some of the comedy he's known for. I adore the way he structures scenes because it's so distinct and intentional, and it brings the best out of his storytelling. The social commentary is still there, but I think Us is more reflective of the way humans perceive themselves compared to others, which I found fascinating. It blurs the lines of beautiful and ugly, harmony and chaos, and good and evil, so it leaves you walking out of the theater with questions for yourself, which is almost always a good thing. It does suffer from a few story issues, mostly because Peele seems to have too many ideas floating at the same time. Some of the ideas never come to fruition or tie themselves up neatly, and a few of the scares become predictable once you figure out Peele's scene structure, but I think Us hits its target as a well-made horror movie that makes its way into the back of your mind and doesn't leave for a while. I'm going to give Us a 7.6/10.
Will you be seeing Us? Comment down in the comment section and let me know! As always, thank you, and keep listening to 88.7 The Pulse.