It's time for another movie review presented by our good friends over at FatCats Gilbert on the southwest corner of Greenfield and Baseline! FatCats Gilbert is the best place to see all of the latest box office hits like Avengers: Endgame! To see all showtimes and to purchase tickets, you can click right HERE!
The John Wick franchise is one of my favorite action franchises. The first one surprised me, but the second one proved that John Wick was here to stay. Say what you will about Keanu Reeves, but he was born to play this role. I even love watching videos of his training. The movies have some of the best gunplay I've seen, and they nailed John Wick's motivation in the first movie. I also loved the world-building in the second movie. They took something relatively simple in the first film and completely expanded upon it, so I was excited to see what Chad Stahaleski could do his third time around!
John Wick: Chapter 3 – Parabellum is directed by Chad Stahelski and stars Keanu Reeves as the titular John Wick. John has been excommunicated from his ring of assassins. With a massive bounty on his head and zero allies, he must navigate the dangerous streets of New York to keep both himself and the memory of his wife alive.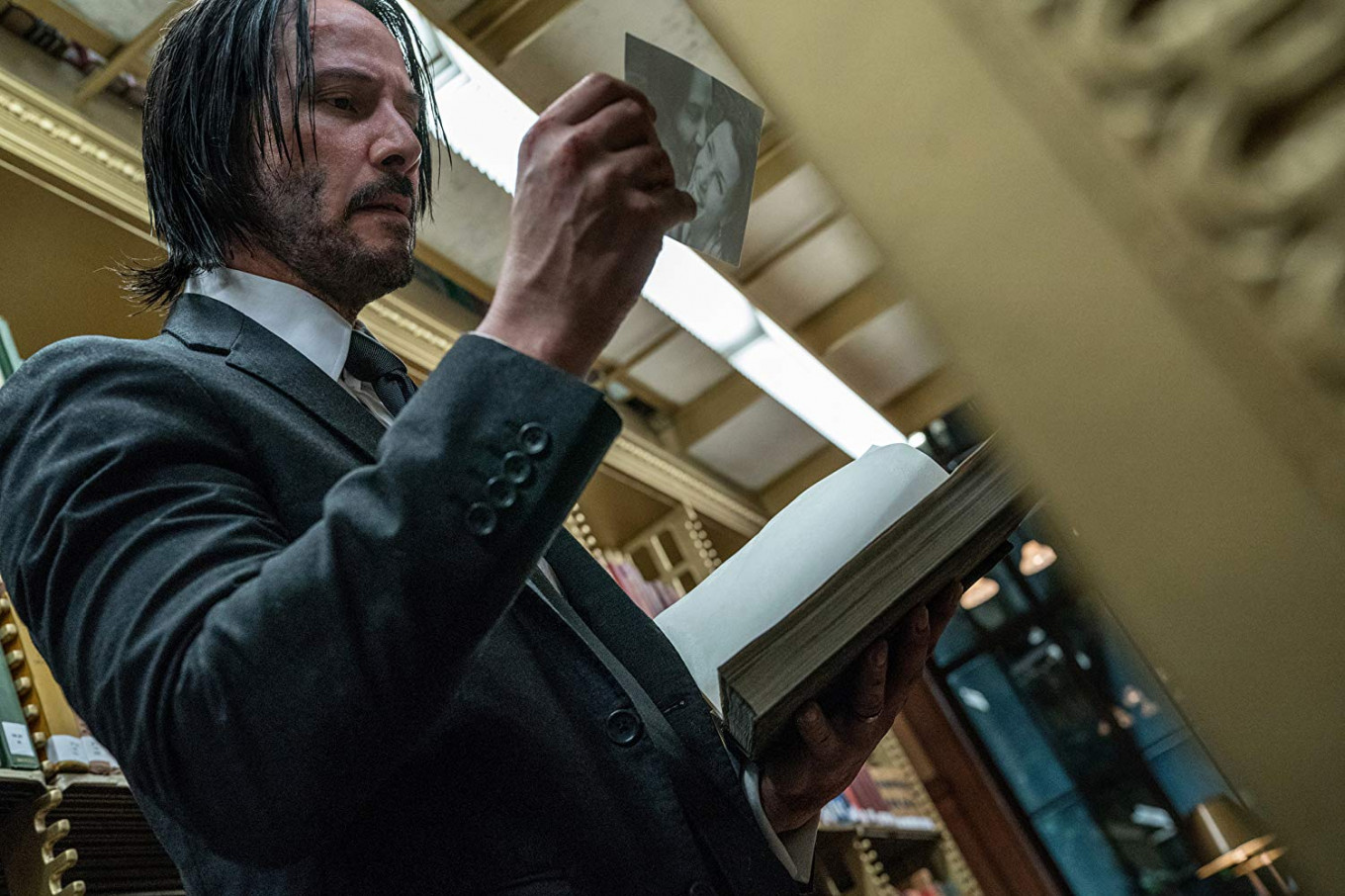 If you've liked the past two John Wick movies, I think you're going to be more than happy with the third installment. Every time I see a John Wick movie it feels like a breath of fresh air. Chad Stahelski was a stunt coordinator before becoming a director, and he has either directed or co-directed the past two movies. He knows how to direct and shoot action. The typical 2019 action sequence has tight shots with quick cuts, and you aren't completely sure what happens until the fight is over. The John Wick franchise is different. Everything is so perfectly choreographed, and the actors and stuntmen are so well-prepared to perform. It's easy to tell they've put a lot of time into the details of a fighting sequence, and they don' have to cut around hits. It's full of wide-shots that show everything that happens, and it helps the audience invest themselves into what's happening on-screen. I don't think I've ever seen an audience react to action sequences the way my audience reacted to the action in John Wick 3. The sound and the visuals put you right inside the fights. Keanu Reeves is also great. This is the role he was born to play. He nails the gun work, and the character and world seem to fit his acting style perfectly. While Stahelski seems to understand weapons, he also gets the tone of the world, so his realistic depictions of guns and armor blend naturally with the surreal world of assassins. I also like what has been done with the world-building as a whole. Certain things drag, but I was so excited to learn more about the John Wick universe, including what we learn about Halle Berry's character. We don't see Halle Berry as an action star often, so I was happy to see her act so well in fighting scenes, even holding her own with Keanu Reeves.
My biggest issue with this film is the story, which should be the most important aspect of a film, but for some reason it isn't to me in John Wick 3. This is the least emotionally invested I've been in a John Wick film, and the emotional aspect definitely peaked in the first movie. I was emotionally invested in John, mostly because I know what he has been through and why he went back into this world, but it didn't feel as important in this movie, which is honestly just fine at this point in the series. I also think it drags at certain points. Neither of the past two John Wick films dragged, in my opinion, but this one does have a few moments that feel unimportant in the grand scheme of the story or John Wick's development.
Overall, John Wick: Chapter 3 – Parabellum is an excellent action movie that is right on par with the first two. It doesn't reach the emotional level of the first film, and a few parts drag, but it's so nice to see action sequences that make me squirm in my seat because I can tell what's happening. They're so well-choreographed, and Stahelski doesn't have to actively work to shoot around action. He can show everything without missing a beat, and the audience can feel the punches and shots. Keanu Reeves is also great. He gets this character, and the character and world get him. His acting style and Chad Stahelski's firm grasp on the story-world blend realistic depictions of gun fighting with a crazy, near-unbelievable setting. It's even funnier than I expected, and the continued growth of John Wick's legend would get me back in the theater any time. I'm going to give John Wick: Chapter 3 – Parabellum an 8/10.
Will you be seeing John Wick: Chapter 3 – Parabellum? Comment down in the comment section, and let me know! As always, thank you, and keep listening to 88.7 The Pulse!