It's time for another movie review presented by our good friends over at FatCats Gilbert on the southwest corner of Greenfield and Baseline! FatCats Gilbert is the best place to see all of the latest box office hits like Godzilla: King of the Monsters. To see all showtimes and to purchase tickets, you can click right HERE!
It seems like rockstar biopics are the most popular thing right now, and Elton John is next up. I'm definitely a fan of Elton John, and I thought Taron Egerton was the perfect choice to play the part. I think he shares a little bit of the look, and after singing "I'm Still Standing" in Sing, I thought he could nail it. Maybe I was putting too much weight into one song he sang for an animated movie, but he's still a great actor. I've been a fan of his since the first Kingsman movie, and I like him more every time I see him. He also worked with Dexter Fletcher in Eddie the Eagle, which I think is one of the most underrated sports movies of the last decade. Rocketman had a lot going for it, so I was hoping it could give Elton John the biopic he deserves.
Rocketman is directed by Dexter Fletcher and stars Taron Egerton as Elton John. From birth Elton had more musical talent than he knew what to do with. After teaming up with Bernie Taupin to take the rock and roll world by storm, Elton cruises to the top with hit after hit. As with all rock musicians, fame seems to come with a price, and he faces family issues, heartbreak, and more as he tries to make sure his gift doesn't go to waste.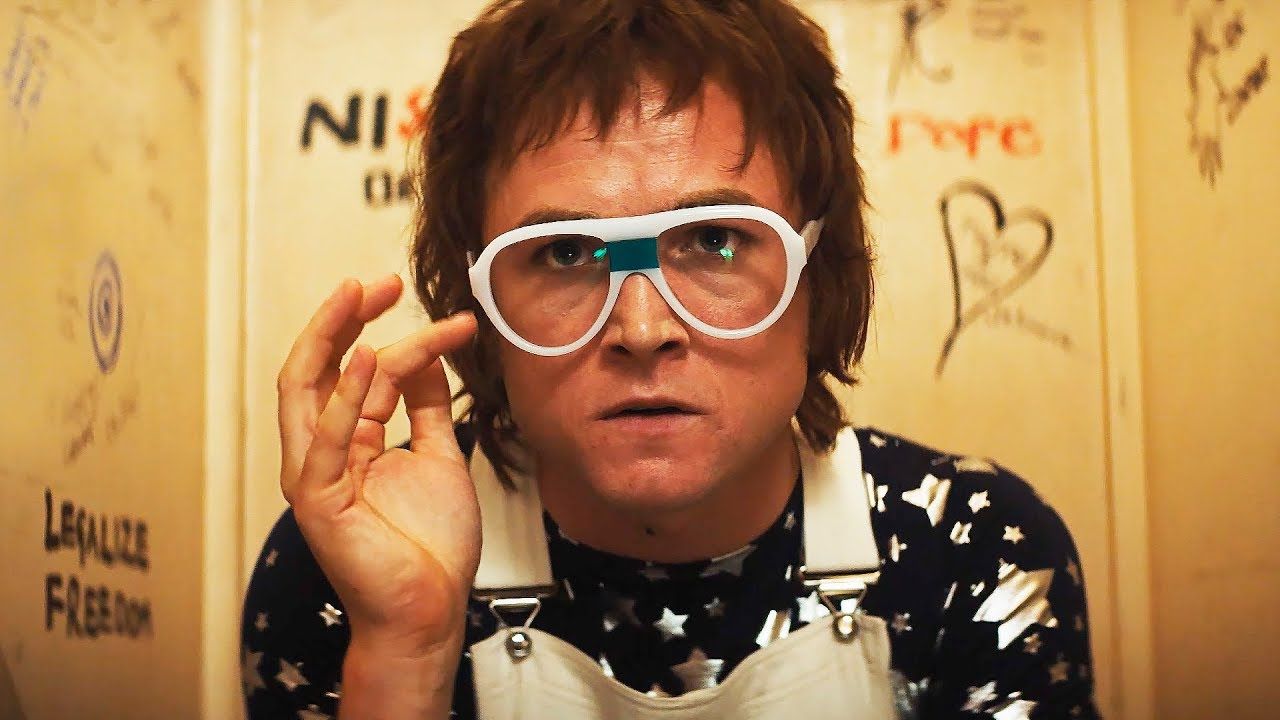 First and foremost, Taron Egerton kills it in this movie. It would have been pretty easy to get an actor like Taron Egerton in to do a cheap impression of someone he's clearly passionate about in real life. We know how eccentric Elton John was and still is to a certain extent, so I don't think it would have taken an insanely talented actor to wear flashy outfits and play piano. It does take an insanely talented actor to capture all of the layers of Elton John as a person. He's larger than life with mountain-sized highs and bottom-of-the-sea lows. His emotions seem to be underneath a microscope, and they're amplified. Egerton nailed the spirit while giving his own interpretation of the character. Nothing is cheap, everything is raw, and the emotional side of the film works beautifully because of this performance. I also loved the music. I had heard that the movie was a musical, but it was still interesting to see the songs used to tell the story. One of the biggest issues this movie could have faced was showing us things that happen in every rockstar biopic and success story. Instead, the music is used to push the story. It's a fun and interesting way to montage through events that aren't new or surprising.
I also love that the storytelling matches the character. Even the valleys for Elton are these colorful, magical moments that really mean something. The music is important to the character, and it's important to the story, whether it's used for pacing, developing characters, setting tone, or any other reason. It does a great job of communicating Elton's feelings, and I really understood why he made decisions and why he felt a certain way. While showing someone who is larger than life, it also humanizes Elton and makes him relatable as a person searching for others who understand him and connect with him on a personal level. In a world where even his loved ones treat him either like a member of another species or a means to an end, he falls so easily, and he encapsulates that human journey to find others who give us love in a multitude of ways. The others who affect Elton are also fascinating because of great development and great performances. Jamie Bell, Richard Madden, and Bryce Dallas Howard are all so good, and their characters are completely necessary to push Elton in certain directions or fill holes in his life.
Overall, Rocketman is one I'll definitely be watching again. When you know how a story ends, you have to take a look at it as a whole and ask if you really enjoy the journey to know if it's something you want to experience again. I loved the journey, and it affected me emotionally in a way I imagine it affected Elton. The high points make you feel like you're on top of the world, and the low points make you feel like you'll never recover. Taron Egerton does such an incredible job of giving more than a cheap impression. He has definitely studied Elton John, but it's obvious that he's not trying to copy anything specifically. He understands Elton John and tries to put himself in Elton's shoes in these scenarios to find the perfect performances. The musical numbers are fantastic, and they're a great way to push the audience through the story. I don't have many glaring issues with the movie. It uses a couple of storytelling tactics you've seen, and there are story beats you've probably seen, but the ride with The Rocket Man is fun and emotional enough that I'm not bothered. I'm going to give Rocketman an 8.8/10.
Will you be seeing Rocketman? Comment down in the comment section, and let me know! As always, thank you, and keep listening to 88.7 The Pulse!