It's time for another movie review presented by our good friends over at FatCats Gilbert on the southwest corner of Greenfield and Baseline! FatCats Gilbert is the best place to see all of the latest hits like Spider-Man: Far From Home! To see all showtimes and to purchase tickets, you can click right HERE!
This was one of my most anticipated movies of the year. I absolutely adored Ari Aster's first movie, Hereditary, so I had high hopes for Midsommar. I also loved the trailer. I only watched it once because, if this movie was anything like Hereditary, I wanted everything kept a secret. I'm also a fan of this cast. Florence Pugh is a good actress who hasn't had a chance to break out yet, Jack Reynor was one of the standouts in Sing Street, one of my favorite movies of the past few years, and Will Poulter's Oscar snub for Detroit was just about unforgivable. 2019 seems like the horror genre's chance to break out, and Midsommar could be one to help the cause.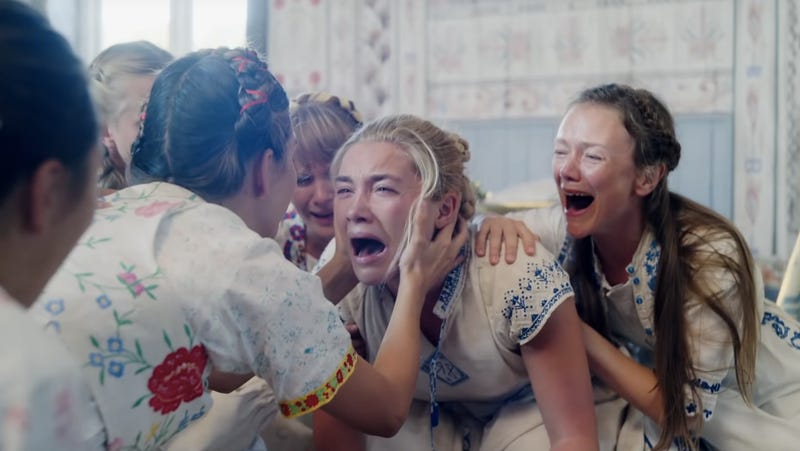 Midsommar is directed by Ari Aster and stars Florence Pugh, Jack Reynor, Will Poulter, William Jackson Harper, and Vilhelm Blongren. After a tragedy in his girlfriend's family, Christian, played by Jack Reynor, invites her on a trip to Sweden. It was originally intended to be a trip to meet the family of one of Christian's friends and to study for a final college thesis, but it quickly turns into a cultish nightmare in the daytime.
First things first, this movie is unbelievably well-made. Ari Aster really knows how to make a movie, and the way he uses the camera to tell stories and to show details is amazing. With Hereditary, he deliberately hid certain images in the darkness and use shadows to play on some of our deepest fears. He completely takes that advantage away from himself with Midsommar, and he's still able to create possibly the most unsettling experience of the year. I don't know if I'd necessarily call Midsommar scary in the way I thought it would be, but it's absolutely unsettling. The performances are also amazing. Midsommar ends up being a cult-horror film and a fish-out-of-water story, and the fish-out-of-water aspect doesn't work without Florence Pugh at the forefront. Hopefully this helps her break out. She's been great before, but she absolutely destroys it in this movie in a way I've never seen from her. Her character has an extremely complex emotional journey to go through, and I thought she depicted every stage of it beautifully. I also loved Jack Reynor and Will Patton. They're both given relatively predictable characters, and I could imagine how each of them would react to each situation, but they played it well nonetheless. Undoubtedly, the best part of this film is the cinematography. It's absolutely gorgeous, and when mixed with Ari Aster's direction, Midsommar becomes on of the most artistically enthralling movies of the year. Again, it's so impressive that Ari Aster can use pastel colors and complete frame exposure to light and still be able to build tension and unease. I'd actually love to see what he can do outside of the horror genre telling a straightforward story.
While this movie blew me away technically and artistically, it still left me wanting so much more. I guess my biggest question walking out of the movie was why it needs to exist. Aster's last movie was a commentary on mental illness, family dynamics, and the way loss affects people. I'm not exactly sure what Midsommar is supposed to be saying. It calls back to the idea of loss, and it discusses toxic relationships, but it never really dives deep enough into those themes to make this movie truly matter to me. The movie is about two hours and twenty minutes, and the closer the ending came, the more I realized that there probably wasn't going to be a payoff that struck me emotionally with the themes in mind. That also makes it hard to justify the runtime. I can see the slow burn working if there was enough of a payoff for me, but instead of being rhythmically slow it tends to drag. I also don't buy into a couple of the character payoffs. Some of the most intriguing things that happen to characters happen off-screen and are never explained while others are justified yet don't feel emotionally complete.
Overall, Midsommar is just another showcase of filmmaking talent for Ari Aster. The direction and cinematography are stunning, and he's able to get amazing performances out of the entire cast. I love the creativity of making a horror movie in complete daylight, and I love what he does with the culture of this Swedish area. That being said, I struggle to find this movie's purpose. I wanted to walk out of this movie thinking that it was everything I wanted, but instead I felt empty. I felt empty at the end of Hereditary, but complete from the perspective of someone who was trying to justify a narrative. I just feel empty after Midsommar without a ton to show for it. If the goal was to make an unsettling movie, Midsommar is a success, and Ari Aster is an incredible technical and artistic filmmaker, but I wanted to feel so much more than I did. I'm going to give Midsommar a 5/10.
Will you be seeing Midsommar? Comment down in the comment section to let me know! As always, thank you, and keep listening to 88.7 The Pulse!