It's time for another movie review presented by our good friends over at FatCats Gilbert on the southwest corner of Greenfield and Baseline! FatCats Gilbert is the best place to see all of the latest box office hits. To see all showtimes and to purchase tickets, you can click right HERE!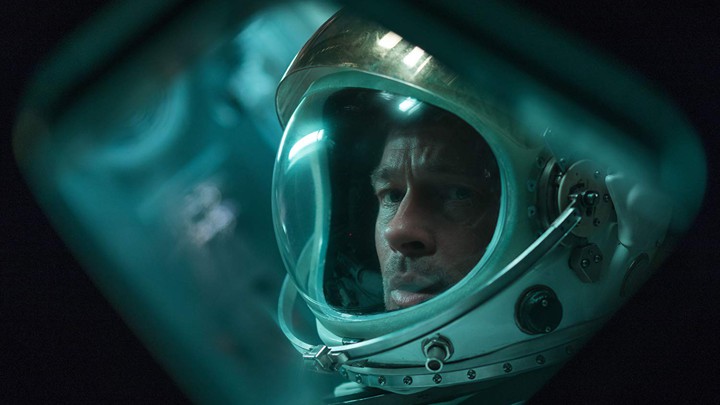 This is one movie I have been waiting almost the entire year to see. I remember waiting for the trailer and expecting it to release so much earlier than it did, but once it finally released, my expectations skyrocketed even farther up. Brad Pitt is one of my favorite actors, and I don't think he always gets the credit he deserves. I also love everything I've seen from James Gray so far, but his most recent film, The Lost City of Z, really blew me away. I was really excited to see what he could do with a bigger budget in the sci-fi genre.
Ad Astra is directed by James Gray and stars Brad Pitt as Roy McBride, an astronaut whose father, Clifford, is a legend in the United States space program. Almost thirty years ago, Clifford left on a journey to the other end of the galaxy to find intelligent life. Thought to be dead, he may now be threatening life on Earth, and Roy is the only one with the emotional connection and mental composure to find and communicate with his father.
I couldn't wait to see this movie, and it did something so few films have been able to do lately: live up to expectations. I came to the movie for its sci-fi elements and for a journey through space, but I stayed for this character and everything this movie had to say about humans, our tendencies, our fears, our relationships, and so much more. I have to mention that Brad Pitt gives one of the best performances I've ever seen him give. He hits all of the right emotional beats, but he doesn't have to elevate anything to hit those. I could honestly see Brad Pitt walking away with an Oscar for this role, but I can't clearly picture any scene that stands out when thinking about scenes the Academy would show when they announce his name as a nominee. He doesn't have a single scene that blows me away over the rest. It's just a very controlled performance where he only gives us what he wants us to have, and it's always enough to understand Roy's mental state. It's so far from what I think we usually expect from Brad Pitt, which is overflowing charisma and energy. He dials everything back for Ad Astra, and the performance is absolutely stronger and more mature for it. I also think the rest of the cast is great, including Tommy Lee Jones and Ruth Negga. Both are in this film for less time than I expected, but they do a great job in supporting roles, and they helped to sell me on the story world.
This movie is also stunningly gorgeous. I don't think it has as high a budget as movies like Interstellar or The Martian, but it looks just as fantastic, or better. I'm almost surprised that James Gray, Brad Pitt, and the rest of the crew didn't pack everything onto a rocket ship and shoot on location. It looks that good, and James Gray's camerawork brings so much to this movie in terms of creativity and life. The visuals are amazing, and the creativity to bring this world to life, while nothing we haven't seen before, really worked. As I said above, I walked into this movie excited a ride through space. I walked out with something so much different, and I couldn't be happier. It gave me everything I wanted as a sci-fi fan, but it also has so much to say about our main character, Roy McBride. Roy McBride isn't just an astronaut. He's a son, a husband, and a human, and at its core, Ad Astra isn't about going to space; it's about fathers and sons, husbands and wives, and individuals. Without spoiling too much, it discusses humans dedicating their entire lives to please loved ones and trying to make them proud. It's about visions, heroes, strengths, weaknesses, and fears, and I walked out of the movie knowing all of those things about Roy McBride as well as how to apply those things to my life. I think a lot of people are going to walk out of this movie with a far bigger emotional takeaway than they ever would have thought, which is always a positive.
It's also relatively straightforward with its ideas. It knows what it wants to say, it says it, and it says it well. It doesn't dance around themes and messages only to finally come to something that sort of resembles what it initially set out to say. It has a very clear path, and it knew how to steer the ship right toward its goal. The surface-level stakes are always sky-high, but it somehow manages to make put those stakes in the passenger seat while the mental stakes, which are even higher, drive the film. There are action sequences, and even some elements of horror films and thrillers, but it always remains a character study, and a darn good one. Finally, the score is fantastic. It doesn't completely stand out from the rest of the movie. It does exactly what the story calls for, which is to reinforce the emotional journey taken by Roy McBride.
Overall, Ad Astra might just be my favorite movie of the year. I can easily see it being dismissed as slow and boring, but I loved the slow pacing, and I think it perfectly feeds the ideas and concepts the movie is trying to explore. Brad Pitt is also fantastic. The entire cast is great, but Brad Pitt does a really great job of bringing a sense subtlety and control to this role. The visual effects are great, and James Gray did a stunning job, both artistically and technically, telling this story to the best of his ability. I went in hoping for a space exploration movie. I walked out contemplating so much about life on Earth. I'm going to give Ad Astra a 9.5/10.
Will you be seeing Ad Astra? Comment down in the comment section to let me know! As always, thank you, and keep listening to 88.7 The Pulse.