It's time for another movie review presented by our good friends over at FatCats Gilbert on the southwest corner of Greenfield and Baseline! FatCats Gilbert is the best place to see all of the latest box office hits! To see all showtimes and to purchase tickets, you can click right HERE!
Almost two years after the release of Star Wars: The Last Jedi, Rian Johnson is still taking heat, but for some reason I think it's best we don't talk about The Last Jedi. I will say that I love Rian Johnson because of his work on Looper and Brick. When you throw in Johnson's time on Breaking Bad where he made some of my favorite episodes of the series, you might just realize he doesn't deserve the hate he gets. I was also excited for this cast. The cast is incredibly important in a whodunit, and Knives Out had one of the best of the year on paper.
Knives Out is directed by Rian Johnson and stars Daniel Craig, Ana de Armas, Jamie Lee Curtis, Michael Shannon, Chris Evans, Don Johnson, Toni Collette, LaKeith Stanfield, Katherine Langford, Jaeden Martell, and Christopher Plummer. When the patriarch of an extremely wealthy family is found dead after his birthday party, Benoit Blanc, played by Craig, is called upon to investigate. Was it a murder? Was it a suicide? Who could have wanted this man dead? It's Blanc's job to find out, and a family's inheritance is at stake.
Rian Johnson has knocked it out of the park again with Knives Out. It's been a while since I've loved a whodunit, and it's a little bit disappointing because a great whodunit can be an incredibly enjoyable time at the theater. This one is actually different from what I expected it to be. Both the way that it reveals information and the amount of information it reveals surprised me because the exact story of the murder isn't what Rian Johnson is trying to unravel. He has so many layers to the truth to unpack that lead us to understand just about every character. This story and Johnson's dialogue bring out the absolute best in the characters, and each one of them was very compelling. They all had distinct characteristics about them that allowed me to understand who they were, which made all of their choices make sense. All of the characters depict a dark side of humanity that pushes people deeper into their own egos when tragedy strikes. I also adore what it has to say about money influencing these characters and how it affects real relationships. Money tends to be a great judge of character, and it helps to flesh out this family while also keeping the story's mysteries wrapped up.
The cast also kills it in this movie, no pun intended. This film has so much energy, and the cast matches that energy. A lot of credit is owed to Rian Johnson's dialogue, but everyone in the cast is able to bring the fire while still staying within themselves. I also always love seeing Chris Evans outside of the MCU. I love Captain America, but he's so great when he gets a chance to go smaller and go to places we haven't seen go in years. It looked like he had a great time playing this character, and I had a great time watching him. Daniel Craig was also a standout with an accent that only works in a whodunit with this tone. He brought so much presence to the role, and I'd love to see him back as this character if Rian Johnson is serious about making a second Benoit Blanc movie. Ana de Armas was also fantastic with a lot more screen time than I expected coming into the movie.
I was also incredibly sucked in by the twists and turns in the story. Johnson's dialogue hooked me, but his storytelling style is what kept me there the entire time. He builds tension between his characters so well, and he always had me on the edge of my seat ready for the next surprise without ever making me call consistency into question. I think it would have been easy to leave loose ends, but he doesn't leave many, and when he does, those small holes kept me close behind with my palms sweating. Knives Out is also a fantastic looking movie. I love how Johnson used light and shadows to tell us a little bit more about characters and the situations they found themselves in, even if what he's telling us only led to more mystery. The production design and costumes are great, as well, and the world of Knives Out is the kind of world you can easily be sucked into for over two hours.
I will say that I would have loved some more screen time from some of the other characters. I don't necessarily know if I want anything removed from the characters who do get that screen time, but I could have gone for more from a few of the characters who have slightly less to do. There are also a few beats in the finale that didn't quite hit for me. I loved the way everything wrapped up as a whole, but a few smaller pieces seemed as though they could have been expanded upon a bit more or given more thought.
Overall, I loved Knives Out, and I'd absolutely suggest getting out and seeing the movie. It's the kind of movie that's more of an experience than just something you put on and watch. You feel something when watching Knives Out whether that's tension, fear, joy, sadness, or hope, you're always interacting directly with what you see on the screen. The performances are unbelievable, and Rian Johnson's dialogue and storytelling always kept me on my toes with something I didn't expect, yet so many of the creative choices worked for me. That feeling of surprise is only matched by how funny this movie is, and I enjoyed almost everything about it. It makes a lot of choices that don't align with what you might be expecting walking into a whodunit, but it pulls them off brilliantly, and the payoff is worth it. I'm going to give Knives Out an 8.8/10.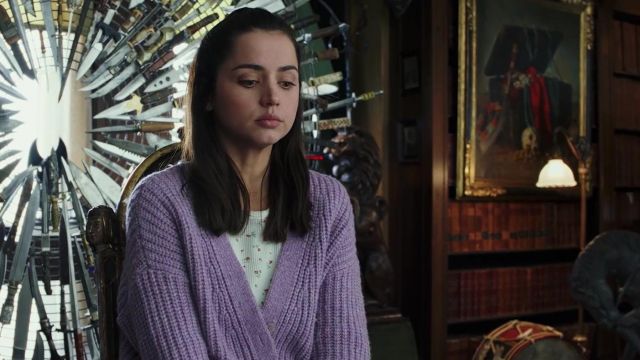 Will you be seeing Knives Out? Comment down in the comment section to let me know! As always, thank you, and keep listening to 88.7 The Pulse!